Pro-Life Group Seeks Restraining Order Against Police Over Alleged Harassment Outside Abortion Clinic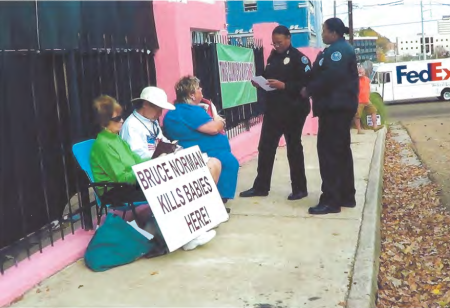 A Mississippi judge has denied a pro-life group's request for a restraining order against police officers whom they claim have repeatedly harassed them when they protest outside the state's sole abortion clinic.
Judge Carlton Reeves of the U.S. District Court for the Southern District of Mississippi Jackson Division, denied the Life Legal Defense Foundation's request for an injunction on behalf of Pro-Life Mississippi and other protesters against the Jackson Police Department.
Dana Cody, attorney and executive director of the foundation, told The Christian Post that she believes the rejection of the injunction request was "wrongly decided."
"I don't think the judge understands the constitutional issues involved; and the reason I say that, is this is the law enforcement agency that already had a consent order issued by a court in 2008 because their officers were violating people's constitutional rights," said Cody.
"The court ordered training. And it's happening again, and the purpose for a restraining order when you go to court is to correct an irreparable harm."
In July, pro-life protesters filed a lawsuit against the city of Jackson and its police department over allegations of harassment. Alleged incidents included interfering with demonstrators and allowing nearby individuals to steal pro-life signs during their protests.
Cody told CP that the next step in the legal proceedings will be a conference between the attorneys regarding the lawsuit.
"The attorneys will have a conference in the next few weeks," she said, adding that the judge reasoned that the temporary restraining order was unnecessary since he planned to have the trial quickly.
"It will go to trial and the court will set a discovery schedule and a trial date. And we'll just continue to press on."
Shelia Byrd, director of Communications for the city of Jackson mayor's office, provided CP with a statement regarding the pro-life group's request for a restraining order and the pending lawsuit.
"The matter was brought before the United States District Court of the Southern District of Mississippi by Pro-Life Mississippi, along with other plaintiffs. Both parties, by and through their counsel, were allowed to present testimony before the court," read the statement. "The court denied pro-life's request for a preliminary injunction. However, there is still pending litigation, and no further details can be divulged at this time."