Justice Anthony Kennedy Retiring; 'Big News,' 'A Complete Mess,' Say Evangelicals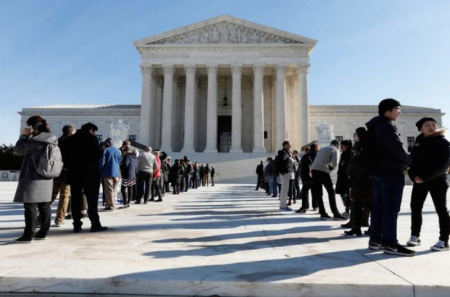 Evangelicals are expressing diverse opinions on the news that United States Supreme Court Justice Anthony Kennedy, long considered the swing vote of the nation's highest court, is retiring.
In an announcement made Wednesday, the 81-year-old Justice Kennedy is going to retire from his position on the Supreme Court effective July 31, bringing to a close a 30-year career on the high court.
"It has been the greatest honor and privilege to serve our nation in the federal judiciary for 43 years, 30 of those years on the Supreme Court," stated Kennedy in the announcement.
Nominated by President Ronald Reagan in 1988, Kennedy has been the tie-breaking vote on many controversial cases before the Supreme Court.
Kennedy wrote the majority opinions for decisions that advanced LGBT causes, including the 2015 decision Obergefell v. Hodges, which legalized same-sex marriage nationwide.
During the past month, he sided with conservatives on cases regarding the Trump administration's travel ban and Masterpiece Cakeshop v. Colorado Civil Rights Commission, in which he ruled in favor of a Colorado baker who refused to make a same-sex wedding cake due to his Christian beliefs.
Evangelical leaders have been taking to social media to express their sentiments on the development, with former Obama Administration member Michael Wear calling it a "mess."
"This is going to be a complete mess. A complete, total political disaster, and I am struggling at the moment to think of how to mitigate the cultural fallout from Kennedy's decision and the political fight that is to come," tweeted Wear.
Denny Burk, professor of biblical studies at Boyce College and president of the Council on Biblical Manhood & Womanhood, struck a more optimistic tone.
"Big news. The author of Obergefell steps aside and gives an opportunity for his seat to be filled with an originalist. Can't overstate how huge this vacancy is," stated Burk on Twitter.
Kennedy's retirement will give President Donald Trump his second Supreme Court nomination, the first being Justice Neil Gorsuch, who replaced the late Justice Antonin Scalia.
Students for Life argued the announcement could mark the end of Roe v. Wade, the Supreme Court decision that legalized abortion. 
"Now is our time to overturn Roe v. Wade. We can overturn Roe!" Students for Life tweeted.
The pro-abortion Planned Parenthood Action agreed. 
"With Kennedy retiring, the right to access abortion in this country is on the line," it tweeted. 
Many liberals have expressed concern over the next Supreme Court vacancy, especially with Trump in office and the prospect of Kennedy being replaced by a conservative.
In comments made last year at the Conservative Political Action Conference, Republican Senator Ted Cruz of Texas predicted that the next vacancy will make liberals go into "full Armageddon meltdown."
"Because the next vacancy is where we have the ability to get back and restore our basic constitutional protections," stated Sen. Cruz at the time.