Justin Welby Pleads for Rescue of Christian Girl Who Refuses to Convert to Islam in Buhari Meeting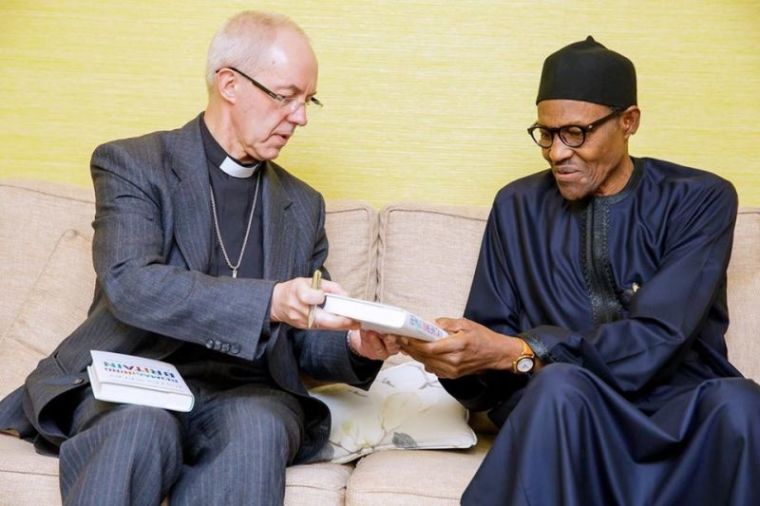 In a face-to-face meeting with Nigerian President Muhammadu Buhari, Archbishop of Canterbury Justin Welby brought up the plight of a 14-year-old Christian schoolgirl who was kidnapped by Islamic terrorist group Boko Haram and has refused to convert.
Welby, the leader of the Anglican Communion, met with Buhari in London on Wednesday, and revealed in a Facebook post that he petitioned the president to secure Leah Sharibu's release from her captors. 
"I urged the president to do everything possible to secure her release," Welby said.
Sharibu is believed to be the last of the students still held hostage following a massive raid by Boko Haram in February on the Government Girls Science Technical College in Dapchi, Yobo state.
The Cable and other Nigerian news sources have reported that the Christian girl has refused to embrace Islam even though she was allegedly offered her freedom if she did so.
Buhari assured Welby that his government has been working to secure her release.
"We are managing the matter quietly. Making noise would not help. We are collecting as much intelligence as possible, working with the Red Cross and other international organizations," he said.
"There are too many fraudulent people around, who claim they can do this and that. We won't deal with them. That was how we got the Dapchi girls back, and the Chibok girls," Buhari added, referring to other mass kidnappings carried out by Boko Haram.
Christians in Nigeria make up around 50 percent of the population and continue to face deadly raids, kidnappings, and killings at the hands of several militant groups, including Boko Haram and the Fulani herdsmen.
Speaking more about his meeting with Buhari, Welby added: "I expressed deep concern about the suffering resulting from raids on Christian communities and villages as far south as Delta State. We discussed the causes of such depredations, which have led to very many deaths and threaten an escalation of violence. I urged measures to restore confidence in the neutrality of the state, and spoke of the suffering of the poor in such tragedies."
The Archbishop of Canterbury stressed during the meeting that education is vital for any country to flourish, including tackling poverty.
"I highlighted the vital role that churches in England play not just in educating a million children, but in providing them with values, identity and purpose," Welby wrote.
"Please join me in standing prayerfully with those suffering from the herder-farmer conflict, the Boko Haram insurgency, and all those mourning the loss of loved ones. It's so important that we pray for the peace and progress of Nigeria — and particularly for the liberating peace of Jesus to be with all those held in captivity," he said.
Persecution watchdog groups, such as International Christian Concern, have warned that as a Fulani Muslim himself, Buhari faces a difficult situation in Nigeria.
"He would lose a lot of support by saying that his own people and religious community were conducting these types of atrocities," ICC Regional Manager Nathan Johnson told The Christian Post last week.
"Regardless of how they go about it, I believe that the Nigerian government must do three things," he added.
"First, they must reclaim land that has been taken by Fulani. Second, they must rebuild the communities that have been destroyed. Lastly, they must protect their people from future attacks."