Kate Middleton, Prince William Celebrate Royal Christening of Princess Charlotte (Photos)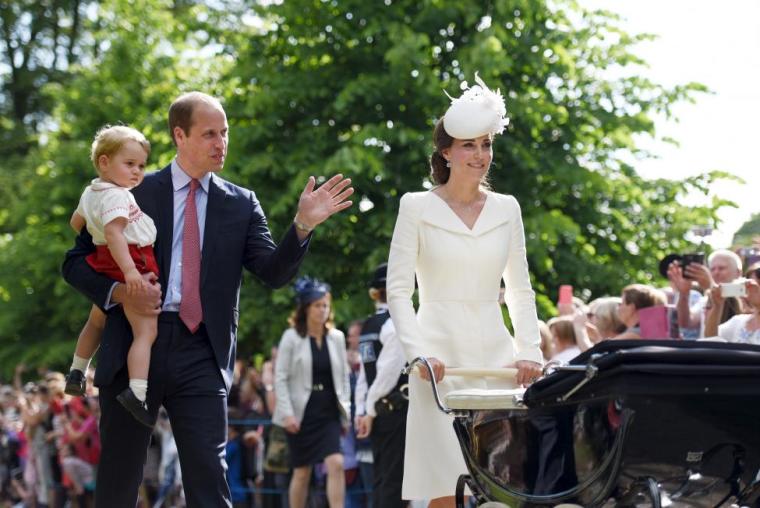 The Duke and Duchess of Cambridge walk past the crowds at the Church of St Mary Magdalene on the Sandringham Estate with their son Prince George and daughter Princess Charlotte, after her christening, July 5, 2015.
|
(Photo: Reuters/Mary Turner/Pool)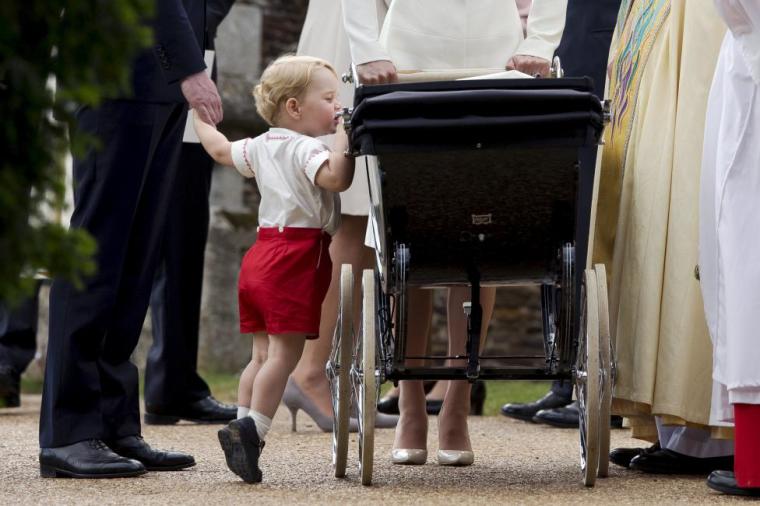 Britain's Prince George looks into the pram of his sister Princess Charlotte after her christening at the Church of St. Mary Magdalene in Sandringham, Britain July 5, 2015.
|
(Photo: Reuters/Matt Dunham/Pool)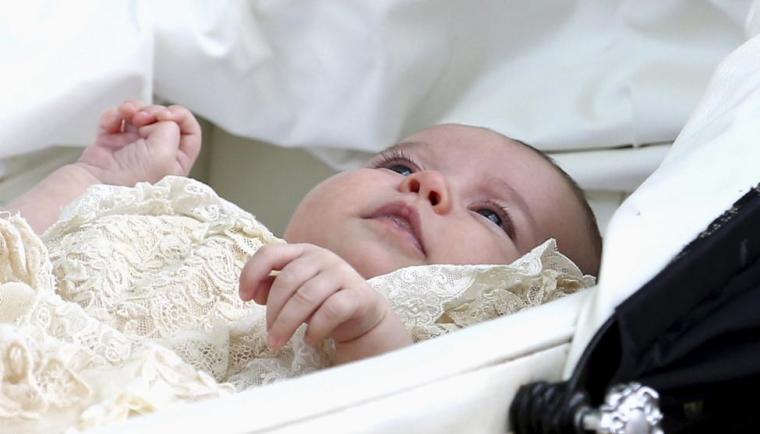 Princess Charlotte is seen inside a pram as she leaves the Church of St. Mary Magdalene in Sandringham, Britain after her christening July 5, 2015.
|
(Photo: Reuters/Chris Jackson/Pool)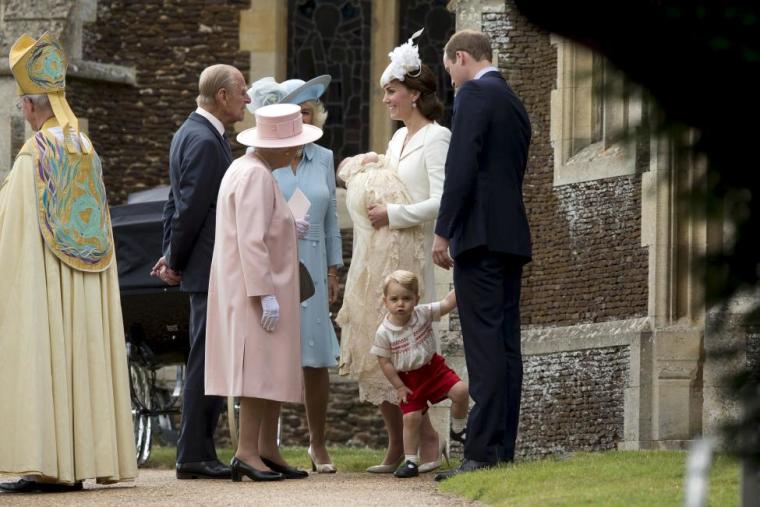 Britain's Queen Elizabeth is seen standing with her husband Prince Philip, Camilla, Duchess of Cornwall, Catherine, Duchess of Cambridge, Princess Charlotte, Prince George and Prince William after the christening of Princess Charlotte at the Church of St. Mary Magdalene in Sandringham, Britain July 5, 2015.
|
(Photo: Reuters/Matt Dunham/Pool)
View Photos
Kate Middleton and Prince William had their daughter, Princess Charlotte, christened in a private ceremony at St. Mary Magdalene Church in Sandringham on July 5 and members of the royal family were present for the happy occasion.
Nearly 30 guests, including Queen Elizabeth II, the Duke of Edinburgh, the Prince of Wales and the Duchess of Cornwall, attended the baptism of 2-month-old baby Charlotte, who is fourth in line to the throne. The service was conducted by the Archbishop of Canterbury, Justin Welby, who baptized Prince George and was supported by the Rev. Canon Jonathan Riviere, the Rector of the Sandringham group of parishes.
"It seems that different forms of ambition are hard-wired into almost all of us," Rev. Welby stated in his homily. "At a baptism our ambitions are rightly turned into hopes and prayers for the child, today for Princess Charlotte. Everyone wants something for their children. At our best we seek beauty, not necessarily of form, but of life."
Princess Charlotte was baptized before close friends and family, including the Middleton family, with water from the River Jordan in the Lily Font, commissioned by Queen Victoria and Prince Albert in 1840. She wore a white satin and lace robe that is a replica of the royal christening robe made by Angela Kelly, the Queen's dressmaker.
"The Duke and Duchess of Cambridge have chosen two hymns, one lesson and two anthems for the christening of their daughter, Princess Charlotte," Kensington Palace said in a statement.
The spiritual hymns were "Praise to the Lord," "The Almighty" and "Come Down, O Love Divine." James Meade, who is a close confidant of Prince William, is said to have read the lesson from Matthew 18, verses 1-5.
The Duke and Duchess announced Princess Charlotte's five Godparents to be Meade along with Mr. Thomas van Straubenzee, who is a childhood friend of Prince William. Straubenzee's ex-girlfriend, Sophie Carter, was also named a Godparent as was Middleton's cousin, Adam Middleton and Prince William's cousin, The Hon. Laura Fellowes.
Middleton, 33, wore a long cream-colored designer coat with matching hat and the outfit closely resembled the attire she wore for the christening of baby George at St. James' Palace in London on Oct. 23, 2013. Prince William, 33, opted for a navy blue custom suit and baby George wore red shorts paired with a white embroidered shirt and black sandals.
Guests were treated to slices of christening cake taken from the Duke and Duchess of Cambridge's famous wedding cake.
Princess Charlotte, formally known as Her Royal Highness Princess Charlotte of Cambridge, was born on May 2 at St. Mary's Hospital and weighed 8 pounds, 3 ounces at birth.