Ken Ham Blasts Reason Rally 'World Largest Atheist Party' for Worshiping Man in Anti-God Religion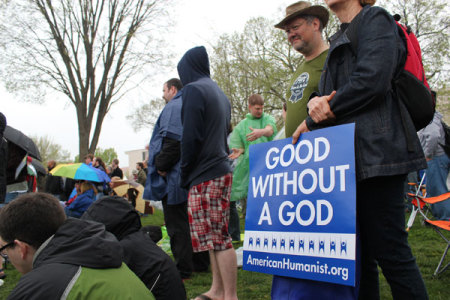 Young Earth Creationist Ken Ham is speaking out against the upcoming "Reason Rally" at the Lincoln Memorial in Washington D.C., which is being advertised as "the world's largest atheist party," by stating that atheists will be worshiping man in their "anti-God religion."
Ham wrote on his Facebook page on Tuesday that the upcoming secular gathering "is really a worship service — they worship man — worshipping the god of self. They exalt reason and have a blind faith that the universe and life arose by natural processes."
Much like he has said in the past, Ham warned that atheism is a an anti-God religion, which "exalts fallible human reason."
The Creation Museum and Ark Encounter president took aim at famous atheist author Lawrence Krauss, who will be speaking at the rally, and once said: "Forget Jesus ... the stars died so you can be here."
Ham responded: "You see, he is worshiping the stars."
"These atheists at the rally are no different than those the prophet Jeremiah spoke of: 'Saying to a tree, 'You are my father,' And to a stone, 'You gave birth to me'' (Jeremiah 2:27)," he added.
Ham accused atheists of working hard "against Christianity cause they're putting their hands over eyes and ears and shouting, 'I refuse to see and hear truth!' Their blind faith religion of natural processes is their way of explaining life without God — an anti-God religion."
The rally, which will also include other famous speakers such as Bill Nye "The Science Guy" and Hollywood actor Johnny Depp, promises to be a celebration of "secular, atheist, agnostic, humanist, freethinking, and nonreligious identities."
The website states: "Reason Rally 2016 is first and foremost a celebration — we'll have awesome speakers, bands, entertainment, and political leaders — all there to celebrate and support the secular community."
It adds that it is important for the secular community to come together, to "be among like-minded folks, and celebrate who we are and what we've accomplished."
"We're calling it a 'voting bloc party' because we want to capture that feeling of community and celebration alongside the strong message of growing political influence," it continues.
New Zealand-born evangelist and creationist Ray Comfort announced earlier in May that he will be directly engaging with people attending the rally by handing out $25,000 worth of Subway gift cards, alongside a copy of his book, Why Pigs Will Fly Before America Has an Atheist President.
"The $25,000 worth of gift cards are a little something for them to chew on (we are hoping to feed 5,000 — it's been done before)," Comfort said about the gift cards his Living Waters ministry will be giving out.
"This is a small token of our love for atheists, and when we run out of books and gift cards we will give them millions of dollars," he quipped, referring to the joke million-dollar bill, based on the book.