Ken Ham's Ark Encounter Takes Shape in Aerial Video Ahead of 40 Days, 40 Nights Opening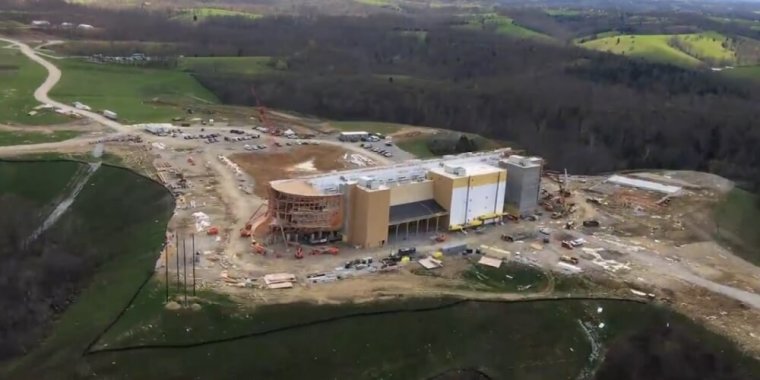 Helicopter video footage has been posted online of creationist Ken Ham's massive life-size Noah's Ark project, the Ark Encounter, taking shape as construction progresses toward completion.
"Amazing, isn't it? It's really history in the making as you watch the drone videos over time. As Ken Ham (cofounder and president of Answers in Genesis) always says, this Ark will be one of the greatest Christian outreaches of our day (it's estimated to attract more than 1.4 million guests in the first year alone)," the Ark Encounter website said in a message on Tuesday.
"We praise God that this attraction of such magnitude is run by a Bible-believing organization, Answers in Genesis. When guests visit, they will encounter exhibits that teach and help people understand the truth of God's Word and how even science affirms the biblical account of Creation and the Flood in Genesis," it added, noting that the bow and stern are now coming into shape.
Ham also posted the footage on his Facebook page, noting that although it was "very windy," the clip shows a view of the parking lot at the Ark, which was taken last week.
The $33.5 million Ark Encounter in Williamstown, Kentucky, is set to open on July 7, and has been attracting media attention around the world.
Back in March the first video promo for the theme park was also released, promising an unforgettable experience for visitors.
The ad featured crowds of people following animals such as elephants, rhinos, and leopards on city streets as they travel toward Noah's Ark in the distance.
The project also received a big boost in January following a major court victory against the state of Kentucky, with a federal judge ruling that officials had violated the group's First Amendment rights by denying it participation in a sales tax incentive worth millions.
Ham called it a "victory for the free exercise of religion in this country," and argued that "atheist organizations and other secular groups have been falsely claiming that AiG/Ark Encounter should not receive a facially neutral tax incentive in Kentucky because of our Christian message."
The AiG President explained: "They have also been wrongly stating that AiG would be breaking the law if we used a religious preference in our hiring at the future Ark. AiG has responded many times to their bogus claims, charges which are nothing more than the secularists' blatant desire to see religious discrimination be practiced against AiG. Such discrimination against Christianity is growing across America."