I will lift up my eyes to the hills--from whence comes my help? My help comes from the Lord, who made heaven and earth.
— Psalm 121:1-2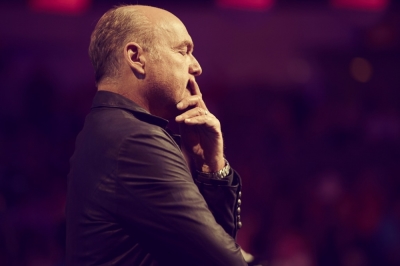 God wants us to be constantly reassured that He will keep us. We need this reassurance in such an evil and uncertain world because we worry about safety and security for ourselves and our families. And sometimes believers even wonder about their personal salvation. Even mature believers may have times of doubt when they wonder whether they are saved.
We need to remember that even great men of God had moments of doubt. Elijah had his moments of doubt. Even John the Baptist had moments of doubt. According to Jesus, John was the greatest of the Old Testament prophets. Yet after Jesus started His public ministry, John sent a message to Him asking, "Are You the Coming One, or do we look for another?" (Luke 7:19). But Jesus didn't rebuke John; He reassured him.
In times of doubt, here is what you need to know: God is going to keep you. Psalm 121 says, "My help comes from the Lord, who made heaven and earth. He will not allow your foot to be moved; He who keeps you will not slumber" (verses 2–3).
The Hebrew word used in Psalm 121 for keep means to be watched, to be guarded, to have a hedge around you. It is having a wall around you that is impenetrable. God will keep us, and the Devil cannot scale or penetrate that wall.
We are reminded in 2 Thessalonians 3:3, "But the Lord is faithful, who will establish you and guard you from the evil one." And 1 Peter 1:5 tells us that we "are kept by the power of God through faith for salvation ready to be revealed in the last time."
Were it not for this protection of God, none of us would make it. But we are kept by His power.
Copyright © 2015 by Harvest Ministries. All rights reserved. Unless otherwise indicated, Scripture taken from the New King James Version. Copyright © 1982 by Thomas Nelson, Inc. Used by permission. All rights reserved. Bible text from the New King James Version is not to be reproduced in copies or otherwise by any means except as permitted in writing by Thomas Nelson, Inc., Attn: Bible Rights and Permissions, P.O. Box 141000, Nashville, TN 37214-1000 Used with Permission