Kim Davis Can Continue Being Sued for Denying Gay Couples Marriage Licenses, Court Rules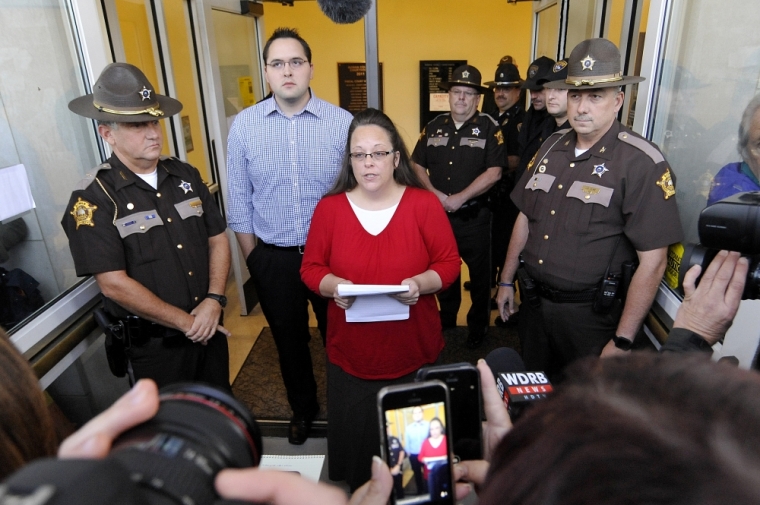 Kentucky county clerk Kim Davis, who in 2015 refused to issue marriage licenses to same-sex couples because of her conservative Christian beliefs, can continue being sued because of her refusal, a federal appeals court has ruled.
Reuters reported on Tuesday that the 6th U.S. Circuit Court of Appeals in Cincinnati ruled that David Ermold and David Moore, the same-sex couple who initially sued Davis, can continue in their pursuit seeking damages.
The court's decision overturned a lower court judge's determination that the gay couple's claims were moot, because clerks like Davis have been excused from having to sign marriage license forms.
"The district court's characterization of this case as simply contesting the 'no marriage licenses' policy is inaccurate because Ermold and Moore did not seek an injunction-they sought only damages," Circuit Judge Karen Nelson Moore assessed.
"The record does not support an argument that (their) damages claims are insubstantial or otherwise foreclosed."
Mat Staver, founder of Liberty Counsel, a Christian advocacy group representing Davis, pointed out that the latest decision does not actually mean that Davis will have to pay any damages, but that Ermold and Moore can continue their case.
"The ruling keeps the case alive for a little while but it is not a victory for the plaintiffs," Staver said. "We are confident we will prevail."
Davis, who in 2015 spent six days in jail for her refusal to sign the licenses, welcomed Kentucky Gov. Matt Bevin's decision last June to create marriage licenses that do not require the county clerk's name and title.
"I am thankful to the legislators for passing this law, to Gov. Matt Bevin for signing it, to Liberty Counsel for representing me, and most of all to Jesus Christ who redeemed me and is my solid rock on which I stand," Davis said at the time.
"I am pleased that I can continue to serve my community as the Rowan County Clerk without having to sacrifice my religious convictions and conscience."
In March, U.S. Magistrate Judge Edward Atkins further denied the ACLU $231,000 in legal fees against Davis, since the plaintiffs did not win their case.
"The plaintiffs are not 'prevailing parties' . . . and are therefore not entitled to an award of attorneys' fees," Judge Atkins wrote at the time.
Liberty Counsel warned that attempts to punish Davis for standing for her beliefs continue.
"The ACLU and others still want to punish Kim Davis for daring to take a stand for religious liberty," said at the time Horatio Mihet, Liberty Counsel's Vice President of Legal Affairs and Chief Litigation Counsel, "but today the court recognized that the ACLU does not deserve to get paid for its bullying."
Mihet added: "Kim Davis never violated her conscience, and she still has her job and her freedom — that is a win for Kim and for all Americans who want to perform public service without being forced to compromise their religious liberties."
Michael Gartland, a lawyer for Ermold and Moore, meanwhile said that either way, he does not expect Davis to have to pay large sums of money.
"Do I think it's a million dollar case? Probably not," Gartland said.
"The next step will be to go to discovery and go to trial, where I am confident we will obtain a judgment against Davis."