Kirk Cameron Laughs Off 'Awkward Moment' on Duggar Show '19 Kids and Counting' (VIDEO)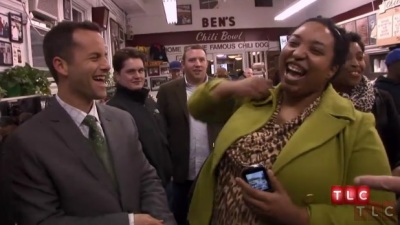 Actor Kirk Cameron, a longtime friend of Jim Bob and Michelle Duggar, laughs off an awkward experience in a new upcoming episode of the couple's reality show, "19 Kids and Counting," which premieres on TLC on Sept. 4.
Cameron, who tells the camera that he hasn't seen his old friends since the San Antonio Independent Christian Film Festival several years ago, decides to go out with his son, Jack, and the Duggar couple in Washington, D.C., while the couple is attending a marriage conference.
"We decided to get here tonight and have a little reunion," Cameron tells the camera.
The foursome head to Ben's Chili Bowl in D.C., and Jim Bob Duggar quips that he and President Barack Obama both love the famous restaurant, and therefore have something in common.
The awkward moment happens when two excited fans ask the Duggars if they may have a photo with the famous couple, and hands their camera to Cameron, failing to recognize the child star from the 1980s sitcom "Growing Pains".
"Do you know who he is?" Jim Bob Duggar asks the two giddy fans. "He's Kirk Cameron."
The two women giggle and apologize, admitting that they recognized Cameron's face but could not remember his name or where they knew him from.
Cameron, being a good sport, jokes and smiles with the women, evidently enjoying himself.
Kirk Cameron, The Duggar Family, "19 Kids and Counting," Awkward Moment
 "It was quite funny," Michelle Duggar reminisces to the camera.
Cameron, an outspoken Christian and proponent of Christian values, previously appeared on the reality show in 2009 when it was just "18 Kids and Counting," when he met the entire family at the San Antonio Independent Christian Film Festival.
The reality show "19 Kids and Counting" follows the lives of the Duggar family, a dedicated Christian couple with 19 children, all with names beginning in the letter "J."
The new season of "19 Kids and Counting" premieres Tuesdays at 9 p.m. on TLC.