LA Clippers Owner Donald Sterling Attends Predominantly Black Church on Pastor's Invitation
Disgraced Los Angeles Clippers owner Donald Sterling attended a predominantly black church on Sunday.
Sterling, 80, visited Praises of Zion Baptist Church in Los Angeles on the invitation of senior pastor, Dr. J. Benjamin Hardwick, who met the billionaire last month.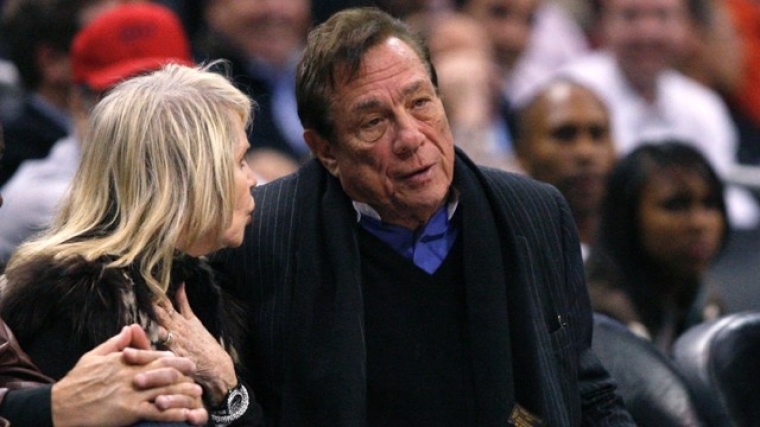 Praises of Zion describes itself as an "active, growing Baptist congregation with a focus of blending people of all ages, ethnicity, regional, educational and economic backgrounds into a church united in worshipping, learning, loving and serving."
"I want you to know, my friend, we pray for you," Hardwick told Sterling, according to NBC4, with the pastor adding that he did not believe his guest was a racist.
One church member told NBC4 that Sterling did not attend the church simply as a PR stunt.
"No, I don't believe that. I believe that he did the right thing by coming here," she explained.
But another member acknowledged feeling "sorry for him because, first of all, he's a slum landlord. And second of all, I don't think he really cares for people as he should."
Upon leaving the church, Sterling was greeted by members of the paparazzi, but declined to comment to them about last week's purchase of the team for $2 billion by former Microsoft chief executive Steve Ballmer.
"Why are they here?" he could be overheard asking in a video from TMZ. He also hugged an indentified black woman while in the passenger's seat of his car.
According to the Los Angeles Times, while Ballmer and Sterling's wife Shelly finalized the deal on Thursday, the octogenarian's attorney, Bobby Samini, said "There's been no sale. There can be no sale without Donald's signature."
If the sale is approved, it would be nearly four times the $550 million paid for the Milwaukee Bucks, which is currently the highest amount ever paid for an NBA team.
Sterling became embroiled in controversy after his ex-girlfriend V. Stiviano taped his racially-charged tirade against Magic Johnson, Matt Kemp and other African-Americans with whom she took pictures. Sterling demanded that she refrain from taking pictures with African-Americans and never to bring them to LA Clippers games.