LAPD Shooting of Homeless Man Outrages Public; Altercation Caught on Video by Bystander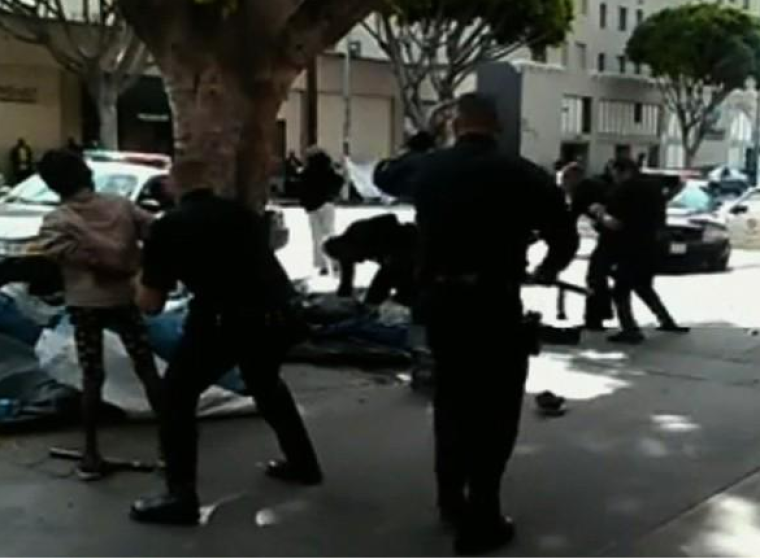 The Los Angeles Police Department is under fire after a video showing officers fatally shooting a homeless man in response to a robbery on Sunday has gone viral.
Police Commander Andrew Smith told the LA Times the officers assigned to the LAPD's Central Division and Safer Cities Initiative responded to the location around noon on Sunday after receiving a 911 call about a possible robbery. Officers approached the man, who was outside a homeless shelter; he began swinging his arms and one officer then tackled him to the ground. Three more officers attempt to subdue the man, even going so far as to pull out a Taser and attempting to shock him.
The victim, a man known as "Africa," had reportedly been living on the streets for several months and had been institutionalized for mental health issues before living on the streets.
According to Smith, the man "began fighting and physically resisting the officers. At some point in there, a struggle over one of the officer's weapons occurred. At that point, an officer-involved shooting happened."
As shots rang out, bystanders began screaming at the police.
"Why did y'all shoot that man? Y'all got (him) Tased. Why did you shoot that man?" one witness can be heard saying on the video.
"I had my phone out, you know, videotaping the whole thing 'cause we've been hearing on the news about police brutality," Anthony Blackburn, the man who filmed the incident, told CNN affiliate KABC. "I just wanted to film it and just make sure everything was alright. But I ended up seeing a tragedy."
At least three officers fired at the man suspected of robbery, though it's unclear how many shots were actually fired. On the video, five shots can be heard. No other gun was recovered at the scene, and as of press time, no other weapons had been recovered.
Two officers were treated and released for injuries sustained in the tussle, Smith said, but he did not elaborate as to the nature of those injuries.
"Of course we're aware of the video," Smith said when asked by the press. "Any video that shows someone losing their life in an altercation with police is going to be disturbing. It's disturbing for police officers to watch. It's always tragic when there's a loss of life in one of these situations. It's not an incident taken lightly by any police officer. But we are committed to everyone involved and to the public to conduct a thorough and complete investigation."
Police Commission President Steve Soboroff told the LA Times that he first saw the video on social media. He was watching it over again in order to try and hear what the officers said to the victim.
"My heart just started pounding just watching it. I feel the adrenaline. These situations are just so horrific. Of course, I would encourage people not to rush to judgment. It's not fair to anybody. It's not fair to the family of the victim or the victim or the officer. We'll find out what happened," Soboroff vowed.
Many police departments are now required to wear body cameras, which officials hope will bring down the number of violent interactions with suspected criminals. At least one officer in the LA encounter was wearing a body camera, which could provide crucial information as to what exactly happened.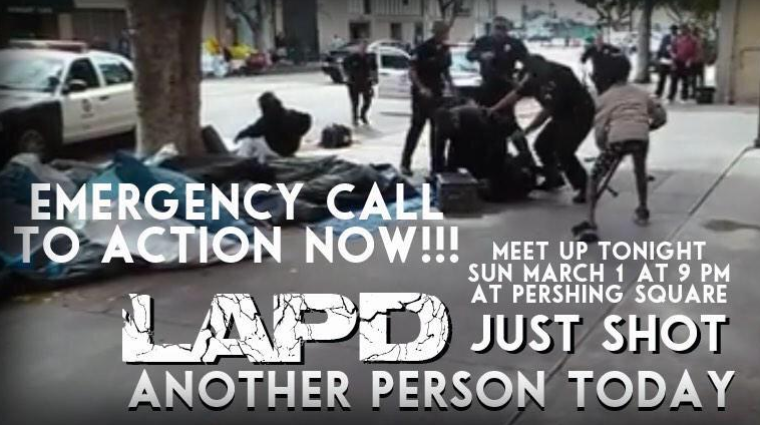 Many have cried out against police brutality, particularly against the homeless community.
"The heavens are crying right now," said Skid Row resident and activist Jeff Page during a gathering at Perishing Square.
Neither Smith nor Soboroff commented as to whether the officers involved in the shooting have been placed on any type of administrative leave.