Larry Nassar's Accuser Rachael Denhollander: 'Few' Victims of Sexual Assault Find 'True Help' From Church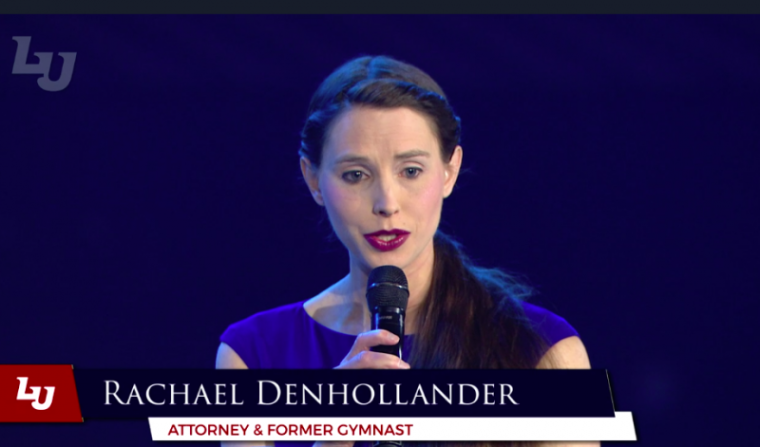 Rachael Denhollander, the first woman to publicly accuse USA Gymnastics doctor Larry Nassar of sexually abusing her as a teenager, has encouraged survivors of sexual abuse to put their trust entirely in Christ, as "very few" victims have found "true help" from the Church.
The former gymnast, who was a 15-year-old homeschooler when Nassar started abusing her nearly two decades ago, recently opened up about her experience during a conversation with Nancy Hill, Charles Bigelow professor of Education at the Harvard Graduate School of Education, hosted by the Veritas Forum.
When an audience member asked about moments she had doubted her faith, the lawyer and mother-of-three admitted there were "significant times of wrestling."
"Ultimately, what happened strengthened my worldview," she said. "Ultimately, where that led me back to was the foot of the cross."
When asked, "How can people trust the church and Christianity?" in the wake of sexual abuse, Denhollander simply said, "Don't."
"The church is made up of fallen people," she said. "I trust my Savior."
Denhollander said that while she is a "very conservative evangelical," she believes the Church has a long way to go when it comes to dealing with victims of sexual abuse.
"That's a hard thing to say, because I am a very conservative evangelical, but that is the truth," she said. "There are very, very few who have ever found true help in the Church."
In an interview before the Thursday event, Denhollander told the Crimson she is still waiting to see whether movements like #MeToo have had a lasting effect and criticized the evangelical community for failing to properly address cases of sexual abuse within the Church.
"There's always an ebb and flow to where the spotlight is," she said. "Right now, there's still a lot of outrage, but most of it is directed outside of people's communities. Evangelicals are plenty happy to talk about MSU and Penn State, and the Catholic Church is great when they talk about MSU and Penn State, but they're not so great when they talk about what happened in their church and evangelicals are not very good at speaking out against their own community."
"That really is the test of how much someone cares and how much they've changed — what they do if it happens in their own community," she added.
Denhollander again spoke out about her experience during an appearance at Liberty University on Monday in a speech titled "The Lion and the Lamb – How the Person and Work of Christ Should Shape Our Approach to Abuse."
The former gymnast said that at first, she didn't realize that Nassar's treatment of her was anything other than legitimate medical treatment. When she finally realized the extent of the abuse he'd carried out against her, she was forced to grapple with a series of questions.
"I had to start wrestling with, not just, 'What do I do, but, 'What does justice look like?" she said. "How does this mesh with my faith? Where was God when this happened? What does He say about my abuse? Can I trust Him?"
One of the most difficult things that is taken from an individual in any kind of abusive situation is the ability to trust, Denhollander said.
"So I really had to grapple with all of those questions as I was coming out of my early teen years and into my 20's and I really didn't see any hope of being able to get justice here on earth and end up being able to stop Larry until about two years ago," she said.
Denhollander said that it wasn't until the release of a media report shedding light on the abusive culture of the USA gymnastics that she was able to share her story.
"I was able to say, 'It's not just the coaches; this is what their team physician is doing,'" she said. "God's hand was on that process, from start to finish. It has been incredible to look back and see what He put into place to bring justice here on earth and to shine a light into what was an incredibly dark situation."
Coming out of that, Nassar pled guilty to possession of 37,000 images of child pornography and to first-degree sexual assault against 10 young women. At least 200 other women have filed police reports against the former physician. Last fall, the Michigan State University faculty member was convicted of seven counts of first-degree criminal sexual contact and sentenced to up to 175 years in prison.
At Nassar's sentencing, all of his victims were required to give impact statements to highlight how his actions had affected them. Denhollander's statement made headlines due to her decision to invoke her faith while extending forgiveness to the disgraced doctor.
"God really directed my words, and I'm very grateful for His direction," Denhollander said. "I really had to wrestle with, 'What do I say? What does Larry need to hear?' Ultimately, what he needs to hear the most is the gospel, because that is the greatest hope for me, it is the greatest hope for Larry, and it is the greatest hope for all of us."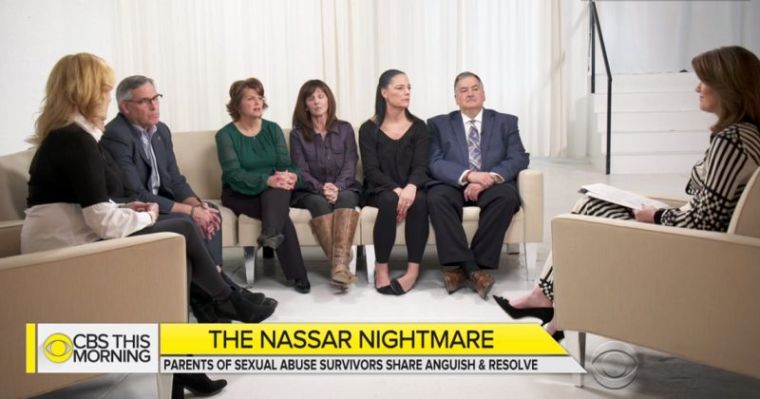 Amid the darkness of the trial, Denhollander said she realized afresh "how beautiful the grace of God is."
"Standing in a courtroom, watching someone who was accused be sentenced, was a very stark reminder to me that that was me in front of God," she said. "I, too, had departed from the standard of rightness. I'm not Larry Nassar, but I have sinned. I have wounded people, I have committed injustice. I am not a perfect person, I have fallen short of God's standard, and that could be me in God's courtroom with final judgement being passed."
However, thanks to the sacrifice of Christ, Denhollander said she has the assurance that she is forgiven — and is in turn able to extend forgiveness to those who have harmed her.
For abuse victims, one of the most difficult things to learn is how to trust again and who is trustworthy, the wife and mother continued.
"When I can come to the realization that my Savior is strong enough to love someone like Larry, that means He is strong enough to love me, and He is the most sure refuge for me, He is the one place I can trust, because what happened to me matters, because God promises justice, and because my Savior meshes justice with forgiveness in a way that cannot be found anywhere else," she said.
"As difficult and truly horrific as this process was, it has also been an incredible reminder to me of the grace of God and how much I have been forgiven," she added.
Living with both justice and forgiveness is possible, Denhollander added, even though those two ideas can seem antithetical.
"Justice is something that is done or not done irrespective of my personal response to the situation, and it means a couple of things," she contended. "It means that I can choose to stay bitter, I can choose to be unforgiving, I can choose to desire vengeance and retaliation and I may never see justice done here on earth. Or I can choose to forgive and I can pursue justice, pursue that external standard, out of a heart that is motivated by love for truth and love for others and love for God."
This, Denhollander said, is what Christ does for His children.
"Christ laid himself down for us, and when He did that, when He forgives our sins, He is not saying, 'What you did doesn't matter anymore,'" she said. "He's saying, 'Justice has been meted out on me. And because justice has been meted out on me, I can extend mercy and forgiveness to you.'"
In the Christian faith, justice is always meted out because it is the foundation for forgiveness, she explained.
"If you lose that standard of right and wrong, if you lose that moral clarity, if you lose justice, forgiveness becomes meaningless," Denhollander emphasized.
During her impact statement, the former gymnast told Nasser, "I pray you experience the soul-crushing weight of guilt so you may someday experience true repentance and true forgiveness from God, which you need far more than forgiveness from me—though I extend that to you as well."
Speaking to Liberty University, Denhollander defined repentance as "an agreement with what God has said about sin" and an acknowledgement that "departure from God's perfect standard has taken place and that you deserve justice."
"That takes an incredible amount of humility, that takes a complete turning away from those sinful patterns in your life, and that takes an utter dependence on Christ and Christ alone and Christ's sacrifice alone," she said.
When Nassar stood up for his sentencing hearing for child pornography charges, he came with both his Bible and a list of good things he'd been doing in prison.
"He was really trying to convince the judge, 'I said, I'm sorry, but look at all the good things I'm doing to atone for it,'" Denhollander said. "That is not biblical repentance."
"Biblical repentance does not come to God and say, 'I did wrong, but here are all my other good deeds,'" she said. "Biblical repentance comes to God and says, 'I am worth nothing apart from you, and I am in agreement with what you say about my sin.' That is the foundation for being able to receive Christ's forgiveness, and then in turn being able to grant that forgiveness on a human level to those who have wronged us."
Understanding the justice that God can bring is an "incredible foundation" for extending forgiveness and releasing personal vengeance, Denhollander argued.
In a society that minimizes and mitigates sexual abuse, it's important for victims to understand that their experience matters to God, she continued.
"He is the one who defined what sexuality is supposed to be; He is the one who defined concepts of trustworthiness and love and refuge," she said. "God, more than anyone, understands how devastating that departure from His standard is, and it matters to Him. Because it matters to Him, I can trust Him to bring justice. And because I can trust Him to bring justice, I can release my desire for personal retaliation."
To other victims of sexual abuse, she offered the reminder that "your identity is in Christ."
"That is something I really had to cling to throughout this process," she said. "My identity had to be in Christ and in Christ alone and to understand that His concept of success, His success of value, is what defined me irrespective of what the world says."
Denhollander, who has also spoken out about abuse in the Church, encouraged survivors to acknowledge the damage done to them, grieve that damage, and say what God says about it: "This is evil, it was wrong, it was a departure from the incredible perfection of Christ."
"Grieve that loss, knowing that you feel that loss so keenly because God is so, so beautiful," she said. "When we dim the darkness, we really diminish the beauty of the light. So acknowledge it, acknowledge the depth of the evil, and let it point you to the perfect and beautiful standard of Christ, because that is your only refuge and hope."