Latest List of House Reps. Boycotting or Attending Trump's Presidential Inauguration
As the date for Donald Trump's Presidential inauguration ceremony draws closer, the number of House Democrats who are boycotting the landmark event grows larger each day.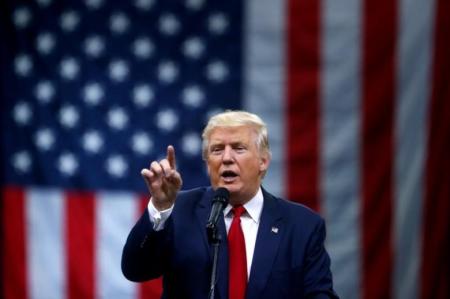 When the results of the 2016 Presidential elections were announced in November, Democrats across the country were in disbelief. Republican Donald Trump, the anti-thesis of everything their party and its constituents believed in, had won against all odds. As their remonstrations had no effect on the outcome of the results, Democratic lawmakers decided that the only way to show their protest against Trump would be to boycott his inauguration ceremony.
As January 20 draws nearer, the number of Democratic representatives boycotting the swearing in has gone up to a staggering 52, reports Time. A large number of them announced their decision to remain absent from the ceremony after Donald Trump insulted veteran civil rights hero Rep. John Lewis (D-Georgia) on Twitter over the past few days.
Mr. Lewis, who had marched alongside Martin Luther King, Jr. at Selma and other key civil rights demonstrations, had said that he would not be attending Trump's inauguration ceremony as he doesn't view him as a legitimate president. Trump replied saying that Lewis should "spend more time on fixing and helping his district" and that he is "All talk, talk, talk - no action or results. Sad!"
Apart from Rep. John Lewis, here are some of the key Democratic representatives who -- enraged by Trump's recent comments, his campaign promises and views on international and domestic policies -- will not be attending the Presidential inauguration ceremony this Friday.
Representatives Boycotting the Trump Inauguration
Rep. Raúl M. Grijalva (D-Arizona) will take part in a protest march in Tucson with his constituents on the day of Trump's inauguration. "My absence is not motivated by disrespect for the office, or motivated by disrespect for the government that we have in this great democracy," he said. "But as an individual act – yes, of defiance – at the disrespect shown to millions and millions of Americans by this incoming administration."
Rep. Lloyd Doggett (D-Texas) said yesterday that he will not be attending the inauguration. "We are sending a message to Mr. Trump," he stated. "Respect, like Pennsylvania Avenue, is a two-way street. Instead of uniting our country, his continued, unprecedented, and un-presidential actions are further dividing it."
The state of California has the largest number of Congressional members who will be boycotting the inauguration -- Representatives Jared Huffman, Zoe Lofgren, Barbara Lee, Mark DeSaulnier, Ted Lieu, Mark Takano, Judy Chu, Maxine Waters, Lucille Roybal-Allard and Karen Bass have all announced that they will not attend Trump's swearing in ceremony.
Rep. Barbara Lee said that she cannot go and honor "an incoming president who rode racism, sexism, xenophobia and bigotry to the White House." Instead, she told CNN, she will be "preparing for the resistance." Rep. Karen Lee held a Twitter poll to let her constituents decide whether she should attend the ceremony and she agreed to abstain from doing so after receiving a 89 percent vote of "No."
Rep. Luis V. Gutierrez (D-Illinois) was among the first Congress members to announce his boycott of the inaugurations. "We all heard the tape when Donald Trump was bragging – bragging! – about grabbing women by their private parts without their consent," he said in an explanatory speech delivered on the House floor. "It is something I can never un-hear." Gutierrez, along with his wife, will be attending the Women's March on Washington on January 21 instead.
Rep. Jose E. Serrano (D-New York) from South Bronx said that he "cannot celebrate the inauguration of a man who has no regard for my constituents." Following his declaration, several other House members from NYC including Representatives Jerry Nadler, Adriano Espaillat and Nydia Velazquez have announced that they too will not go to D.C.
Anger over Trump's attack on Rep. John C. Lewis
Numerous representatives decided to drop out of attending the inauguration ceremony after Trump's attacks on Mr. Lewis.
Rep. John Yarmuth (D-Kentucky) said that he will not be attending "out of deference to my friend John Lewis, who was attacked in a historically inaccurate and insulting way."
Rep. Anthony G. Brown (D-Maryland) who was elected to Congress in November tweeted - "Skipping Inauguration.@RepJohnLewis a civil rights hero. Enormous responsibility to be POTUS. I respect the office, can't tolerate disrespect."
Rep. Yvette Clark (D-New York) joined the inauguration boycott to support Lewis, tweeting "When you insult @repjohnlewis, you insult America." Rep. Marcia Fudge (D-Cleveland) said that she would stay in Cleveland on Friday to show solidarity with Mr. Lewis.
Rep. Dwight Evans (D-Pennsylvania) and Rep. Mark Pocan (D-Wisconsin) cited the Obamacare repeal and Russian hacking allegations against Trump, as well as his attacks on Mr. Lewis, behind their reason to boycott the inauguration.
Who's Attending?
None of the 44 members of the Senate Democratic Caucus have announced plans to boycott Trump's inauguration but whether all of them will attend remains to be seen.
One outspoken critic of Donald Trump who will attend his swearing-in ceremony is Rep. Norma Torres (D-Pomona). Clarifying her decision in a news release, she said: "As an immigrant and a woman who represents a largely Mexican-American constituency, I am the embodiment of everything Trump has demonized and demeaned. And on January 20th, I will stand over his shoulder, just as I will during the next four years, to remind him that I and people like me deserve a seat at the table, and we will watch his every move. We will hold him accountable. We will not silently step aside and be ignored. We will show up, and we will make our voices heard."
An estimate of the total number of people attending Trump's inauguration ranges from 700,000 to 1 million. This drastically falls short of the record-setting 1.8 million attendees at President Obama's first inauguration in 2009.