Lauren Daigle Declares What God Says About Her in New Record (Video)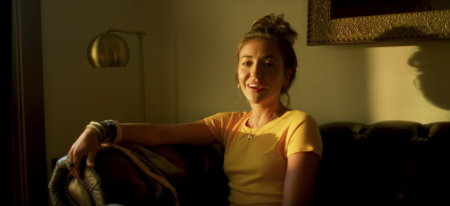 Lauren Daigle is gearing up to release her first album in three years and in her new single, "You Say," the young singer dispels self-doubt by declaring what God says about her.
"You Say" hit radio earlier this month and has already made the highest entrance on Christian Airplay this year. The anthem has had the best start for a non-holiday solo female artist in over eight years. In the song, Daigle admits having to fight the lies in her head to believe what God says about her.
"You say I am loved when I can't feel a thing/ You say I am strong when I think I am weak/ You say I am held when I am falling short/ When I don't belong, oh You say I am Yours/And I believe, oh I believe/ What You say of me," she sings in the chorus.
Daigle recently sat down with Billboard to talk about the heart behind her upcoming full-length album, titled Look Up Child, due Sept. 7, and the new single.
"'You Say' was written at a time when I felt like things were getting away from me and, honestly, I was feeling overwhelmed," Daigle told Billboard. "This song became my anchor and my rock and it gave me truth. I hope it does the same for anyone that hears it."
"I knew this would be a song of my identity," she continued. "'You say I am loved.' That's the truth."
In an earlier podcast interview with Billboard's Nashville-based country, Christian and gospel chart manager Jim Asker, Daigle shared some of the inspiration behind the 12 of the 13 tracks she co-wrote for the new album.
"I want this to be such a record of joy, such a record of hope, that people experience a childlikeness again. In the time of making this record, I had to remember who I was as a child. I want people to reflect on, 'The innocence of my childhood ... how do I see myself through those eyes again? How do I love myself like that again? Where's that joy? Where's that hope?'" she said of Look Up Child.
The new project follows her successful 2015 debut LP, How Can It Be. The first album spent 188 weeks on Billboard's Top Christian Albums and counting.
On the podcast, the Lafayette, Louisiana, native also touched on being a Christian singer and her experience of working with people outside her genre. 
The 26-year-old joined country superstar Reba McEntire at the 52nd annual Academy of Country Music Awards last year for an unforgettable rendition of McEntire's hit song, "Back to God."
"I don't shy away from singing about my faith," Daigle said. "I think it conveys honesty, and people see authenticity. More people are going to relate to my music if it's sincere. I believe that wholeheartedly. That's how you reach people that might not have felt that [the Christian genre] was their home before."