Lauren Daigle reveals music healed her after two year battle with extreme illness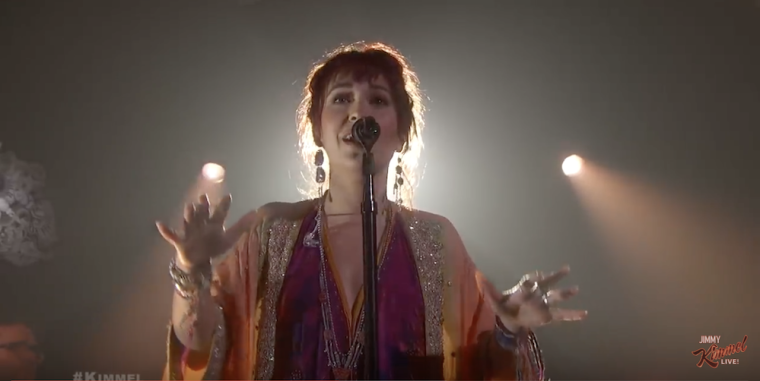 Grammy award-winning artist, Lauren Daigle visited New York's Z100 studios this week and revealed that music healed her while in a two year battle with an extreme illness.
Daigle's last release, Look Up Child debuted at No. 3 on the Billboard 200 chart upon its release in September, beating out popular secular musicians such as Drake, Ariana Grande, Nicki Minaj and Cardi B that week. Since then she's been on a mainstream circuit sharing her Christian music and her story.
While at Z100, Daigle shared that at age 15 she was diagnosed with cytomegalovirus, an immune deficiency she likened to an "extreme" form of "mono."
"I was placed on homebound and that was when my mom said, 'Hey we should start voice lessons,' basically to say, to keep you from depression, 'let's keep you focused on music.'" Daigle explained. "I fell in love, it became my healing."
That time of isolation became the Louisiana native's inspiration for most of her Christian music today.
"The wealth that was given to me and invested in that time, I tell people a lot of times, 'What you think might overcome you is actually just the place you're supposed to launch from. What you think might be the place that is overwhelming and all-consuming is actually just the beginning of your destiny," she testified.
The now 27-year-old wants everyone to know that the difficult times in life can serve as their "starting part."
Daigle said in a recent interview with The Christian Post that she is remaining true to her call of going outside the walls of the church to share the Gospel.
"I think the passage that says, 'Go out into the world and draw people unto Him,' the Great Commission, that's what I think about in regard to the mainstream aspect," Daigle told CP in the interview. "I wasn't looking at [making my music] as in mainstream versus Christian. I was like, 'OK, what is the purest version of me? Or what is the purest thing that God has written into my spirit and how do I express that? How do I communicate that?"
The 27-year-old Louisiana native said she's not afraid to appeal to the world with her message of hope, which some fear might lead her astray and to abandon her worship roots to become a secular artist. Daigle, however, said her faith and mission in life has never been clearer.
"[My music] is having crossover appeal, but it doesn't mean that I'm leaving one for the other or that I'm going to be swept up by one thing or the other. For me, it's like, 'Oh, everything just got even more clear.' Everything just got clearer as to why it is that we go and love people who are outside of the walls of our church, outside of the walls that we're comfortable with," Daigle added.
Daigle is scheduled to perform at the Billboard Music Awards Wednesday, May 1st on NBC.