Law Group Outraged After Pastor Andrew Brunson Returns to Turkish Prison in 'Sham' Case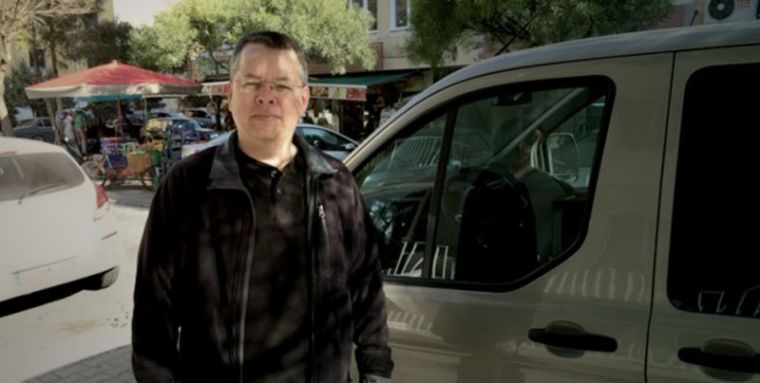 American pastor Andrew Brunson is facing several more months in prison after being remanded by a Turkish court on Wednesday, in what a U.S. law group is calling a "fabricated" and "ridiculous" trial that again failed to produce evidence against him.
"We are very upset that he was not released, outraged that Turkey is allowed to continue to carry on this sham,"  American Center for Law and Justice Senior Counsel CeCe Heil told The Christian Post on Thursday.
Following the July 18 hearing, Heil noted that the whole world can now see that Turkey's court case against Brunson is little more than a sham.
"From the beginning, we have known that there is no case against pastor Brunson. The fact that it took them over a year-and-a-half to even get an indictment out and really officially charge him with any crime — we knew that they were trying to fabricate a case," she said.
"Now we have seen three trial dates, April 16, May 7, and July 18, yesterday, where anybody can see that there is no case against pastor Brunson."
Brunson has been in prison since October 2016, when he was arrested and later indicted on terrorism charges relating to alleged connections with Islamic cleric Fethullah Gulen, who lives in Pennsylvania but is accused by Turkish President Recep Tayyip Erdogan of staging a failed coup in the country in the summer of 2016.
The pastor, who led Izmir Resurrection Church for over two decades before his arrest, has denied all charges, arguing that he is being held for his faith in Jesus Christ.
"The prosecution's witnesses are secret witnesses and they have been completely discredited. They have no witnesses; not one witness has been able to provide a shred of evidence to back up their ridiculous allegations, and pastor Brunson has basically and effectively been denied [the opportunity] to put on a defense," Heil told CP.
"So what had happened yesterday is not a shock, in that we know that there is no real trial going on here."
Pastor Bill Devlin from Infinity Bible Church in New York City traveled to Aliaga for the hearing. He told CP that a pastor and a woman were allowed to testify in defense of Brunson on Wednesday but the prosecution brought forward three "false witnesses" who didn't offer any firsthand information about the accusations against Brunson.
Significant hopes had been raised in the weeks leading up to Wednesday's hearing that Brunson might be released.
Turkish newspaper the Hurriyet Daily News even reported that diplomats in Ankara, the capital, were expecting his potential release, given the pressure U.S. lawmakers are putting on Turkey.
Heil admitted that "although we have hopes at the end of each trial date that pastor Brunson will be released, because the court certainly can do that, I think our hopes were a little bit higher this time, given all the diplomatic efforts that have been in place."
As for Brunson's family in the U.S., including his wife and adult daughter, both of whom lived with him in Turkey while he served as a pastor, Heil noted that they have naturally been let down by the latest decision to send him back to prison until Oct. 12, the next court hearing.
"They are greatly disappointed, their discouragement continues," the ACLJ senior counsel said.
There have been significant efforts to secure Brunson's release over the past few months. , Sen. Lindsey Graham, a Republican, and Sen. Jeanne Shaheen, a Democrat, met Erdogan late in June, asking him to free the pastor.
Graham said that the meeting went positively, calling it "good, respectful, and candid," and noted that the U.S. lawmakers told Erdogan that Turkey needs to continue being a strategic partner for America.
"We spoke candidly about Pastor Brunson and other friction points, including the purchase of Russian made S-400s and American made F-35s. However, when it comes to the U.S.-Turkey relationship, failure is not an option," Graham said.
U.S. President Donald Trump has also urged Turkey to release the pastor on several occasions, but on Wednesday tweeted his frustration at the latest development.
"A total disgrace that Turkey will not release a respected U.S. Pastor, Andrew Brunson, from prison. He has been held hostage far too long. @RT_Erdogan should do something to free this wonderful Christian husband & father," read Trump's tweet.
"He has done nothing wrong, and his family needs him!"
Turkish Foreign Ministry spokesperson Hami Aksoy reacted to Trump's comments on Thursday by insisting that Brunson's case is being carried out in accordance with the rule of law.
"The Brunson case is a legal process. And the process is ongoing. He is able to meet with his family, lawyers and consulate officials regularly. This judicial process is conducted on the principle of the rule of law. Turkey is a state of law. [The court's] decision should be considered within this framework," Aksoy claimed at a press conference, as reported by Hurriyet Daily News.
Heil said that in the ACLJ's efforts to raise concern and action for Brunson's plight, the law group has seen "an unprecedented amount of support from President Trump, from Vice President Mike Pence, from Secretary Mike Pompeo, from the State Department," and from numerous senators, congressmen, and House members who have all vowed to continue fighting for the pastor.
"Turkey needs to know that its relations with the U.S. are being harmed by the fact that they are holding an innocent U.S. citizen for almost two years," she added.
As for Erdogan's continued suggestions that Brunson can be released if the U.S. decides to hand over Gulen, the ACLJ senior counsel said that she does not expect such a deal to happen.
"That [then would] make every U.S. citizen traveling abroad a target. Countries start to think, 'all we need to do is just nab one of these citizens, and we can trade for what we want.' Basically [it would create] political hostages, just like what pastor Brunson has become."
Heil pointed out that Gulen has been in the U.S. since the 1990s, and that America has extradition laws in place.
"I think the State Department has been very clear with Turkey that if they want Gulen to be extradited, then they need to provide evidence to support that. So that's really a matter between the State Department and Turkey."
On its website, the ACLJ has called on the U.S. to increase pressure on Turkey, and noted that its chief counsel, Jay Sekulow, along with the senior team, are deploying to Washington, D.C., to continue fighting for Brunson's case.
During his imprisonment, Brunson has said, "I desperately miss my wife and children. Yet, I believe this to be true, it is an honor to suffer for Jesus Christ, as many have before me. My deepest thanks to all those around the world who are standing with and praying for me."
As of Friday morning, over 586,000 people have signed the ACLJ's ongoing petition in support of Brunson's freedom.