LDS Church Lawyers Unhappy With 'Mormon Match' Online Dating Site
A Mormon online dating service set to launch later this year has received notice from the Church of Jesus Christ of Latter-day Saints' attorneys asserting that the church exclusively owns "Mormon" and images of the Salt Lake City temple.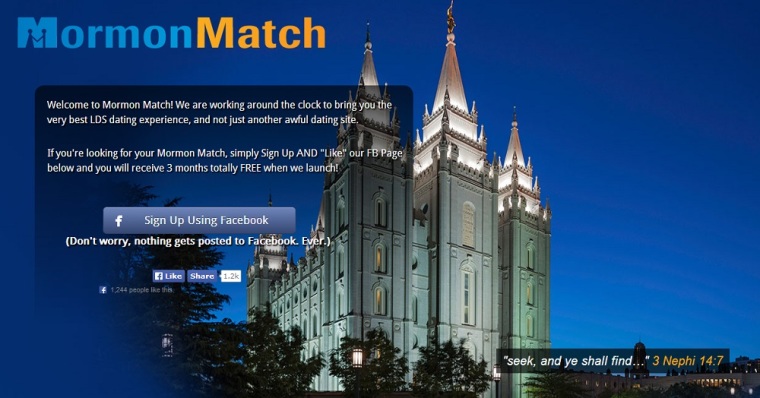 The home page for "Mormon Match," which enticed 1,000 singles from more than 25 countries to sign-up within its first 48 hours, includes a backdrop featuring the temple and a verse from 3 Nephi 14:7, a passage found in the Book of Mormon.
Robert Schick, of Intellectual Reserve Inc., who represents the Mormon church's trademarks, argued that the dating site has no official connection with the LDS and consequently, no claim to use its language or images.
"We believe we are well within our rights to protect both the use of the name of the church and the image of the Salt Lake temple and to make clear that the plaintiff's business has no connection whatsoever to the church," Schick told The Houston Chronicle.
Jonathan Eller, who co-founded Mormon Match with Matthew LaPointe, defended the Texas-based company's use of the Mormon name and said he was not trying to pick a fight with his church.
"I love the church," he said. "I'm hoping we can come to a mutually beneficial arrangement. I don't want to do any harm to the church."
Nevertheless, since the LDS' first notice, Mormon Match has filed a lawsuit against the church, for the "clandestine" strategies with which Eller says it employed in its attempt to take down of his site.
The online dating service first ran into problems when Eller tried to trademark the site's logo, according to his New York attorney Sid Rao. On April 4, the day before the company was set to argue its trademark case against the board, the LDS church directly reached out to Mormon Match's data hosting company "and demanded it be shut down, while simultaneously declining to respond to any correspondence from him or Eller."
The lawsuit surrounds whether the church has exclusive ownership over the word Mormon, or if the dating service can use it on its site.
While other Mormon online dating sites already exist, Mormon Match's selling points include profiles actually being reviewed by LDS singles, an ability to create and find parties "wherever you are in the world," mandatory profile pictures, anonymous browsing and no advertisements.
"Our Mission, and our passion, is to create and maintain an online community of LDS singles and to assist them in finding their eternal companion," the site describes itself on its Facebook page. "However, we want much more than a simple dating site. Mormon Match will serve to strengthen testimonies, increase Faith in the Lord Jesus Christ, create opportunities for service, and also a forum to share the gospel and just have a good time with like-minded people."