Leah Remini Reveals Why She Left Scientology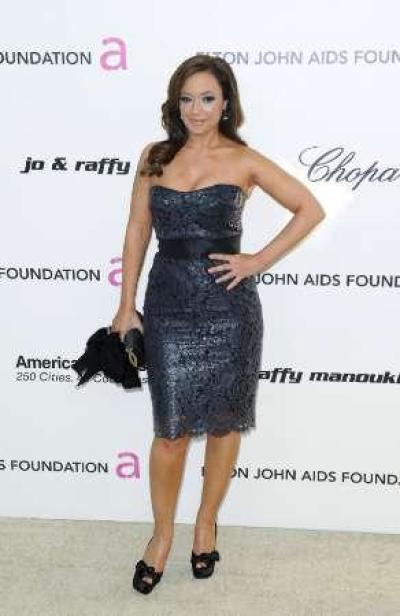 After being a member of the Church of Scientology for 30 years with her entire family, actress Leah Remini says her daughter is the single reason why she left the organization behind.
"I was working on a [Scientology] course one day. I was at one of these hotels in Florida and I saw my daughter swimming for the first time while I'm reading this [Scientology] thing. A tear came down my face," Remini said on an episode of Oprah's "Where Are They Now?" series. "I was like, 'What am I doing?'"
She continued: "I don't think people know the amount of dedication it takes to be in this organization," she explained. "I mean, it was every day, three-and-a-half hours minimum, seven days a week." During that fateful trip in Florida, though, Remini realized that she was "now doing the same thing to my daughter that my mother [had conveyed] to me … that what she was doing was more important."
Remini and her sister were raised in the organization, their mother being a full-time, dedicated member. It caused a rift and sense of resentment between Remini and the church, given that Remini's mother spent so much time with the organization.
With that in mind, Remini and her family, including her mother, decided to leave the organization behind once and for all. It was not an easy move, given that Scientologists who leave are often seemingly cut off from those who remain within the organization. Families may be separated, friends may be lost, and even though it was extremely difficult, Remini does not regret her decision.
"I'm learning there's a new world out here. There shouldn't be any kind of judgment toward somebody who has a belief system that is not yours," she said.
Remini and her family are now on a reality series, "Leah Remini: It's All Relative," which was renewed for a second season. The family spoke about leaving Scientology in one touching episode that addressed several of the rumors surrounding their reasons for leaving. She also vocalized support for the recent HBO documentary "Going Clear," which sought to break the veil of suspicion surrounding the organization.
"Thank you to the brave who did something about it. And to those who didn't have a voice, you do now," Remini tweeted after "Going Clear" aired.
Speaking about Remini's departure, a Church of Scientology representative told Us Weekly last year: "It comes as no surprise that someone as self-absorbed as Leah Remini, with an insatiable craving for attention would exploit her former faith as a publicity stunt by rewriting her history with it, including omitting that she was participating in a program to remain a Scientologist by her own choice, as she was on the verge of being expelled for her ethical lapses."