Lecrae: 'Breakthrough' movie will remind us of God's relevance in post-Christian era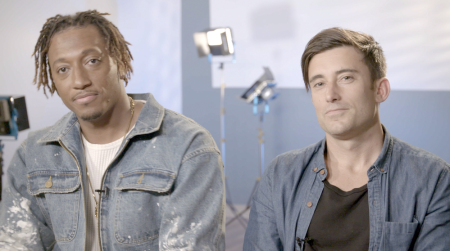 WINNIPEG, Canada — Artists Lecrae and Phil Wickham, who star in the upcoming faith-based film "Breakthrough," say this real-life telling is needed for today's post-Christian era in North America and Europe.
"Breakthrough" tells the miraculous true story of Joyce and John Smith, a mother and son who rely on the power of prayer and the Holy Spirit following a fatal accident that leaves the son dead for 45 minutes. The mom's desperate prayers bring him back to life after the doctors lost all hope.
Grammy-winning hip-hop artist Lecrae believes the testimony of the Smith family is something people could use today.
"I think, specifically like in the western world, we're in a post-Christian era. So I think a lot of times, we forget our faith has survived for thousands of years, is just that here in the West, North America and Europe, it's post [Christian]," Lecrae told The Christian Post in an interview on the set of "Breakthrough" last year.
"It's like, 'oh, we're over that now. We're more progressive with science and so on and so forth.' But take a trip to Africa, you take a trip to China, it's thriving, it's on fire right now. That's the reminder that God is not irrelevant. It's just we forget, [but] He doesn't," the rapper who plays an emcee in the film continued. "We become unfaithful, He's still faithful, and He's going to use whoever wants to acknowledge Him to do whatever it is that He wants done."
Lecrae has had his fair share of doubt recently as he witnessed first hand the woes of racism in America and how a lot of his supporters turned a blind eye to it. A trip to Egypt, however, restored his faith in Jesus apart from institutionalized Christianity.
"So it's a reminder for us here, it's almost like, we are going to become the new mission field for the world, and it's films like this to remind us," He continued.
Wickham, who plays a worship leader, his real-life profession, in "Breakthrough," added, "There's a difference between Christian culture and a person that really follows Jesus."
The contemporary Christian musician said it's actually a good thing that a generation of people are not willing to subscribe to Christianity just because it's their grandparent's religion.
"Once there's truth out there, and people own up to where they stand. I think instead of saying, 'Yeah, I'm Christian, and you don't have to tell me about Jesus,' [since] they're almost closed off to hearing the real truth that they never heard before," Wickham explained. "In some ways, it's paving the way for something beautiful to happen in our country once again, rather than saying, 'I'm a Christian, cuz I'm an American.'"
After his recovery, John Smith admitted that his faith also increased from being a family belief to becoming his. He now aspires to be a pastor.
"Breakthrough" hits theaters  April 17.
Chrissy Metz ("This is Us") plays the role of Joyce Smith and actor Josh Lucas ("Sweet Home Alabama") plays her husband, Brian Smith. Marcel Ruiz ("One Day at a Time") portrays their son, John.
"Breakthrough" was directed by TV director Roxann Dawson ("House of Cards," "Scandal," "The Americans," and "Agents of S.H.I.E.L.D.").
The 20th Century Fox movie is based on Joyce Smith's book, The Impossible, and was adapted for the screen by Grant Nieporte ("Seven Pounds").