Legendary singer Andrea Bocelli to share his Christian faith in TBN Christmas special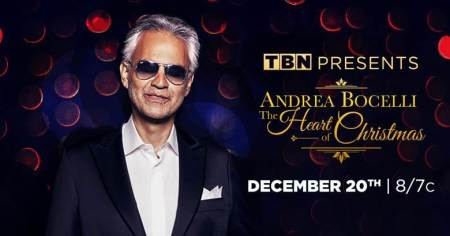 World renowned singer Andrea Bocelli will premiere his Christmas special, "Andrea Bocelli: The Heart of Christmas," on the Trinity Broadcasting Network later this month, where he will also be sharing his faith in Jesus Christ. 
Filmed at Bocelli's hometown of Tuscany, Italy, the special is set to air on Dec. 20 and will feature him performing Christmas songs along with music from his new chart-topping album, Si.
"It was an honor to sit with Andrea Bocelli and his wife, Veronica, and be invited into their home and hear his personal journey of faith," said Matt Crouch, president and chairman of TBN, in a statement shared with The Christian Post.
The music portion of TBN's special, "Andrea Bocelli: The Heart of Christmas," will feature duets with Bocelli's son, Matteo, and Grammy Award-winning Christian singer Francesca Battistelli.
"It's been an absolute joy to welcome TBN viewers into the little church in my beloved birthplace, Lajatico — the exact spot where I discovered, as a child, the power of music as an instrument of prayer," Bocelli said.
Bocelli has sold over 90 million albums and is pegged as one of the most universally "loved and recognizable performers" in the world. His latest album, Sì, debuted at No. 1 on the U.S. Billboard 200 chart for the first time in his career and simultaneously topped the charts in the U.K.
"It was exciting to celebrate together the approach of the Holy Christmas, chatting with each other face-to-face, discussing the important topics of faith, music, and the true meaning of the Christmas season, which our hearts and souls find regenerative," Bocelli added.
In 2017, following a tour of the Holy Land, "The Prayer" singer publicly shared his faith in a message on Facebook, writing: "[A]s a man of faith, a Christian, a practicing Catholic, when I was in Jordan I felt the need to express my devotion, praying at the site where our Lord Jesus was baptized …"
"... the air is filled with sacredness and the water flows with spirituality and prayer," and the whole site preserves "the memory of an old but still relevant encounter that has changed the history of mankind and the world."
For more information about the special and additional broadcast dates, visit TBN.org.