Leprosy Victims Come to Faith After Watching Christ Heal Diseases in 'Jesus' Film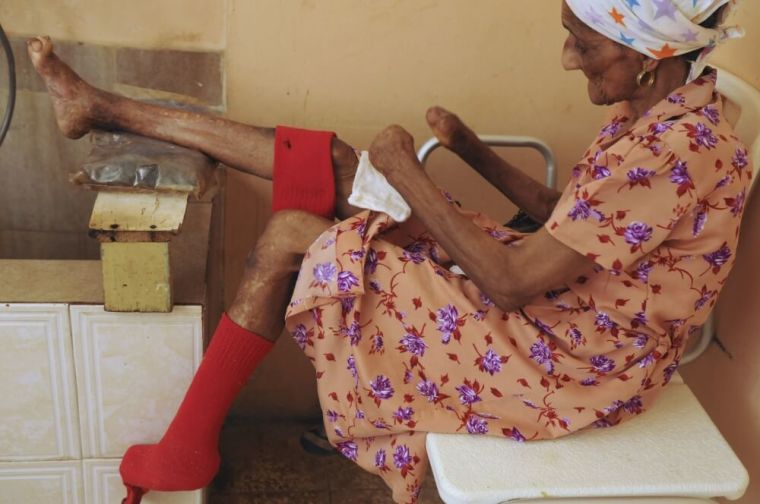 Leprosy sufferers without fingers and toes in South Sudan are coming to faith after watching depictions of Christ healing people with diseases in the "Jesus" film project.
Staurt Bowman of Partners in Compassionate Care told Mission Network News last week that the 1979 film was recently screened in a small leper colony in the Junglei state.
"Just to see the reaction of Jesus healing people — I think it leaves a lot of questions, but when we talk about the healing that God brings inwardly towards people, and how He can restore them in a relationship where they can praise and worship Jesus because of their sins being forgiven, it was a real experience to sit down with them and to pray and have almost every single person there accept and just commit their life to the King," Bowman shared.
Although leprosy has been cured in much of the world, those who live in sections of deeply impoverished countries, such as South Sudan, still suffer from it.
Sufferers are often ostracized and live apart from the rest of society, where they deal with violence between tribal groups, hunger, sickness, and homelessness.
Sharing more on his recent trip to the leper colony, Bowman said that his missionary team met with 35 people.
"These people, many of them don't even have fingers. They don't have toes," he recalled.
Partners in Compassionate Care and other ministries in the region are assisting with spiritual healing and physical needs there, such as helping people receive hospital treatment.
The Jesus Film Project, the organization that holds screenings of the "Jesus" film around the world, has seen mass conversions on various occasions. Back in 2014, the group said that over 400 Mayans decided to become followers of Christ following a screening held in Mexico's Yucatán Peninsula in three villages on three nights.
"We were especially touched on the third night by two tiny, wrinkled, old Mayan ladies sitting on chairs in the very front row just behind the children. They both leaned forward, captivated from the first moment by this film, shown on the big screen and featuring actors speaking their own language," said at the time Erick Schenkel, executive director of The Jesus Film Project.
"When Jesus was arrested, the two ladies leaned forward, their eyes glued to the screen, hands covering their mouths," he added.
"Even the children hush, mouths gaping, eyebrows knit in concern. Jesus is nailed to the cross and the entire community gasps at once. And when the invitation is given, these two ladies joined well over one half of the village as they stepped forward to pray and receive Jesus as Lord and Savior."
Another country that remains affected by leprosy is India, where Christian groups such as Gospel for Asia have tried to shed light on the social stigma and fear that surrounds sufferers.
KP Yohannan, founder and international director of Gospel for Asia, told The Christian Post in an interview back in February 2016:
"If you look through the Bible, you will find many instances of God reaching down to touch people who were in the worst situations. God's heart is to help those who are suffering, those who no one else will even think to help. It is important for us as believers to follow Jesus' example in this as well. We should not be afraid to touch and love those who are suffering with leprosy."