Liberal, Conservative Evangelicals Unite to Call Congress to Act on Migrant Children
In the midst of an unprecedented number of unaccompanied Central American children migrating across the Mexican-American border, Conservative and progressive Evangelicals have called upon Congress to authorize additional funds to address the crisis. The letter, signed by the National Hispanic Christian Leadership Conference's Samuel Rodriguez, Sojourners' Jim Wallis, and World Vision's Richard Stearns, also asks the legislative branch to resist calls to weaken a human trafficking bill.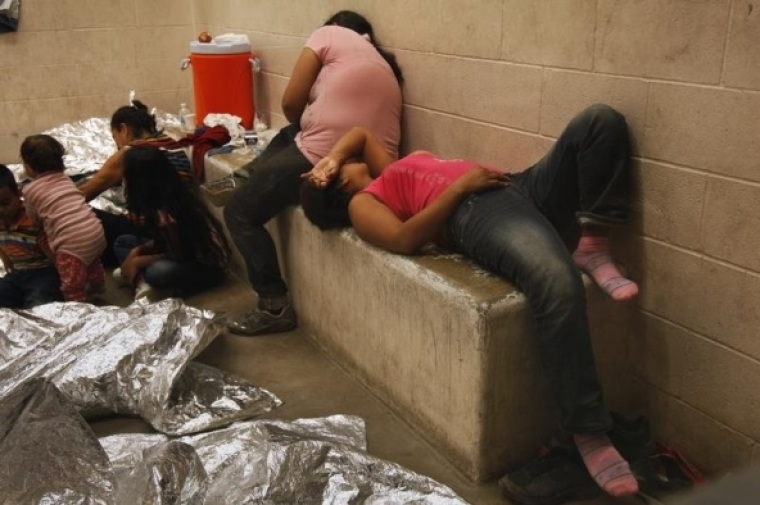 "Children are vulnerable even in the best of circumstances and warrant special protection beyond that offered to adults," stated the Evangelical Immigration Table letter. "This vulnerability is compounded among children who flee situations of criminal gangs, sexual violence, trauma and extreme poverty, without their parents to accompany them. Evangelicals are guided by Jesus' admonitions to welcome and protect children."
The White House suggested recently that it might be open to modifying a 2008 trafficking law, which currently allows migrant children to stay in the country for up to several years before receiving a hearing, but Evangelicals pushed back against any sort of amendment to the William Wilberforce Trafficking Victims Protection Reauthorization Act
"The TVPRA ensures that victims of trafficking are not only identified and screened properly but that traffickers are penalized and brought to justice. It also appropriately assigns responsibility for the care of unaccompanied children to the Department of Health and Human Services (HHS) and ensures that children are placed with their families when possible," stated the letter, citing research from the U.S. Conference of Catholic Bishops that found that the law had helped 23 percent more children be assisted.
"The TVPRA is working according to its design. It should not be changed to address the current temporary situation. The law allows for responses to exceptional circumstances," it added.
The letter also expressed concern the Office of Refugee Resettlement's funds would increasingly be diverted to assist the migrant children at the expense of other refugee programs and asked Congress to authorize more money for the bureau.
"Funds must not simply be transferred from one vulnerable population to another. More funding is needed," read the letter which also argued that additional be funding be granted to immigration courts and judges and to address economic and violent malaise driving children from their homes in Central America and Mexico.
Despite the ideological differences of some of the signatories of the letter, Rodriguez told the Christian Post that "the plight of the innocent, children and immigrants demand kingdom collaboration where political ideologies must never hinder the advancement of the Lamb's agenda."
"In essence immigration reform and the advocacy thereof serves as a 'bridge' in world of political and ideological 'walls.' Why? Because all Christ followers, whether we engage progressive or conservative lenses understand that Christianity stands measured not by the variable of rhetorical eloquence but rather by the constant of loving actions. It's not what we say about our faith, it's what we do to alleviate suffering. That's how we change the world!" he wrote in an email.
Wallis, whose Sojourners often represents the Christian Left, noted that he believed that what caused so many Christians to rally around immigration pertained to the teachings of Jesus himself.
"Matthew 25 is very clear that how we treat the strangers in our midst — 11 million undocumented immigrants and now over 57,000 unaccompanied minors — is how we treat Christ himself," said Wallis in an email. "As Christians we can't just be 'hearers of the word,' but 'doers.'"
Wallis also noted that the practical realities of immigration such as families being broken apart — "including families who are members of many of our congregations, who are our neighbors, and our friends" — meant that the issue became less of an "ideological issue, but a moral one and it's something that all of us have recognized supersedes our particular differences."
Other organizations who co-signed the letter included the National Association of Evangelicals, World Relief, Bread for the World, the Christian Community Development Association, the Southern Baptist Ethics and Religious Liberty Commission, the Council for Christian Colleges and Universities, and the National Latino Evangelical Coalition.