Liberty University Graduation Ceremony's Surprise Guests: Hollywood Actors Mel Gibson, Vince Vaughn, and Duck Dynasty's Willie Robertson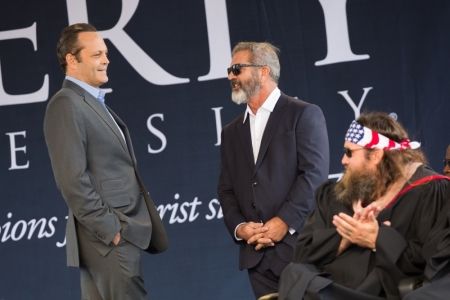 Liberty University conferred 19,430 degrees at its commencement ceremony Saturday with about 35,000 people, including Hollywood actors Mel Gibson and Vince Vaughn, screenwriter Randall Wallace, New York Giants running back Rashad Jennings and "Duck Dynasty" star Willie Robertson, in attendance.
"I was excited just to see so many smiles and cheers and faces of people who are going to go out and change the world," Jennings, who celebrated his own graduation at Liberty seven years ago, said during his keynote address at the Williams Stadium on campus in Lynchburg, Virginia.
Jennings, who became the youngest commencement speaker in the university's history, spoke after Liberty University's President Jerry Falwell, Jr., welcomed the makers of the new film, "Hacksaw Ridge," a faith-based World War II biopic about the life of Lynchburg legend, Desmond T. Doss, a Congressional Medal of Honor war medic.
Writer and director Wallace, also a native of Lynchburg and who wrote the screenplay for the 1995 film "Braveheart" and more recently "Heaven is for Real," briefly spoke about the upcoming film, set to be released on Nov. 4. Vaughn is one of the actors in the Gibson-directed film, which tells Doss' story as he sought to honor God with peaceful actions in a time of war.
Over 5,800 Liberty graduates have military ties, nearly 1,400 of whom are on active duty, according to the university.
In his address at the university's 43rd commencement, Falwell honored the nation's heroes — men and women who are serving or have served in the military as well as military spouses — and thanked them for their sacrifice in preserving the freedoms Americans enjoy. He recognized several veterans, including his uncle, Gene Falwell, the twin brother of Liberty's founder Dr. Jerry Falwell.
Gibson also spoke to the graduates about the new film. "When I came here the first time to Lynchburg, I didn't know about Desmond Doss," he said. "I've lived with Desmond's story for about almost two years now, and I've gained a tremendous admiration for this man. He was one of the most heroic figures in American history."
The Hollywood star also told the large crowd that he is planning a sequel to his film, "The Passion of the Christ," and that it will be about the Resurrection of Jesus.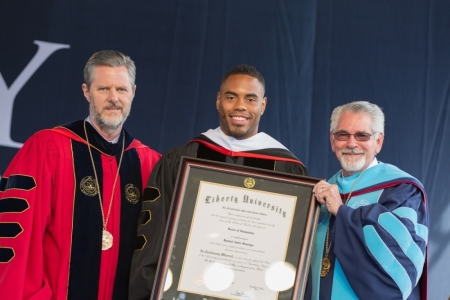 In his keynote speech, Jennings encouraged the graduates to become world-changers and champions for Christ by having a "simple, childlike, Christ-centered faith."
"God delights in taking ordinary people and doing extraordinary things through them," he said. "Will you be one of those people? I'm not supposed to be here, by any stretch of the imagination. Being a little short kid, overweight, 0.6 GPA in high school, 275-pound fifth-string running back with asthma. But one thing I know for sure. When God has your back, you can dream crazy big."
He continued, "Don't allow yourself to lose heart because failure can do one of two things for you. It can either be the beginning of something good or it can be the beginning of something better. Faith makes failure the beginning of something better."
The NFL player added, "We are the salt of the earth. Congratulations to the graduating Class of 2016. Go set this world on fire."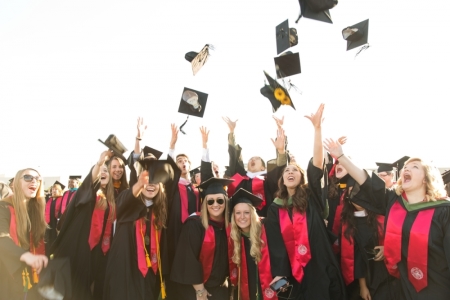 Robertson told the graduates, "I guess the only advice really I have for you is just to be infectious around people with the positive of Christ. The Bible says to be the aroma of Christ. No matter what happens, affect other people and be the person that people want to be around because when you reflect Him and you're a positive person and you help others, people want to be around you, people want to hire you."
"We are so proud of you and thank God for each one of you," Falwell said. "Do not take this achievement lightly. You have earned this honor."