Louie Giglio: To be effective your faith must be built on knowing God, stop wavering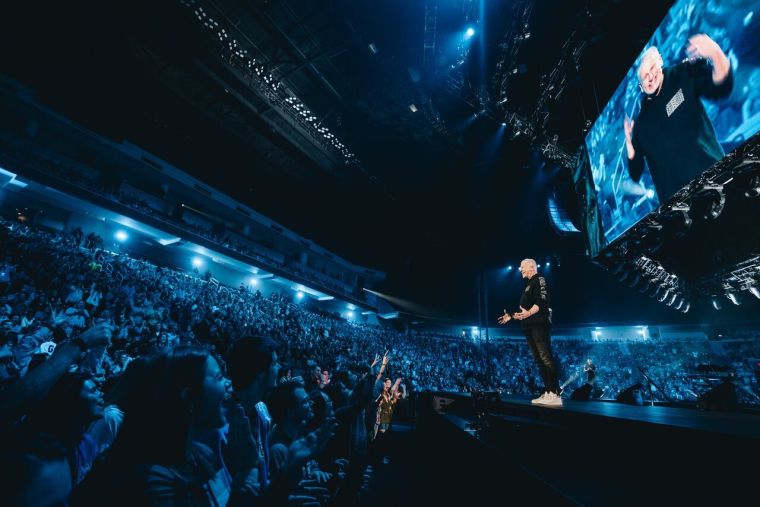 To be sent out and effective for God, faith must be built on the "bedrock" of knowing God, and Christians must cease wavering between two opinions, no matter the circumstances, says Louie Giglio.
In the final session of the Passion 2019 conference, which began Wednesday and was hosted in four sites around the country, founder Louie Giglio stressed the importance of holding fast to God, going deep with Him and having an undivided mind during his second talk in Dallas, Texas, on Thursday night.
"We are living in the greatest days ever in the Kingdom of God," Giglio said, and to be sent out on mission, Christians must have the inner resolve that says, "I've seen enough to trust God with my life."
"How long will you waver between two opinions. If the LORD is God, follow Him; but if Baal is God, follow him," he said, quoting 1 Kings 18:21, recounting the words of the prophet Elijah.
Not wavering between two opinions is particularly important when choosing who to marry, he continued, pointing out how Ahab, an evil king marked by dishonesty, married the demonically wicked Jezebel, who tried to kill God's anointed, Elijah.
He advised the students gathered for the conference that spouses often arrive at the moment when they are the least worried about it, that the lack of worry actually seems to speed up the process.
"Most people I know who have found someone phenomenal were completely and utter floored by Jesus" when they were least expecting it, he said.
Wait for a husband or wife who will "burn for the renown of Jesus in our lifetime."
"Who you marry is going to be the determiner of whether you get in that genealogy of world-changing, believing, faithful people or not."
Ahab was a wicked man whose wife was more wicked, and together they led the people of God astray into idolatry, reestablishing the worship of Baal and revival of Asherah poles, he said. And the people of Israel exchanged a relationship with the living God for idols they built with their own hands.
"God is saying today, have you seen enough [of His miraculous power] to stop wavering between two opinions?" 
"Have you seen enough to say, 'I'm sure all the circumstance aren't going to be great, but I am not wavering in what I have already committed because I've seen enough to commit this life, good or bad, joy and the sorrow, all the days and all the journey to a great and living God," he pressed, adding that the Holy Spirit will point out what the "Baals" are in our life today.
He stressed that students must get to the point where they can say, "On the bedrock [of faith] I've seen enough," that all the stories of God's faithfulness and His great love for them are really true, to the point where going to coffees with friends to be reminded of the basic truths of the faith will not be necessary.
"Does that mean the people you've seen on these stages don't struggle?" he challenged the crowd, mentioning International Justice Mission President Gary Haugen, and evangelist Christine Caine, both of whom spoke at the conference.
"Absolutely not. Everyone on this stage is dealing with cancer, is dealing with betrayal, loss, struggling with being an anxiety overcomer," he said, pointing to himself.
"But I would venture to say no one you've seen leading you is struggling with whether or not God is always working, always worthy, whether He is making us free to walk, whether He is planning things for our lives, whether He's going to come through for us if we take big steps of faith, whether He is for us."
And it is not because they are older, but because they've gone deep, he said.
Before Giglio's closing remarks it was announced that students raised $448,370.41 for the Deaf Bible Society as a part of Hope in Every Language.
The funds will go toward translating stories of Jesus from the New Testament into sign languages in Mexico, Cuba, Colombia, Moldova, Egypt, Ghana, South Africa, Tanzania, Ethiopia, South Sudan, Myanmar, Thailand, Malaysia, the Philippines, Japan and Russia, reaching 160,000 people.
The Passion conference, founded by Giglio, began in 1997.
Passion 2019 is the first year the conference has been held in four different venues — two in Atlanta, Georgia, one in Dallas, Texas, and one in Washington, D.C. — simultaneously.  The annual event was held Jan 3-4.