Macy's Thanksgiving Day Parade broadcasts same-sex kiss on live TV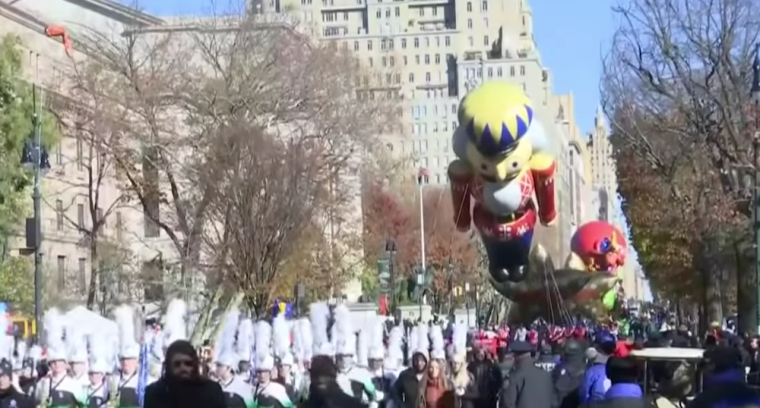 The Macy's Thanksgiving parade has been known to be a wholesome celebration that families enjoyed together every year but this year's parade is drawing attention for its first controversial public display of same-sex relations.
During a performance highlighting the Broadway musical "The Prom," the show's actresses, Caitlin Kinnunen and Isabelle McCalla, were seen romantically slow dancing together and ultimately sharing a kiss to end the ensemble. The kiss is believed to be the first broadcasted kiss between a lesbian couple during the Macy's celebration event.  

"The first #LGBTQ kiss in the Parade's history," cast member of "The Prom" Josh Lamon wrote on Twitter. "We here at @ThePromMusical have never been so proud. #LoveIsLove."
Some on social media also praised the homosexual embrace.
Others, however, said the kiss was "inappropriate" during a family program.

YouTube user Brittney Iowa even penned a public letter to NBC: "Dear Macy's and NBC, There is a time and place to make lifestyle choice statements and the Macy's Thanksgiving Parade wasn't the time and place. Please consider my opinion for next year."
The Macy's Parade is not the only place same-sex relations have been promoted to young people.
Earlier this month, a Florida school showed high school-aged children a sex ed video produced by Planned Parenthood without parental consent. Fox 13 reported that the Safe Place and Rape Crisis Center video was created to teach Sarasota County high school students about consent. The video includes sex talk, a man grabbing a woman's breast, and multiple same-sex couples making out.
The district in Florida had to issue an apology to parents.
Disney has also used its platform in recent years to highlight homosexuality. In 2017, the Disney XD channel introduced the company's first male princess on the same show that previously drew controversy for featuring the first same-sex kisses.

Conservative groups, such as the American Family Association, have warned that Disney's portrayal of gay characters is dangerous and could have "grave and eternal consequences."