Majority of Americans Believe US Is Not Christian Nation, Survey Finds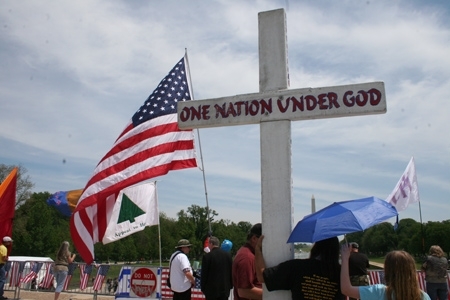 The United States of America is no longer a Christian nation, if it ever was, according to a new survey.
A joint, nonpartisan survey conducted by the Public Religion Research Institute and Brookings Institute released Thursday found that 42 percent of Americans say the U.S. was once a Christian nation but no longer is, while 41 percent say the U.S. is and always has been a Christian nation.
The survey polled over 2,600 Americans from April 4 to May 2, 2016, exploring their perspectives on issues ranging from immigration, the intersection of religion and public life, and how those attitudes are shaping the 2016 election.
A notable finding was the uptick in the number of white evangelicals who said they now believe that America is not a Christian nation – an 11-point increase from 48 percent in 2012 to 59 percent.
The research also shows that political party affiliation provides a stark snapshot as to how Americans think about this issue. Only five percent of Republicans say the U.S. has never been a Christian nation compared to 22 percent of Democrats who say America has never been a Christian nation. And a majority (51 percent) of Republicans say America was once a Christian nation but no longer is compared to 36 percent of Democrats.
Last month, Russell Moore, president of the Southern Baptist Convention's Ethics and Religious Liberty Commission, posted a Youtube video arguing that the United States is not a Christian nation. As CP reported in May, Moore stated then that the idea that Americans are living in a Christian nation "is really a form of theological liberalism."
"It assumes that a person or a nation can be a Christian apart from the regenerating work of the Holy Spirit, apart from new birth. That is contrary to the Gospel," Moore had maintained.
Americans are also divided on whether anti-Christian discrimination has become as significant an issue in the U.S. as discrimination against other groups. Seventy-seven percent of white evangelicals, 54 percent of white mainline Protestants, 53 percent of white Catholics, 53 percent of black Protestants, and 50 percent of Hispanic Catholics believe that discrimination against Christians is as big a problem as discrmination of other groups in the U.S. About 4 out of 5 Americans with no religious identity (78 percent) and members of other non-Christian religions (77 percent) do not agree.
The survey also found that 57 percent of Americans say Islamic values are at odds with American values, with about 74 percent of white evangelical Protestants believing this.
The study in its entirety can be accessed online at PPRI's website.