Male Culture Is Broken, Causes Fatherlessness, Domestic Violence, Prostitution; 'Renegade Revival' Needed, Kenny Luck Says (Video)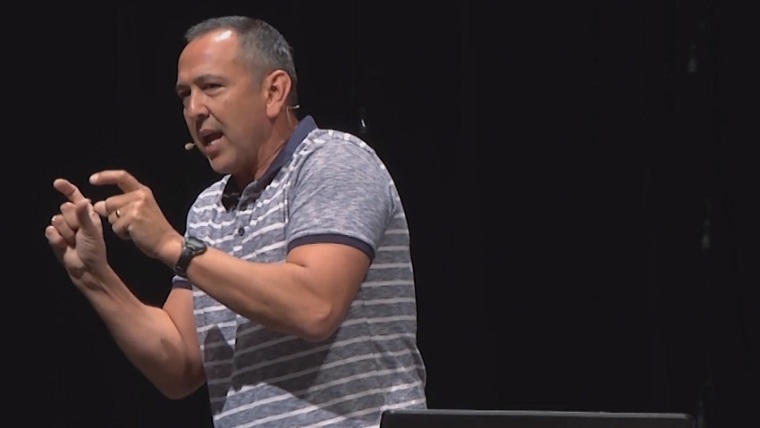 LAGUNA HILLS, Calif. — A broken male culture has led to a host of societal ills, such as fatherlessness, domestic violence and prostitution, Pastor Kenny Luck says, and a "renegade revival" of men is needed to solve these problems.
At a time when many in the U.S. are pointing to the government as either the problem or the solution to societal ills, or both, the Christian church must be accountable for the state of current affairs, Luck explained.
Every Man Ministries founder Kenny Luck used the example of Abram and his army of 318 "trained servants" used to rescue Lot to illustrate the importance of men in the church taking action against evil verses inaction, during a men's Bible study at Crossline Community Church in Laguna Hills last Thursday. Luck, who is also a teaching pastor at Crossline, speaks frequently to other men's ministry leaders and men in church across the country on developing discipleship programs, helping to counter what he describes as a "broken male culture."
"When Jesus says the gates of hell will not prevail against my Kingdom" he is talking about his agenda in a town, Luck said. "This church, your church, is like an embassy in a foreign country. This is a place where God's agenda gets executed in a community."
He explained, "So, when some things going wrong in a city, it's not that the legislation or the government is going wrong, there's something sick and wrong with the church. The church doesn't have its rock, it's collection of hewn stones, it's men that have the spirit of God in them and that are moving into the small and big spaces of a community and are not letting hell prevail.
"When cities are beset with problems, the problem is not with the government, the problem is with the church, and the power of the church," Luck added.
Luck believes that it is the responsibility of the church to raise strong men who by their example as followers of Christ will be able to fight social injustices by leading other men to faith.
"Every pastor needs a community of trained men so that when there are issues going down coming against families, coming against the city, coming against the purposes of God in community, that pastor can call on his 318," Luck said.
He said that he recently spoke to Christian men in Baltimore where they are eager to find a solution to several problems, including increased violence.
"We're talking about broken male culture in the city of Baltimore," Luck said. "We're talking about an 80 percent fatherlessness rate. We are talking about women and children who are suffering because the men of the church are absent."
The pastors in the city are asking what they can do to get the men "activated verses affiliated," he explained. "'How can we get sons of culture acting like sons of Christ,' they ask."
A spiritual response to these questions during troubling times is currently taking place, according to Luck.
"God, right now in human history, is raising up these renegade revivals because culture has infringed upon cities and families and people and there's this angst inside [of them] which is like, 'Wait a minute, whoa, hold on. I don't believe that. I don't think that's right. I don't want my kid coming home and telling me certain things are okay when we know through God's word, and just through history, that that's not okay."
Luck explained why he left "a cushy CEO job" in which he took a large pay cut to get into the ministry.
"I'll tell you why. It boils my blood what's happening across the world through men and the suffering that's going on when I see that 27 million women wake up every day and they have a job, they're prostitutes. They sell their body to who? Men. I see 163 million orphans around the world where they don't have a father, he's gone in, did his thing, and then he's taken off and left the kids to fend for themselves in so many cities. That means education stops for a woman. Her life is over. She has to get on subsidized income and then we create this cycle of dependent, subsidized living from which few ever escape and it creates so much chaos and dysfunction. Epidemic fatherlessness and a lack of responsibility. Domestic violence."
He said that 15 years ago, he wondered what he could do about "all this pain and suffering."
"Well, you know what? I can win men to Jesus Christ and that will give them a new identity. That new identity will create a new energy, new character, new choices, where instead of making messes, they start bringing life. That's what's going on in this world and if you don't start acting according to the reality to which you belong.
"It's not a political deal. That's just a symptom. The root cause is the heart, character, and conduct of men," he said.
"How do you mitigate suffering in a city or a community? You win men to Jesus Christ, the Holy Spirit comes inside of their lives, they start making new decisions, and suffering goes down and life goes up," Luck explained. "Now, the church is relevant because it's resolving the unresolved problems, but we've already spent billions, and billions, and billions of dollars on celebrity campaigns that are reactions to the problems … but until you cap the source you're not solving anything because the main issue that's driving all the suffering are the choices of men."
Alex Murashko is currently working with One Ten Pictures as an associate producer, developing and working on projects that include stories about people and organizations making a difference in this world as ambassadors for Christ. He previously was a Church & Ministry Editor/Reporter for The Christian Post. He also worked at the Los Angeles Times Orange County Edition and at the Press Enterprise in its Southwest Riverside County bureau. Website: AlexMurashko.com.