Many Evangelicals Lifted Donald Trump Above Jesus, Shane Claiborne Says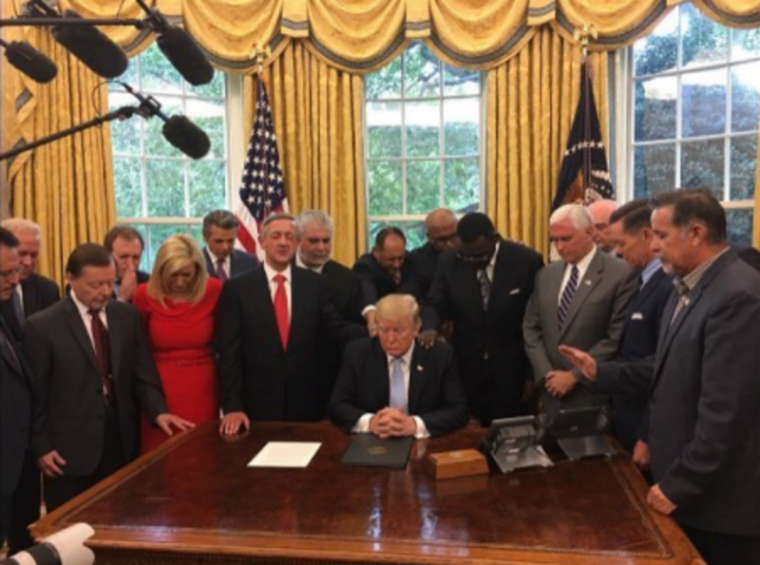 President Donald Trump is "a symptom of a much bigger disease" and many evangelicals have lifted him up above Jesus, Christian activist and author Shane Claiborne said in an interview on NPR.
NPR's Sarah McCammon asked a panel of evangelical leaders, while they now have "unprecedented access" to the White House, many Americans are wondering "how can a group of people known for emphasizing family values back a twice-divorced, sometimes vulgar and racially divisive figure like Trump?"
Claiborne responded by saying that "it should grieve us that when people hear the word evangelical, they think anti-gay, anti-women, anti-environment, pro-guns, pro-military, pro-death penalty."
"We've become known often for what we're against more than what we're for," he continued. "And Jesus says when you welcome the stranger, you welcome me. When we welcome the immigrant or the refugee, we're welcoming Jesus. And I look at the policies of Donald Trump, and I think that the gospel of Donald Trump looks very different from the gospel of Jesus."
"Many evangelicals," he added, "have lifted up Donald Trump above Jesus. I mean, Donald Trump is a symptom of a much bigger disease. And you know, it's been said that Donald Trump did not change America. He just revealed America. And I don't think that Donald Trump has changed evangelicalism, but I do think he's revealed it. And what we are seeing, to me, is very troubling because our Christianity looks very unlike our Christ. And I think young, millennial Christians are seeing that."
Johnnie Moore, an evangelical advisor to President Trump, was also on the show.
"This current cultural moment doesn't reflect the strength or weakness of the church," he argued. "It does, however, serve as a reminder of the areas in which the church still has work to do, you know, principally, on issues like racial reconciliation, on advocacy for the poor. It's a huge indictment on the church if evangelicals are perceived as not being compassionate. That's something we have to work on. That has nothing to do with politics. You know, if a church is compassionate in their community and compassionate around the world, their reputation transcends all of these things."
The host, McCammon, then asked Liberty University professor Karen Swallow Prior what will evangelicalism look like in 10 or 20 years? "We know it looks less white. But what do your churches look like in a decade or two?"
Prior said, "I think that this is a moment of revelation for the church, and even more than that, as a moment of refinement. And refinement is hard, and it hurts. Let's not forget that, you know, if 81 percent of people had voted for the other major party candidate, we still would've been exposing hypocrisy of our values because that candidate doesn't represent evangelical values either. So I think that there is much to examine, much soul-searching that is taking place concerning our hypocrisy, our racism, our sexism. It's difficult, but I see a bright future going forward simply because we are grappling with some things that have been hidden for a long time."
Earlier during the show, Moore clarified that he was never "under the illusion that Donald Trump was a saint."
"I have a set of values that guide me personally," he added. "I think evangelicals have a reputation for having certain beliefs on certain things, and we don't believe in a theocracy. We don't believe that our political leaders have to meet the same standards as a pastor of a church. I mean, it's always a type of bargain in the public square. I think the mistake comes when conservative evangelical leaders speak exclusively for issues like religious liberty or their pro-life stance and fail to speak about the broader issues of life. So I just think it's more complex than people want to make it."