Marco Rubio Leads Evangelical Leaders Vote for Eighth Consecutive Month, Survey Finds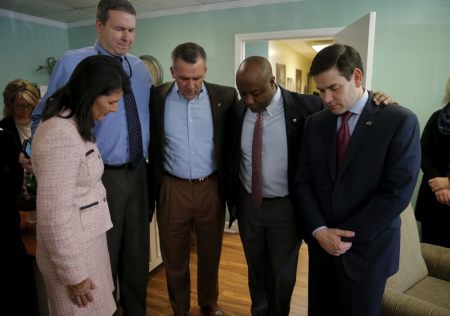 Florida Senator Marco Rubio continues to be the number one pick among evangelical leaders and influencers for the 2016 presidential election, a February survey by WORLD Magazine recently found.
The magazine, which canvasses the political leanings of 103 evangelical leaders and influencers, found that Rubio continues to lead the Christian vote at 49 percent approval.
The conservative Florida senator also gained momentum as a second choice among those surveyed with 26.6 percent, up three points from January's poll.
This is Rubio's eighth consecutive month coming out on top since World Magazine began polling in July 2015.
Ted Cruz came in second behind Rubio with 26.7 percent of the 103 evangelical leaders questioned, 86 of whom participated, saying the Texas senator would be their first pick for president. Cruz also held strong numbers as voters' second pick at 25.6 percent.
WORLD Magazine reports that former Florida Governor Jeb Bush also saw a big rise since last month's survey, jumping a full 13 percentage points for combined first and second choice picks among participants.
One question asked of those surveyed for the February poll included "If the presidential election were today, which declared candidate do you prefer? Who is your second choice?"
Participants were also asked their opinions on the nomination of a new Supreme Court justice following Antonio Scalia's recent death, as well as the possibility of women serving in combat in the U.S. military.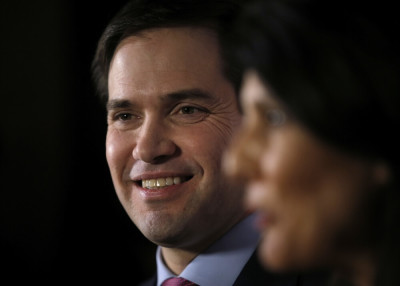 The survey found that over 50 percent of respondents believed that replacing a Supreme Court justice has become a top three priority for religious Americans, and 61.1 percent believed women should not be drafted into military combat positions.
David Dockery, president of Trinity Evangelical Divinity school and a participant in the survey, told WORLD Magazine that he is unsurprised by the recent polling numbers, as they reflect the desires of evangelical voters.
"I am not surprised by these percentages," Dockery said, adding "I think that these numbers reflect continuity with the church's historic understanding of these matters."
Although businessman Donald Trump still seems to be leading several national polls, his popularity with evangelical leaders doesn't seem as high.
Since the survey began last July, Trump has consistently had low numbers among World's respondents, usually gaining on average five percent of the votes for both first and second choice for each round.
Trump also appears to be slipping in at least one national poll, as seen through Wednesday's NBC/Wall Street Journal poll that showed him trailing behind Cruz for the first time since October 2015.
The poll revealed that Cruz had earned 28 percent of the Republican primary vote, with Trump lagging behind at 26 percent and Rubio coming in third at a low 17 percent.
The results come as presidential candidates gather in South Carolina to rally support ahead of the February 20 primary election.
Trump dismissed the results during a town hall meeting hosted by MSNBC on Wednesday night, saying: "I have never done well in the Wall Street Journal poll. I think somebody at Wall Street Journal doesn't like me but I never do well with the Wall Street Journal poll."
 "So I don't know. They do these small samples and I don't know exactly what it represents," Trump added.
A CBS poll from this week found Trump to still be in the lead with 35 percent of the GOP primary votes and Cruz clocking in second at 18 percent. Rubio again came in third in at 12 percent.