Mark Driscoll: Churches Should Not Hide Crime
The fact that some churches decide not to report certain crimes is a sad state of affairs within Christianity, said Pastor Mark Driscoll of the Seattle-based Mars Hill Church during a recent sermon.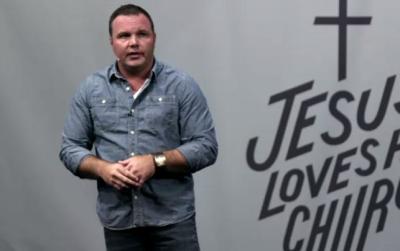 "There's a difference between a sin and a crime. A sin is something that Christians are supposed to handle with the presence of God. A crime is something that we need to report to the authorities," Driscoll said at last Sunday's service. "One of the saddest things that's happened in recent years is, regarding Christianity, certain churches or traditions of Christianity have decided that when a crime is committed, they don't report it and they hide it."
Driscoll gave his message as part of his sermon titled, "Jesus Reconciles Us," in which he asked, "How should Christians deal with conflict?"
During his sermon, he related how he knew of one pastor who had a person coming to him and confessing how angry they are and that they are "thinking of killing this person."
"Call the police. Don't just try to deal with it as a church issue because that is a legal issue," said Driscoll in regards to what the next step for the pastor should have been.
He also said that he has seen women whose husbands were abusing their children not call the police because they "didn't think it was okay to get the officials involved in the case."
Driscoll explained, "We don't hide crimes. Romans 13 says to obey the governing authority. So, if someone sexually assaults you, call the police. If you're working for a company and you're a believer, and someone claims to be a believer, and you find that they're stealing, I mean, it's real and it's real bad, you need to notify the proper authorities in your company and see what their policies are."
On the other hand, Driscoll said, "There are times when crimes are committed, and sometimes as Christians, we can misapply Scripture, especially things like Matthew 18, and take a situation that's only regarding a personal offense, an interpersonal conflict, and apply it, one size fits all, paint-by-numbers kit, for every conceivable situation. It's not. It's not."
Moving into the "sin" part of his message, Driscoll said that sins such as gossip can sometime be easily masked as prayer requests. Rather than talk about another person to other people in a negative way, he suggests talking to them directly.
He also suggests doing something else.
"When you're really frustrated, somebody is driving you crazy, and you've got a strained relationship, you may need a lightning rod. You know what a lightning rod is? If you were growing up where there's lightning, there are lightning rods. Without lightning rods, people die, so lightning rods are very important. What a lightning rod does, it takes all the energy and it grounds it out so nobody dies," he said.
"Whatever it is to ground out your storm before you go talk to that person, let that be God. Pray. Read the Psalms," he continued. "If you've not read the Psalms, the Psalms are a lot of prayers. Some of them are lightning rod prayers. 'God, it's a dark day. I'm depressed. I want all my enemies to die.' Some of you are like, 'That's in there? What a great book. I'm going to start reading it.' Yes, that's the Psalms, and what that is, that's allowing God to be your lightning rod, because you know what?
"God is big enough to handle it. The God of the Bible can ground out your storm."
In a section named "It's All About Jesus" on the Mars Hill Church Website it states, "Jesus was a man who claimed to be God. Think on that for a minute. If that were true, how would it change the way you thought, felt, and lived this life?
"At Mars Hill, we believe that Jesus is God. We take him at his word. Because of this, everything we do is all about Jesus. We invite you to learn more about this man who is God and how you can find forgiveness and new life in him."
Mark Driscoll on Humility and Notoriety