Mark Driscoll: 'Most Christians Stink at Evangelism'
Mars Hill Church Pastor Mark Driscoll had some harsh words about "most Christians" when it comes to their ability to evangelize.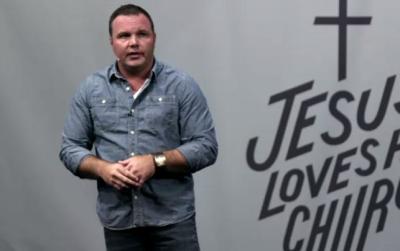 "Here's why. Most churches stink at evangelism. Most ministries stink at evangelism. Most Christians stink at evangelism. You'll notice the consistent variable of 'stinking,'" Driscoll said during a short video promoting the Resurgence Conference (R12) to be held at Mariners Church in Irvine, Calif., on Oct. 9-10.
"Now, they'll say, 'We love lost people. We want them to meet Jesus and we are doing all these things and we have a program and we did a missions trip and we are doing a class,'" he continued. "The truth is that in most churches, in most ministries, in most Christian families, people are not meeting Jesus – getting saved.
"Bottom line – there's a problem. You can make excuses about it or you can make plans to fix it. I've invited Pastor Greg Laurie to help make plans to fix it. He's a great guy. He preaches, teaches the Bible. He loves Jesus."
Laurie, who is the lead pastor for Harvest Christian Fellowship churches in Riverside and Irvine, is also the founder of an evangelism ministry that hosts large stadium events in Southern California and throughout the world known as Harvest Crusades. This past weekend, 78,000 people attended a two-day Harvest event at Angels Stadium in Anaheim, Calif., that included a first-of-its-kind national outreach on Sunday called Harvest America.
More than 8,100 of those attending in Anaheim registered professions of faith after having walked onto the outfield during Laurie's invitation to accept Christ. Attendance and faith commitment numbers are still being tabulated from the more than 2,400 venues throughout the nation that hosted a live webcast of Harvest America.
During the past 23 years, the Harvest Crusades have drawn some 4.4 million people to events in the U.S., Canada, Australia, and New Zealand. Laurie also serves on the board of directors for the Billy Graham Evangelistic Association.
"Right now there is no one more gifted and active in the United States when it comes to evangelism than Greg Laurie," wrote Driscoll in his blog posted underneath the promotional video.
"I've asked Pastor Greg to speak to us on how to increase our influence and effectiveness that the Holy Spirit would open our heart, and open our mind, and open our life … to see more people meet Jesus," Driscoll said. "I want him to talk about his heart for evangelism and lost people in ways that you and I could be more evangelistic personally with our family, church, ministry, and/or business."
Laurie is among the list of speakers to be featured at the upcoming Resurgence event. Other speakers planned for the conference include pastors James MacDonald, Miles McPherson, Craig Groeschel, and Rick Warren. Also, speaker Nick Vujicic and Christian hip hop artist Lecrae are scheduled to appear.
Driscoll, who leads the Seattle-based Mars Hill Church, also founded Resurgence, which is a theological cooperative. The group states on its website that "millions of Christians around the world have come to the Resurgence for training. Our motto is 'Get trained,' so our whole mission is to help you on the mission God has given you."
On the Web: http://theresurgence.com
Where Just Knowing Jesus Will Get You