Mark Driscoll on Joel Osteen: 'There Are Worse Things Than Being Happy and Encouraging'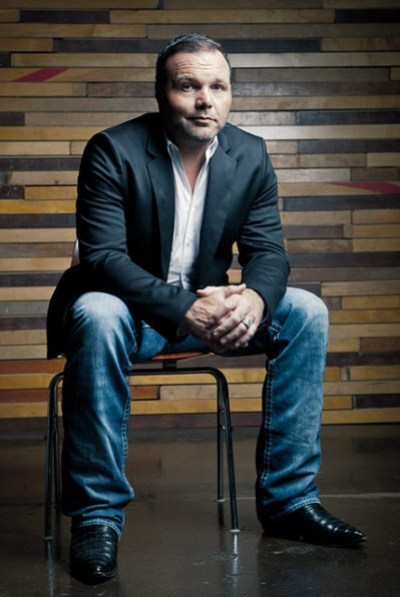 Seattle megachurch pastor Mark Driscoll recently came to the defense of fellow Christian minister Joel Osteen, while admitting that his "Reformed brothers like to treat Pastor Joel like a pinata."
In a recent interview with The Gospel Coalition, the Mars Hill Church pastor was asked to comment on a segment of his new book, Who Do You Think You Are?, that mentions "appreciated people" who "exchange grumbling for praying, competing for celebrating, bitterness for thankfulness, performing for serving, and boasting for encouraging."
The interviewer, TGC's associate editor Matt Smethurst, asked Driscoll, "What's an 'appreciated person'? Isn't that what Joel Osteen wants me to be?"
"I am aware of the theological differences that exist between our tribe and Pastor Joel," Driscoll responded. "I also know my Reformed brothers like to treat Pastor Joel like a pinata, but there are worse things than being happy and encouraging at a time when the most common prescription medications are antidepressants."
Driscoll made the same reference to the common use of antidepressants in his 2007 multipart sermon series "The Rebel's Guide to Joy," in which he mentions in part one Osteen's preaching of the Gospel, which has been labeled by some as a prosperity, or health and wealth, message.
Osteen, who leads Lakewood Church in Houston, Texas, and preaches to about 43,500 people who visit the church every weekend, has embraced the "prosperity" label, although he is careful to define the term.
"The way I define it is that I believe God wants you to prosper in your health, in your family, in your relationships, in your business, and in your career. So I do … if that is the prosperity gospel, then I do believe that," Osteen previously told The Christian Post, adding that he also believes God rewards obedience.
In a video of "Part 1: The Rebel's Guide to Joy," focused on Acts 16 and Philippians 1:1-1a, Driscoll references Osteen's preaching when he offers examples of how some members of society might turn to culture and religion or spirituality in their pursuit of happiness.
"Who's the happiest Christian out there? His name is Joel Osteen," said Driscoll, showing an image of the August 2005 cover of "Texas Monthly" featuring a photo of Osteen with the caption: "And on the 8th day God created Joel Osteen."
Calling the Lakewood Church leader "the most well-known pastor in America," Driscoll noted that "America is absolutely in love with this guy."
While acknowledging Osteen as his Christian brother, Driscoll, however, expressed concern with Osteen's prosperity message, which is not unique to the Texas minister.
 "I'll tell you what doesn't bother me about the guy. It doesn't bother me that he's got a big church, it doesn't bother me that he's on the radio, it doesn't bother me that he's on the TV, it doesn't bother me that he publishes books. It doesn't even bother me that he's happy all the time, because maybe his spiritual gift is encouragement," says Driscoll in his 2007 sermon, according to the video and a transcript from Mars Hill.
"What I find disconcerting is this whole wave of new Christian thinking that says that joy is to be found in the same place that culture and spirituality tells us. Get rich. Get healthy. Be happy. That's the equation. Health and wealth. Prosperity. Now, in this, what we are saying is that, as Christians, we have nothing to offer that is any different from non-Christians or people in other religions," he adds.
In a 2011 feature on Pastor Osteen, USA Today religion, spirituality and ethics reporter Cathy Lynn Grossman noted how the minister's message of empowerment and success "makes his critics livid," specifically citing Southern Baptist Theological Seminary president the Rev. R. Albert Mohler, Jr., and Pastor Driscoll. Grossman apparently also references Driscoll's 2007 sermon, writing that the Reformed evangelical Christian minister says "Osteen reduces the pursuit of God to 'lollipops and skipping while singing hymns.'"
When asked for reaction to Mohler's and Driscoll's critiques, Osteen looked "genuinely mystified," wrote the reporter.
"I don't know who those people are," Osteen told Grossman.
In his interview with The Gospel Coalition last week, Driscoll expressed the belief that Christian preachers should not focus too much on either joy or suffering, a topic he feels features prominently among Reformed or New Calvinists ministers.
The Reformed Christian tradition, inspired by the teachings of 16th century French theologian John Calvin, among others, focuses on, among other things, God's sovereignty and holiness and sinful man's need for salvation, which is initiated by God and wholly dependent upon His grace.
"A few guys in our tribe could learn to talk about something other than painful, arduous suffering once and a while — if nothing else than for the sake of variety," Driscoll told TGC. "Our identity is not in our joy, and our identity is not in our suffering. Our identity is in Christ, whether we have joy or are suffering."
The Mars Hill Church teaching pastor spoke with TGC to promote his new book, Who Do You Think You Are?: Finding Your True Identity in Christ, published in January by Thomas Nelson. Driscoll previously served on the Council of The Gospel Coalition up until last year.
"In any case, the big idea in my book (which never mentions Pastor Joel) is that God loves us, he is aware of our life, and he appreciates our grace-centered efforts to serve and obey him," Driscoll explained. "When we grasp this, we're free to stop seeking appreciation and adulation from others and to work from purer motives without being discouraged or devastated when we're unappreciated by people. This contributes to our ability to be saints who persevere."
Mars Hill Church was founded in 1996 in Seattle by Pastor Driscoll, and welcomes about 15,000 people to weekly services at fourteen locations in four states.