Marvin Sapp Talks Keeping the 'Good News' in Gospel Music; Juggling Fatherhood and Ministry
Award-Winning Recording Artist on 'Christmas Card' CD, Church's New Charter School, More
2 photos
(Photo: Marvin Sapp)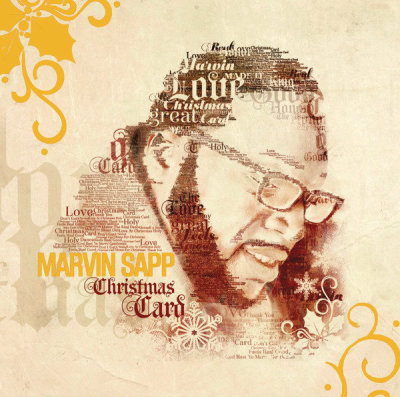 Award-winning gospel recording artist Marvin Sapp's latest CD, a feel-good album titled Christmas Card, reminds listeners of the reason for the season and includes a "thank you" from the Sapp kids to all who have supported them since their mother's passing. Sapp recently spoke with The Christian Post about his new LP, celebrating the holidays without his late wife, and how he manages being a single dad, pastor, and recording artist.
Sapp's Christmas Card, opening with the track "Feels Real Good," a bouncy, bass-heavy cut, and closing with the doo-wop track "Don't Get It Twisted" that calls for keeping Christ in Christmas, also offers two traditional tracks, "God Rest Ye Merry Gentlemen" and "Joseph's Song."
The family- and dance-friendly album is Sapp's first-ever Christmas-themed LP, which is just one of a few recent firsts for the Michigan artist and minister.
Below is a transcript of CP's interview with Sapp, in which he discusses Christmas Card, his church's new charter school, how he handles his many responsibilities, and what pastors need to do to keep "transient" worshippers interested.
CP: Tell me a little about your new CD Christmas Card. I know it's your first Christmas album and that you have some special guests featured on it as well.
Sapp: It's a brand new CD, just came out in October. It's different from what I've done as a solo artist, but it kind of mirrors what I did when I was in the group Commissioned.
So I brought the fellas from Commissioned as special guests to be a part of it as well and not only the fellas from Commissioned, but we also brought my children in to be a part of the whole piece of doing this record, as well as bringing in R&B sensation Joe.
It's a festive record of 12 songs, 10 of them are original songs but the other two songs are traditional songs. I love it, and I had a great time doing it. I think that people will enjoy it.
CP: This is also your first production effort, right?
Sapp: This is the first record I've ever co-produced and wrote the majority of the songs along with a team of writers named Jarmone Davis and Chip Dixson. We co-produced the record together. It was fun. It's a ton of work, but it was fun.
CP: What's Christmas all about this year for you and your family?
Sapp: This year we're trying to establish new traditions. My kids and I, when my wife was alive, we spent a lot of time in Florida during the Christmas holiday. Actually, for 14 years we went back and forth to Orlando, we had a piece of property there and that's where we spent our Christmas season.
This year, my kids came to me and said they want to stay home, which was different. So I had to go out and get a big ole tree and put all of the lights and things around the tree. Had to do Christmas shopping. Then, we would just go to Florida to spend a day at Disney and then the day after Christmas we would do shopping. But this time, you know, I had to do all the shopping and things. It's a change of tradition.
My kids are getting older. Next year they'll be 20, 17 and 15, so you know things are changing. They have different dreams and outlooks for how they want to do things. I'm just trying to roll with them, at least for a little while.
CP: What kind of outreach is your church, Lighthouse Full Life Center Church, doing this holiday season?
Sapp: As a part of the vision of my church, we have a charter school that we founded, as the first-ever performing arts and technology pre-K through 12 program. So the parents of the school are definitely doing major outreaches pertaining to getting toys, boots, gloves and things of that nature not only for our students, but also for young people of the community.
As well as my church, as a separate entity from the school, we're out doing the same thing to ensure that people in the community that we live in have the things that they need, not just to keep warm but food and things of that nature as well.
CP: Talk a little about your church.
Sapp: I founded it 10 years ago. Started with 24 people and we have approximately 800 active members. One church, two campuses, as I always say. We have a campus that's an 18-acre campus that we bought from the Catholic Diocese of [Grand Rapids] in 2008. We were actually having services there on campus but the school grew dramatically in two years from 160 students to 420. We still owned our old building which was literally a half a mile away. It's a 30,000 square-foot facility that seats 700 people. Now we're one church, two campuses. We have an academic campus and we have a worship campus.
CP: How do you manage leading an 800-member congregation, being a single father, and a successful recording artist?
Sapp: Well you definitely don't juggle it, because anything that you juggle you can drop. And you don't balance it, because anything you try to balance you can lose balance. But what you do is, you prioritize. Before I got on the phone with you, before I'm anything I'm a father, so I got off a plane this morning after doing a concert in Opelousas, La. I flew home and got off the plane and went to pick my girls up from school, made sure I got them something to eat. Then I drove straight to the office, and picked up the phone and called you. We prioritize.
Before I'm anything, I'm a father and then after being a father, I'm a pastor and after being a pastor I'm a recording artist and after being a recording artist, I'm all the other things that I do from writing books to businesses that I own, to real estate that I have in the city, all the other things that I try to do, from the school and things of that nature. ... I've learned that if I keep everything prioritized and in its proper perspective, God has made me a promise that the rest of my days will be the best of my days.
CP: What are some trends you've noticed with the Christian Church, and also in the gospel music industry?
Sapp: I think people are transient. Back in the early church there was a "stick and stay" mentality. In this day and time, people have a fast food mentality of ministry. If it doesn't fit them or if it doesn't fit in their schedule, they'll move on to something else. That's a norm in today's time. We as preachers/teachers/pastors have to figure out things to do in order to garner the attention of individuals and also keep them at our churches by making sure that we reinvent ourselves on a consistent basis.
Where in days gone by, people just wanted the word and just wanted to live off of it, it didn't have to have no glitz and glamor and flash to it. But that's the day and time in which we live. … We have to learn how to be more creative in our presentation. I think that's a good and a bad thing.
We have to be creative is a good thing because it challenges us to pray and step outside the box. It's a bad thing because if we have to keep doing it, after a while it's going to get old. We have to stay on top of our game.
Musically, everything is changing in music. When I first started in the music business some 23 years ago there was only traditional and contemporary gospel music. Now we have so many different genres of music it's amazing to me. Even in the gospel music arena, you've got hip-hop, you got contemporary, urban contemporary, you got traditional, you got neo-soul gospel, you've got all of these different things.
I love the direction that gospel music is going into. Even though gospel music is going into a different area and arena from just being gospel to being inspirational, entertainment, if you will, I think that we still need to make sure that we keep our message crystal clear. Because the gospel is good news, and if we're not sharing good news, we're not doing what we're supposed to do as gospel artists.
CP: Do you have any future projects in the works?
Sapp: I start [writing for] my brand new CD in January. We're going to record in either June or July and have everything done for it to be put out in the spring of 2015. I'm real excited about getting to work on a new CD, new project, writing, and possibly production but we'll see.
People want to know what it's going to sound like. It's going to sound like the last three albums because I've garnered a real good bass, and if it ain't broke don't fix it. I tell people all the time, I feel like I'm the Frankie Beverly of gospel music, so I want to just keep it simple and keep it churchy but most importantly keep it Jesus and keep it funky.
Read Sapp's take on pastor suicides: Pastor Marvin Sapp Talks Mental Health 'Taboo,' How Wife Saved Him From Suicide Even After Her Death