Massachusetts Republican Gov. Signs Law Mandating Birth Control Coverage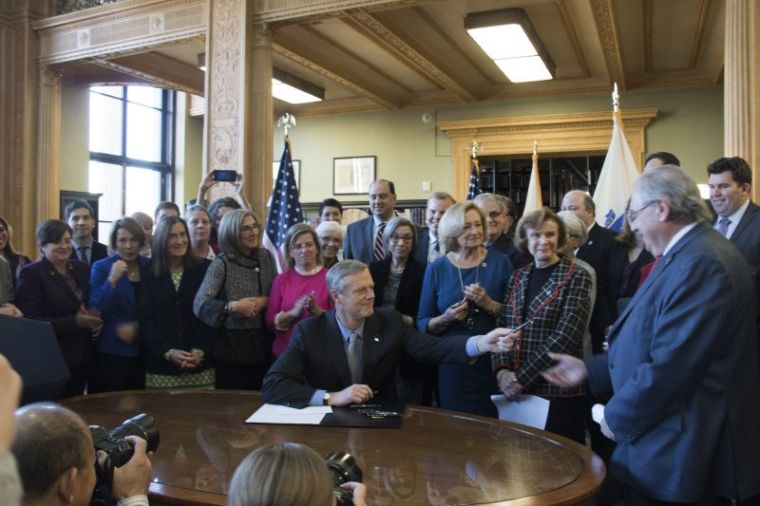 Massachusetts became the first state in the nation to mandate birth control coverage in the wake of the Trump administration's move last month to provide religious employers a broader exemption to an Obamacare mandate requiring contraception coverage for employees.
Republican Gov. Charlie Baker signed into law on Monday Bill H.4009, which requires that all state insurers cover birth control without a copay.
"This legislation will ensure no woman in Massachusetts, irrespective of what goes on in Washington, will worry about whether her health care services and rights will be affected here in the commonwealth," Baker said after signing the legislation at the State House library, according to MassLive.com.
According to the legislation, which was put on the governor's desk on Nov. 14 and signed on Nov. 20, the only exemptions offered to this law are plans purchased by churches or church-controlled organizations.
"A church or qualified church-controlled organization that invokes the exemption provided under subsection (f)(1) shall provide written notice to prospective enrollees prior to enrollment with the plan, listing the contraceptive health care methods and services such employer refuses to cover for religious reasons," the bill reads.
The bill was a response to the move by the Department of Health and Human Services in October to provide broader exemptions to religious employers to an Obama-era mandate requiring birth control coverage in their employees' health plans.
As exemptions to the Obamacare mandate was severely limited to mostly just churches, a number of non-church religious organizations (including the nuns at the Little Sisters of the Poor) sued the federal government for an exemption so they wouldn't have to pay millions of dollars in crippling non-compliance fines.
In 2016, the Supreme Court vacated a lower court ruling against the Little Sisters of the Poor and sent the case back to the lower courts, a move that was praised as a victory by religious freedom advocates.
The HHS' move to provide broader religious exemptions to the contraception mandate has been criticized by many on the political left who say that such a move could prevent hundreds of thousands of women from receiving contraception coverage.
In response to the Trump administration's action, the states of California and Pennsylvania filed lawsuits against the federal government. As for Massachusetts, the blue state responded to the Trump administration legislatively.
"Efforts at the federal level to limit access to contraceptives have created unnecessary uncertainty for millions of Massachusetts women," Lora Pellegrini, president of the Massachusetts Association of Health Plans, said, according to MassLive. "This law offers a sensible approach that will provide women in the Commonwealth with the confidence that they will continue to have access to this important benefit regardless of what happens in Washington, while being mindful of our state's focus on cost containment."
Planned Parenthood President Cecile Richards issued a statement calling on more states to pass a law similar to the one passed in Massachusetts.
"Birth control coverage is still at risk for women nationwide under the Trump administration," Richards said, according to Newsweek. "We need everyone — lawmakers on both sides of the aisle, business leaders, artists — to follow Massachusetts' lead and take action."
At the bill's signing ceremony, Baker reportedly said that "this is exactly the sort of opportunity where Massachusetts has a chance to send a message to other parts of the country about how we think and feel about this issue."
According to the National Conference of State Legislatures, 28 states already require insurance companies to cover contraception.
The bill was opposed by a number of pro-life groups, including the Massachusetts Citizens for Life, which said in a statement that the new law only applies to "state-funded health plans," such as those for government employees, people who receive MassHealth and those who "pay a premium to an insurer."
"Self-insured plans — usually from very large employers — are not required to follow the law, but may do so at their option," the pro-life group's website states. "Let's hope they refuse."
Massachusetts Citizens for Life also voiced its displeasure with the fact that the state law mandates that employers "pay for over-the-counter coverage of so-called 'emergency contraception.'"
"MCFL was opposed to this law because, for the first time, it requires free access to abortifacient so-called 'emergency contraception' without exemption for most employers," the group stated in a Facebook post Tuesday.