Matt and Melissa Graves to Bury Son Killed by Alligator After Blue Ribbon Themed Funeral Tuesday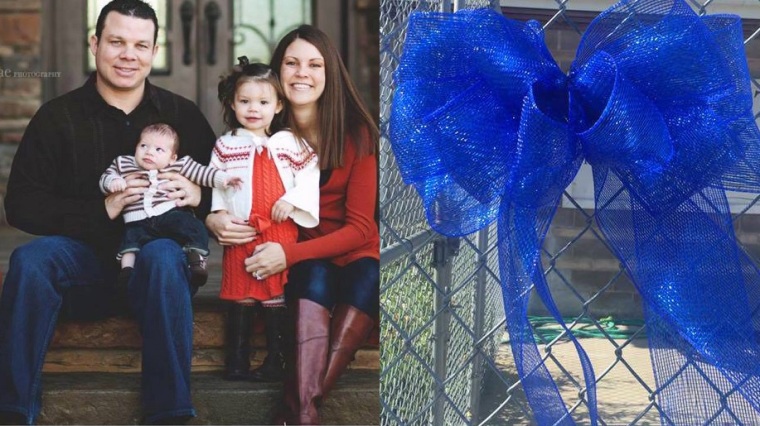 Matt and Melissa Graves, parents of 2-year-old Lane Graves who was drowned by an alligator at Disney's Grand Floridian Resort & Spa in Orlando, Florida, last Tuesday will remember their son at a funeral mass in Nebraska on Tuesday and want the public to show their support by tying a blue ribbon around a tree.
In a statement from the family released by St. Patrick's Catholic Church in Elkhorn, Matt said he and his wife have refrained from speaking publicly because "we simply cannot at this time." He further pleaded for privacy despite the frenzied media coverage of his son's death.
"Melissa and I continue to deal with the loss of our beloved boy, Lane, and are overwhelmed with the support and love we have received from family and friends in our community as well as from around the country. We understand the public's interest, but as we move forward this weekend, we ask for and appreciate the privacy we need to lay our son to rest. Neither Melissa, myself or anyone from our family will be speaking publicly; we simply cannot at this time," said the statement from Matt.
On Sunday, when most families were celebrating Father's Day, the Graves family was busy praying with their church community for their departed child.
On Monday, a wake will be held for Lane beginning at 3 p.m. at St. Patrick's church with no visitation. Starting at 10 a.m. on Tuesday the church will also host a funeral mass for Lane which will be followed immediately by the boy's burial at the Resurrection Cemetery.
The family has asked that anyone attending any of the services for Lane not to use any recording devices before, during or after any of the events. Anyone failing to honor the request is expected to face consequences.
"Anyone suspected of such use will be escorted from the premises. All media (sic) has been asked to remain off of St. Patrick's property through this time," warned the church.
Among other things, the family is asking supporters to tie a royal blue ribbon around their tree to "show your love and support."
Family friend Amy Alvano said on Facebook last Thursday that the blue ribbon campaign was started by neighbors of Matt and Melissa.
"Please share at the request of the friends and loved ones. Melissa and Matt's neighbors are starting a campaign to tie blue ribbons to every tree. It is a beautiful sign of solidarity for the family and they need to see we are with them. Please share with your homeowners associations, or please take head of it in your own neighborhoods. We have been asked by so many what they can do to help and this would be a great place to start. We would appreciate any and all help to get this going. Thank you again for all of the support and please continue praying for them all," she wrote.
Divers found Lane's remains at 1:45 p.m. last Wednesday near the area of the lake known by vacationers as Seven Seas Lagoon at Disney's Grand Floridian Resort & Spa where he was attacked the previous night. His body was recovered about two hours later, Orange County Sheriff Jerry Demings said, according to The Washington Post.
A complete autopsy later conducted on Lane by Dr. Sara Zydowicz revealed he died "as a result of drowning and traumatic injuries," according to PIX11.