Megachurch Founder Bob Coy Accused of Molesting 4-Y-O, Sexually Abusing Her Into Her Teens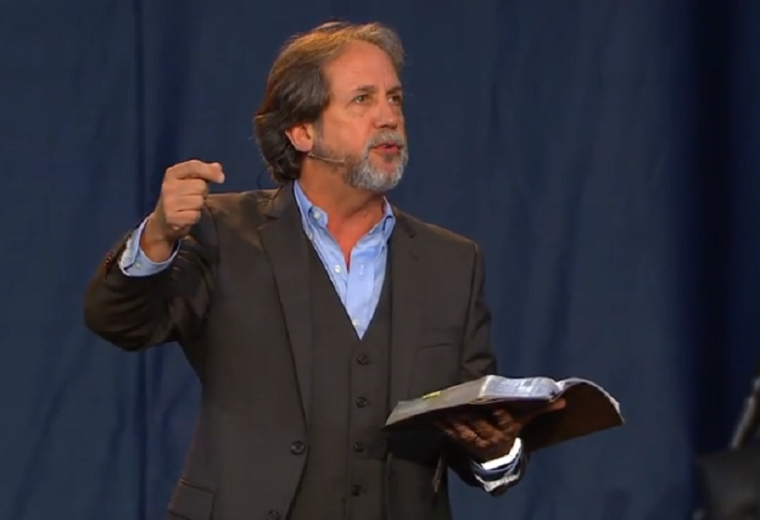 Bob Coy, founder of Calvary Chapel Fort Lauderdale in Florida who resigned as senior pastor over moral failings in 2014, has been accused of molesting a girl when she was 4 years old and into her teens.
According to an August 2015 report provided to The Christian Post by the Coral Springs Police Department, a mother living in Southern California reported that her then 17-year-old daughter came forward, saying she had been sexually abused by Coy for years.
The accusations reveal in graphic detail that Coy forced the girl to perform oral sex on him, and that he "digitally penetrated her."
Police later spoke with the victim in September 2015, but she said she was not sure whether she wanted to go through with a criminal investigation or testify.
She also said that while she had not confronted Coy yet, Coy had been "confronted by pastoral staff in Tennessee and is likely aware of the allegations at this point."
The following day, the victim told the police that she was not ready to proceed with a criminal investigation unless a second person came forward.
The case was assigned to a detective and although police advised the victim that there does not seem to be a statute of limitations concerning the alleged crime, the girl reportedly did not cooperate in terms of pursuing the matter further. The case was thus closed and made "inactive" in October 2015 pending the victim's cooperation.
About half a year later, the victim visited the police department and said she had an "experience with God" and has found forgiveness for Coy. She subsequently said she does not want the abuse made public and even asked for the record to be destroyed, though she was informed that that would be against the law. The case was closed in 2016.
Coy resigned from Calvary Chapel Fort Lauderdale, which he founded in 1985 and grew to become one of the largest churches in the nation, in April 2014. According to a statement from the church at the time, he had confessed to a "moral failing." Then Outreach Pastor Chet Lowe specified to the congregation that Coy "committed adultery with more than one woman" and "committed sexual immorality, habitually, through pornography." 
With the latest revelations on child molestation, Calvary Chapel Fort Lauderdale posted on Tuesday the following statement in response to the allegations:
"Our church was saddened to hear of the allegations made against Bob Coy years after his resignation and departure as senior pastor. We learned of this report after it was disclosed and reported to the appropriate authorities.
"We take every allegation of abuse seriously and our prayers are with all those involved as they pursue redemption and healing. Because this is a personal matter, any further questions would be best addressed to Bob Coy himself."
CP reached out to Calvary Chapel for further comment but no response was received by press time.
Miami New Times, which first reported on the child abuse accusations against Coy on Tuesday, said that the 61-year-old founder of the 25,000-member megachurch in Florida is denying the allegations.
Coy also claimed that he passed a polygraph test to prove his innocence.
"I can't discuss it on the record," the former pastor, who managed a casino with exotic dancers in Las Vegas before committing his life to Christ, said when approached in October.
"If you're foolish enough to go through with this story ... it would hurt a lot of people," he added, refusing to provide more details about the scandal.
Coy, who has also been divorced from his wife, is reportedly looking into the prospect of starting a new church again despite the controversy.
Michael Newnham, a pastor from Oregon whose blog "Phoenix Preacher" details the scandals swirling around Calvary Chapel, pointed to sources claiming that Coy is trying to mobilize investors, because he wants "back in the game."
"We need to stop him. In my opinion, if he did this [to one victim], it's just a question of how many others are out there. He can't be put in a position of power ever again," Newnham stressed.
Miami New Times also pointed to a long list of other staff who are part of the global family of Calvary Chapel churches and have been accused of sexual abuse, including a number from earlier this year.
Matt Tague, former assistant pastor at North Coast Calvary Chapel in San Diego, was fired by the church after he was arrested in May on six counts of lewd and lascivious acts on a minor under 14 years old.
In July, Roshad Thomas, a 41-year-old former volunteer youth pastor at Calvary Chapel Tallahassee, was arrested after he was accused of molesting at least 10 children aged 13 to 16 over several years, with victims including members of the youth group he led.
The article noted that in total at least eight pastors, staffers, and volunteers in Calvary Chapel's network in the U.S. have been charged with abusing children since 2010.