Megachurch Pastor Jack Graham Ready to 'Champion Donald Trump' After Meeting With 900 Evangelicals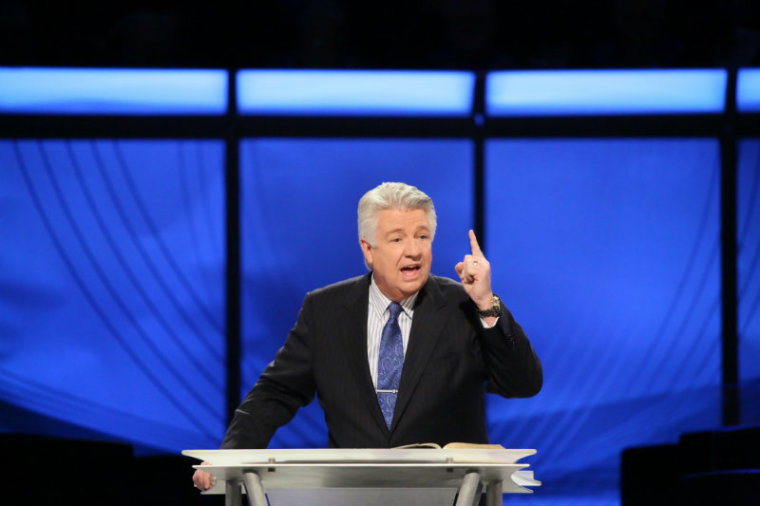 Former Southern Baptist Convention president and megachurch pastor Jack Graham says that he is ready to "champion Donald Trump" after attending the meeting between the presumptive Republican nominee and over 900 evangelical pastors and activists in New York City on Tuesday.
In the meeting convened by the organizations United in Purpose and My Faith Votes that was billed as a "conversation" between Trump and many of the nation's evangelical leaders, Trump vowed to appoint pro-life Supreme Court justices, protect religious freedoms and help fix the problems surrounding America's impoverished inner cities.
While some attendees of the event, such as Fox News's Todd Starnes, claimed that the meeting was "basically a campaign rally," Graham told The Christian Post following the meeting that the gathering lived up to its "conversation" billing and that he and others are ready to encourage others to vote for Trump.
Graham, the pastor of Prestonwood Baptist Church in Plano, Texas, has agreed to serve on Trump's new evangelical executive advisory board and said that he was thrilled to hear Trump answer questions that were weighing on the hearts of many social conservatives at the meeting.
"It was a very positive meeting. It didn't feel like a sales pitch," Graham said. "I didn't feel like a political campaign [rally] as much as it did a conversation between friends."
Although the knock on Trump has been that he doesn't provide in-depth answers when it comes to policy specifics, Graham said that Trump was specific in his vow to protect religious liberty and his vow to appoint pro-life justices.
"As far as I know, this is the first presidential [nominee] including Ronald Reagan, Bush 1, Bush 2 that has ever said 'I will appoint pro-life Supreme Court justices.' That has not been done before," Graham asserted. "That is quite a commitment. I think some of us can remember the days when our candidates were saying 'no litmus test.'"
Graham also liked Trump's response to a question he was asked about how he would help bridge the racial divide in America.
"Someone asked him about violence in America, the streets and the urban areas and the racial divide in America. He talked about jobs and talked about education. He is quite versed in the answers," Graham added. "His criticism is that his answers are surface answers. I don't really get that. I don't know what more people want him to say. He is offering more solutions that Hillary Clinton."
One of the most intriguing things that Graham heard Trump say was that he would end the longstanding ban against churches and pastors engaging in political speech. Trump promised to get rid of a 1954 law that threatens 501(c) nonprofit organizations with loss of their tax-exempt status if they engage in political activity or endorse candidates.
"That is [a] pretty brand new [idea]," Graham said. "I think that surprised a lot of people but it pleased a lot of people as well."
When it comes to the 2016 election, Graham said that he is no longer just against Clinton.
"I know that I feel very convinced that it's not just 'Oh, we got to stop Hillary Clinton,' which we do, but that we can champion Donald Trump," Graham said. "I am convinced he is going to make a great president of the United States."
"He gets it. I think more and more, one of the reasons we got together so that we can get him and what he is about more up close and personal and that he would get us," he added. "I think we all walked away as friends."
Graham said that many of the other pastors and attendees who he talked to felt very much the same way he does.
"In the conversations that I have had in the hallway, that's the consensus," he said. "What we have to do now, those of us who were here and walked away with that sense of duty, we need to get people to vote and to vote enthusiastically their principles. If they can't vote for Donald Trump, vote for principles for pro-life and pro-marriage and pro-Israel and pro-economy and pro-America. That is what we need to do at this point."
"We are all aware that millions of evangelicals sat out the last presidential election and that cost us the White House and a lot of other elections," Graham said. "We can't just sit this one out with the Supreme Court at stake and the war on terrorism, national security and economy. It's too late to wait."