Megachurch Pastor Kirbyjon Caldwell to Surrender Monday for Allegedly Bilking Congregants of $1M, Asks for Prayers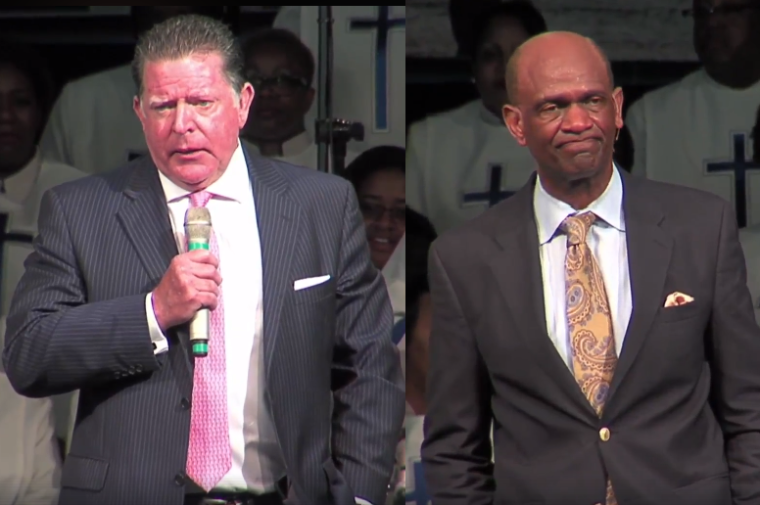 Kirbyjon Caldwell, a prominent Texas pastor who leads one of the largest churches in America and served as a spiritual adviser to both Presidents George W. Bush and Barack Obama, asked his congregation to keep praying for him Sunday after he was indicted for defrauding a number of them of $1 million.
Caldwell, 64, who is senior pastor at the 15,000-member Windsor Village United Methodist Church in Houston, was indicted last Thursday along with his business partner, Gregory Smith, 55, on multiple charges, including money laundering and wire fraud.
Before delivering his message about the blessings that stemmed from the Resurrection on Sunday, Caldwell allowed his personal attorney, Dan Cogdell, to address his church on the charges.
"A news person the other day told me, 'the prosecutors don't normally get this far unless they have strong evidence' and I thought I know the truth and the truth will set him free!" Cogdell declared to cheering members.
Caldwell and his partner are accused of, among 13 counts, conspiracy to commit money laundering when they raised around $3.5 million in Historical Chinese bonds from 29 investors between 2013 to 2014, ABC News said.
They reportedly tricked investors into believing that they were buying bonds through a Shreveport-based company called Smith Financial Group LLC.
"These bonds were issued by the former Republic of China prior to losing power to the communist government in 1949. They are not recognized by China's current government and have no investment value. Smith and Caldwell promised high rates of return, sometimes three to 15 times the value of the investments. Instead of investing the funds, the defendants used them to pay personal loans, credit card balances, mortgages, vehicle purchases and other personal expenses," a release from the Department of Justice said.
Caldwell is expected to surrender to authorities on Monday, according to ABC News, where he will to go before a magistrate judge at the U.S. Attorney's Office in the Western District of Louisiana to be arraigned.
While declaring his client's innocence, Cogdell urged members of Windsor Village United Methodist Church in a more somber appeal to also pray for their pastor.
"We need your prayers. We need your continued prayers and your continued love. God bless you all. God bless you all," he ended.
Caldwell also thanked his congregation for their prayers while reiterating his innocence.
"I do want to thank you for praying for my wife and my children who are doing well but with your prayers and the grace of God will continue to do so. Attorney Cogdell has really said enough but just for the record, from my mouth to your ears, I am not guilty," he said.
"And somebody said the bonds are not authentic? I have proof and evidence that they are. Somebody said the bonds are not marketable, they are not worth anything? I have lots of evidence, lots of evidence and proof that they are. I've had legal counsel throughout the whole selling process. I wasn't just out there willy nilly doing something and I didn't do anything without the counsel of that attorney at that time," he explained.
"I will also say that everyone who has asked for his or her money back because the process is taking longer than expected has received their money back. ... Of all the allegations, accusations, the one that perturbs me most is the accusal that [I] took advantage of people. I've spent 36 years helping people, not hurting people," he said.
In addition to serving as spiritual adviser to both Presidents Bush and Obama, Caldwell presided over the wedding of Bush's daughter, Jenna.