Megachurch Pastor Kong Hee Pleads for 8 Year Prison Sentence to Be Overturned as Court Case Resumes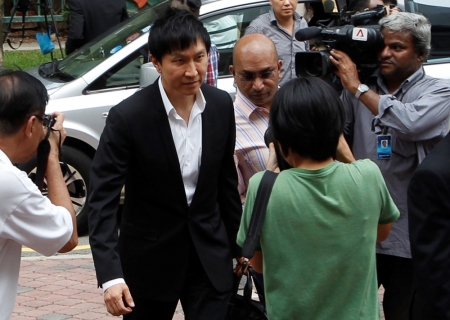 Singapore's City Harvest Church founder and Senior Pastor Kong Hee is back in court, pleading for his eight-year prison sentence for misappropriating $35 million of church funds to be overturned.
Kong's lawyer, Edwin Tong, argued on Thursday that the pastor should see all three of the criminal convictions against him overturned, Channel News Asia reported.
Tong said that the CHC founder put money forward to support the church's mission, which was supported by virtually the entire congregation, and that the church had not suffered any actual financial loss.
Although Kong is accused of being part of a scheme that funneled $35 million to the pop star career of his wife, fellow CHC pastor Sun Ho, the lawyer noted that the singer was synonymous with the Crossover Project, the church's ministry through music effort.
"It is beyond question that the accused believed wholeheartedly that they were using church funds for an approved church purpose," Tong explained.
Judge See Kee Oon said last year that Kong and five other CHC members had a major role to play in channeling millions of dollars that were set to be used for investments and building-related projects into sham bonds, used for Ho's career.
All six of the convicted church members have appealed their guilty verdicts and sentences, pleading innocence.
The prosecution has insisted that Kong and the others were well aware that they were misusing the church's money, however, and said that the sentences are "manifestly inadequate," calling on Kong to face a jail term of 11 to 12 years instead.
Tong said on Thursday that it is wrong to believe that Kong acted dishonestly and was only concerned with funding his wife's music career, however, and gave evidence that Kong had consistently consulted auditors and lawyers on two bond investments.
"Every cent was used entirely for the church's mission," the lawyer said. "Even if (the church's funds — meant for investments or building-related expenses) were put to 'wrongful use,' they were 'applied in good faith," he added.
Kong has said in his own words that he was not the mastermind behind the misuse of money, and said that the sentencing against him was "erroneous."
"My lawyers will also address the prosecution's appeal at the appropriate time. I sincerely need your prayers during this process for a favorable outcome. The road ahead is long and arduous, but God's grace is sufficient for me," he told supporters last year.
Ho has stood by her husband in the long standing court case, though she has not herself been accused of wrongdoing.
The Straits Times reported that the trial will resume on Friday, with former CHC fund manager Chew Eng Han and former finance manager Sharon Tan expected to present their own appeals.
The prosecution, on the other hand, is scheduled to present its case on Sept. 20.