Megachurch Pastor Sergio de la Mora Talks Church Planting, Growing Congregation After Risking Reputation, Resources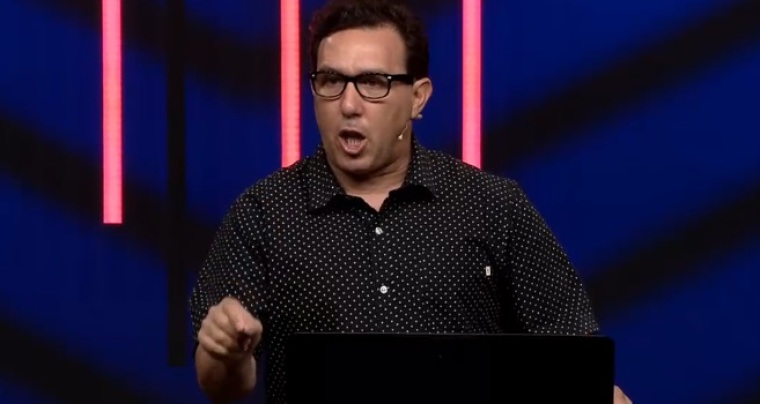 Church planting is successful when a planter knows their community's needs and is willing to risk their reputation and resources, said Pastor Sergio de la Mora of San Diego's Cornerstone Church, during an Exponential Conference live webcast on Wednesday.
De la Mora, who began his church with merely seven people 16 years ago, has grown his congregation in a neighborhood he least expected to end up in but along the way, he had to learn how to trust God to mold him into the revolutionary leader he is today.
"When I started the church, I initially had no idea what I was ultimately going to have to become ... God told me I had to become the pastor the community wanted me to be, not the pastor I wanted to be," de la Mora said.
"We're in the poorest neighborhood in San Diego, in National City. When I first got there, people told me it was called 'nasty city' because it's crime-ridden and all the drugs that go to Orange County, first pass through National City. God took me from Santa Barbara, where I was born and raised to take me to the hood to grow a church and now we have close to 7,000 people."
His multi-campus church has been recognized as one of the fastest growing congregations in the country and is the largest Latino-led church in San Diego.
Prior to earning prominent status, de la Mora had to learn his community's needs, which he emphasized because church planters who want to become revolutionary leaders need to become acquainted "with the pain of the people that you're called to liberate," he explained.
"Understand the pain and issues in your city because what will ultimately happen is that if you don't know how to understand the pain of the people you're called to liberate, you'll start by preaching sermons that no one cares about or go on tangents that no one is interested in," de la Mora said.
He gave the example of the growth within his own church by adding that at one point, his congregation drew 100 new members after preaching an eight-week sermon series that "touched the nerve" of community residents.
De la Mora also shared a few lessons he learned early on in his ministry. One of them was "turning the hearts of people" his main focus and business.
He noted that God constantly reminded him of why He took him out of Santa Barbara and why his mission was to reach the unchurched in San Diego.
Also, he said that he learned how to engage community members with the church and not just preach the gospel to them because merely holding conversation with people is not enough as church planters need to learn how to be "closers," he explained.
"It's not enough to meet three people at Starbucks, you've got to learn how to move them from curiosity to a place of conviction to a place of conversion," de la Mora said. "If you don't do that, you'll just find yourself in a quandary of conversations not seeing any conversions."
He also noted that on average, only three out of 10 churches planted in a community, will make it and in order to grow a healthy church, de la Mora emphasized that it is essential for planters to risk their reputation and resources.
"Never go plant a church considering a plan B. When you go plant a church, it's like God parachuting you into the enemy's territory and the first thing you have to do it establish a perimeter," de la Mora said. "You have to do that while people are coming against you and while drama is happening around you. The faster you establish a spiritual perimeter, the faster you can set up reconnaissance and start having services and begin some legitimacy for the kingdom of God."
He added, "But you've got to risk your reputation. If you struggle with rejection, get over that as soon as possible. If you struggle with your brilliance and you think everyone should come to you, get over that as quickly as you can."
Furthermore, he noted that church planters need to "give God permission to break the rules on how your church should be," as he added that there are three things that define a church, which are the sound, spirit and structure of a congregation.
"In other words, what are they saying on the street about your church? You have to know what they say. You also have to protect the spirit of your church. When people come to your church, they need to know there is a spirit of liberation because when they come on Sunday, they better be able to use what they heard on Monday," de la Mora said.
Regarding the structure of the church, he said a healthy church needs to allow growth but more importantly, he advised that if a church planter wants to start a mega ministry, they have to start that same structure at home with a "mega marriage."
Ultimately, all church plants are different because every single community is different, de la Mora noted. However, one common aspect all churches should have is a solid commitment between the leadership and God.
"Your personal devotion to Christ is what's going to make the difference in whether your church has 50 or 5,000 people because you can only lead out of your present relationship with Christ," he concluded.