Megyn Kelly Says Kathie Lee Gifford Has Been Sharing Jesus With Her Behind Cameras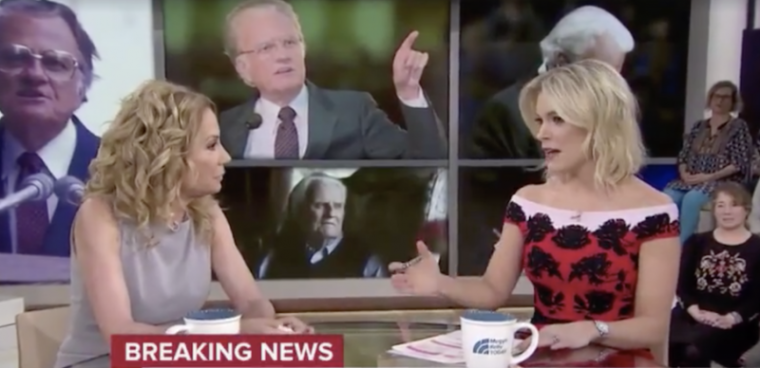 During an interview on "Megyn Kelly TODAY" Wednesday, NBC "TODAY Show" anchor Kathie Lee Gifford was on to honor the memory of the late Billy Graham and while there, Kelly revealed that Gifford has been witnessing to her about God behind the cameras.
"Billy was really one of a kind," Kelly said during her interview with Gifford. "When I look back at what he preached after 9/11 saying, 'The lesson here is our need for one another.'"
Kelly highlighted the message of sin and redemption Graham left with former president Bill Clinton in the middle of his Monica Lewinsky scandal. The host admitted that she also holds Gifford in high regard because she likens her to the world renowned minister, Graham, who peacefully passed away Wednesday in his North Carolina home. He was 99.
Kelly said to Gifford, "You and I have been having an ongoing conversation about faith and a connection with God."
"Who [else] is there today that has his kind of message? That uplifting, joyful, faithful, help me get reconnected, don't shame me, don't guilt me, someone who's nonpartisan, someone who's full of love, someone who's not covered in scandal, not trying to rip anybody off," she continued.
Gifford took the opportunity to continue Graham's legacy right there and then while on Kelly's program. The Emmy Award winner spoke openly of the free gift of salvation as Kelly looked on in admiration.
"Every one one of us should, and say, 'Do I have a malignancy of my soul? Where's the doctor?'" the TODAY Show co-host asked. "Well, the good news is that the doctor is in. And He conquered death for all time for every one of us. And it's free. It's probably the only thing in this whole world that is completely free."
She also declared that everyone who "dies in Christ goes immediately into the arms of Christ for eternity. That is the hope of the Christian faith." 
As for why she is so bold in speaking about her faith, she said, "If you had the cure for cancer, would you keep it quiet? ... I always say I have the cure for the malignancy of the soul. And He has a name and it's Jesus."
The bold believer shared that her whole family came to Christ through the Billy Graham organization. She said her mother and sister both listened to a live sermon of the evangelist which encouraged them to give their lives to God.
Gifford also revealed that she personally came to faith in Jesus in a local theater while watching the first movie that the Billy Graham organization ever produced, titled "The Restless Ones."
"God met me right where I lived," Gifford explained. "I wanted to be an actress. So where does God meet me? In a movie theater."
At Graham's 95th birthday celebration, Gifford said she got to tell Graham "thank you" in person one last time.
Graham has been listed on Gallup's most admired list more than any other person, and is survived by his five children – Virginia, Anne Morrow, Ruth Bell, William Franklin III, and Nelson Edman – 19 grandchildren and his many great-grandchildren.