MercyMe's Bart Millard Shares Personal Moment With Billy Graham That Brought Evangelist to Tears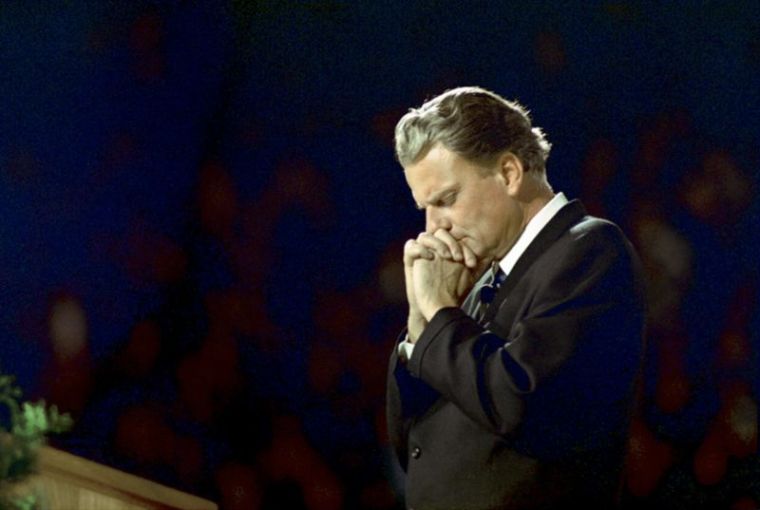 Billy Graham passed away peacefully Wednesday at his home in Montreat, North Carolina, and as many took to social media with farewell messages honoring the world renowned evangelist, MercyMe frontman Bart Millard shared a personal experience with Graham that really impacted him.
"I loved Dr. Billy Graham so much," Millard wrote on Instagram. "Of all the amazing things Dr Billy Graham has done for the kingdom of God, nothing will resonate more with me than that single moment."
The moment took place during one of Graham's last evangelistic crusades. MercyMe was scheduled to perform at the Rose Bowl in Pasadena, California, but a week before the 2004 crusade, Millard's 2-year-old son was diagnosed with type 1 diabetes. Graham's people supported Millard's decision to stay home with his son.
"Then we got a call back asking if I'd be willing to have a plane fly to Texas and get me because Dr Graham wanted to 'hug my neck and pray for my son.' I looked at my wife who said 'You've got to go!' So off I went," Millard recalled.
When he and the band were near the stage during the event in Pasadena, Graham came up to them, shook their hands and "then placed his hand on the back of my neck, pulled me close and started praying over my son's life."
"I don't remember everything he prayed, I was too overwhelmed with what was taking place. But I'll never forget when he finished praying and looked up at me, he had tears in his eyes. WHAT?!? This man who has prayed for who knows how many people in his lifetime was moved to tears over my son?!? I will cherish that moment as long as I live," the artist said.
He and his band then went on stage and performed the hit song "Imagine" and then he flew back to his son that night.
"Thank you God for Billy Graham. And I rejoice knowing, after so many years of faithfulness, he is now truly seeing as Christ sees." 
Millard's son, Sam, has been battling juvenile diabetes since he was a toddler. So in 2007 the loving father founded the nonprofit organization Imagine a Cure to help fund research to find a cure for the disease.
On MercyMe's website, Millard asks for people to also pray as the spiritual giant did for his son, stating that his son's disease has changed his family's life forever.
"Pray for the hearts and minds of the scientists and doctors trying to find a cure. Pray for everyone who is experiencing this terrible disease first hand. Pray that God finds greater glory through a cure and that God be glorified through Sam's life."
Graham, has been listed on Gallup's most admired list more than any other person, is survived by his five children – Virginia, Anne Morrow, Ruth Bell, William Franklin III, and Nelson Edman – 19 grandchildren and his many great-grandchildren.