Meriam Ibrahim Freed From Police Station After Being Accused of Forging Travel Documents
Following accusations that she forged her travel documents as her family attempted to leave Sudan, Meriam Ibrahim has been freed.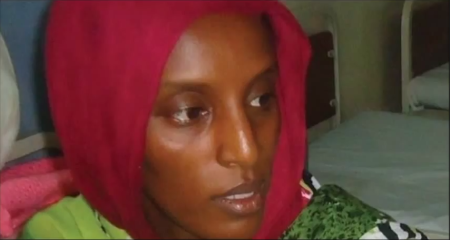 According to The Associated Press, Eman Abdul-Rahman, Ibrahim's lawyer, confirmed on Thursday that she had been released from a police station after foreign diplomats lobbied to free her.
Ibrahim was released from prison on Monday, where she had been sentenced to 100 lashes and death by hanging for her Christian faith. Her case has provoked international outrage.
On Tuesday, however, she and her American husband, Daniel Wani, and two children were detained at an airport in Sudan by nearly 40 members of the Sudanese security police while attempting to leave the country.
In a press briefing Tuesday, State Department spokeswoman Marie Harf said Ibrahim and her family had been detained at the airport in Khartoum for several hours but the State Department was working with Sudanese officials to ensure the family leaves Sudan as quickly as possible.
"The State Department has been informed by the Sudanese Government that the family was temporarily detained at the airport for several hours by the government for questioning over issues related to their travel and I think travel documents. They have not been arrested. The government has assured us of their safety," said Harf.
"The Embassy has been and will remain highly involved in working with the family and the government. We are engaging directly with Sudanese officials to secure their safe and swift departure from Sudan, and of course, we'll provide more information as we get it," she added.
Hardwired, a global social justice movement that mobilizes young leaders around the world to end religious oppression, noted in a Facebook post on Tuesday, however, that Ibrahim was only released Tuesday after a friend posted her bail and that she will be penalized if she leaves the country before the charges are settled.
"She has since been released but only after someone posted bail. New charges against her and if she leaves the country the person who paid bail will be charged. New charges have to do with falsifying documents," noted Hardwired.
A Sudanese official told the BBC earlier that Ibrahim had been using South Sudanese papers to leave the country and needed to obtain a passport and exit visa prior to her release.
The report speculated that the National Intelligence and Security Service — a key stakeholder in Sudanese politics — was unhappy with the recent decision to release Ibrahim and that "re-arresting her and her family was a way of making this point to the rest of the Sudanese government."
"It is also conceivable that one part of NISS accepted Mrs. Ibrahim's release, while another section was not happy with it. Mrs. Ibrahim's release and re-arrest simply underline the fact that there are many decision-makers in Sudanese politics, and they do not always agree with each other," it added.
Throughout her time in prison, Ibrahim has maintained her innocence, arguing that she was raised Christian by her mother, an Ethiopian Orthodox, and therefore never renounced Islam. She has also denied allegations of adultery, maintaining that she was a Christian before she met her husband. The Sudanese government had accused Ibrahim of adultery because it did not recognize her marriage. It considered her to be a Muslim as her father was Muslim. However, her father left her family when she was a young child and she was raised by her mother as a Christian.
The 27-year-old mother was recently forced to give birth to her second child, Maya, while in prison and one of her ankles was reportedly chained while she was in labor.
Ibrahim was first arrested in August 2013 after members of her father's side of her family accused her of adultery for marrying Wani.