Michigan Funeral Home Faces Court Battle for Barring Man From Dressing Like Woman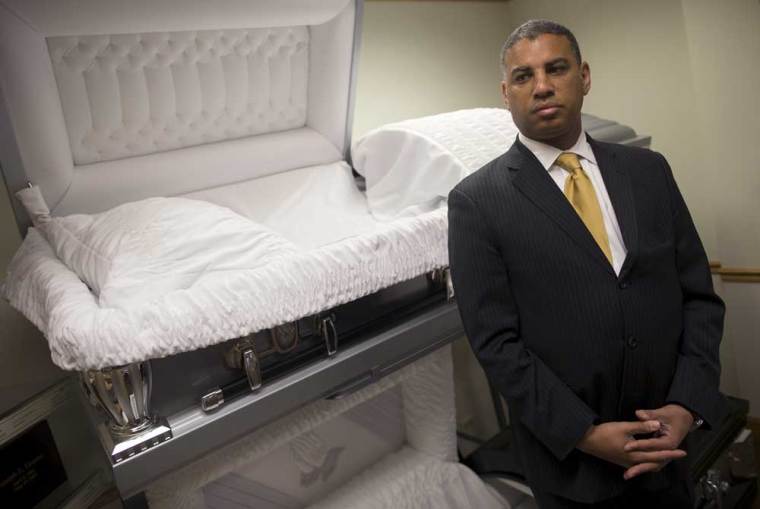 A Michigan-based funeral home is battling a lawsuit leveled by the Equal Employment Opportunity Commission over alleged mistreatment of a former transgender employee.
R.G. & G.R. Harris Funeral Homes of Detroit was sued after owner Tom Rost fired the transgender employee, who was a biological male, for refusing to adhere to the business' dress code.
Harris Funeral Homes is being represented by the Alliance Defending Freedom, a conservative legal group that filed a motion for summary judgment on behalf of the business last Thursday in district court.
"First, the undisputed evidence demonstrates that charging party Stephens was not subject to unlawful discrimination based on sex. Second, the Religious Freedom Restoration Act prohibits the EEOC from punishing R.G. for its decision to dismiss Stephens under these circumstances," read the motion.
"Third, the EEOC lacks authority to raise its claim (on behalf of a class of unidentified female employees) that work clothes or clothing allowances were provided to male employees but not to female employees, and the undisputed evidence shows that R.G.'s provision of work clothes or clothing allowances did not discriminate between comparable male and female employees."
ADF Legal Counsel Doug Wardlow told The Christian Post that he believed the case was part of the Obama administration's aim "to push a political agenda."
"They are trying to use the courts to alter Title VII's prohibition of discrimination in employment based on sex to prohibit discrimination based on gender identity as well, even though Title VII makes no reference to gender identity or transgender status," said Wardlow.
"Including protection for gender identity under Title VII would threaten the religious liberty of people like Tom Rost who operate their businesses according to the principles of their faith. ADF got involved in the case in the spring of 2015 in order to defend religious liberty against the Obama administration's attempt to effectively amend Title VII via the courts."
Wardlow of the ADF also told CP that EEOC and Harris Funeral Homes have both filed motions for summary judgment. If neither is accepted, then a trial will take place later this year.
"Title VII does not prohibit businesses from enforcing sex-specific dress codes as long as they don't impose unequal burdens on the sexes. Harris' dress code does not impose an unequal burden on the sexes," continued Wardlow.
"Moreover, the dress code is essential to Harris' business operations, because it allows Harris Funeral Homes to maintain a solemn and distraction-free environment for people who are grieving the loss of loved ones."
Harris Funeral Homes was founded in 1910 in Detroit. Since then, it has expanded to include locations in the Michigan communities of Livonia and Garden City.
In September of 2014, EEOC filed a lawsuit against the funeral home, making it one of the first two legal actions the federal agency has taken on behalf of transgender individuals alleging sex discrimination.
"Amiee Stephens had been employed by Harris as a funeral director/embalmer since October 2007 and had always adequately performed the duties of that position," stated the EEOC.
"In 2013, she gave Harris a letter explaining she was undergoing a gender transition from male to female, and would soon start to present (e.g., dress) in appropriate business attire at work, consistent with her gender identity as a woman. Two weeks later, Harris' owner fired Stephens, telling her that what she was 'proposing to do' was unacceptable."
EEOC went on to explain in its September 2014 statement the suit against Harris was part of an "ongoing efforts to implement its Strategic Enforcement Plan."
"The commission adopted this SEP in December of 2012. The SEP includes 'coverage of lesbian, gay, bisexual and transgender individuals under Title VII's sex discrimination provisions, as they may apply' as a top commission enforcement priority," continued the EEOC.
Since the lawsuit was filed, multiple components of the EEOC's legal action against Harris have been dismissed, as described by Wardlow.
"The judge ruled that Title VII does not include protection for transgender status. The Judge also ruled that Title VII does not protect a person on the basis that they are undergoing a gender transition," explained Wardlow.
"The EEOC's claims based on transgender status and transitioning were dismissed. The Judge did not dismiss the EEOC's claim that Title VII protects against sex stereotyping."