Mike Huckabee: 'God's Not Dead 2' Is a 'Wake-Up Call' for America (Exclusive)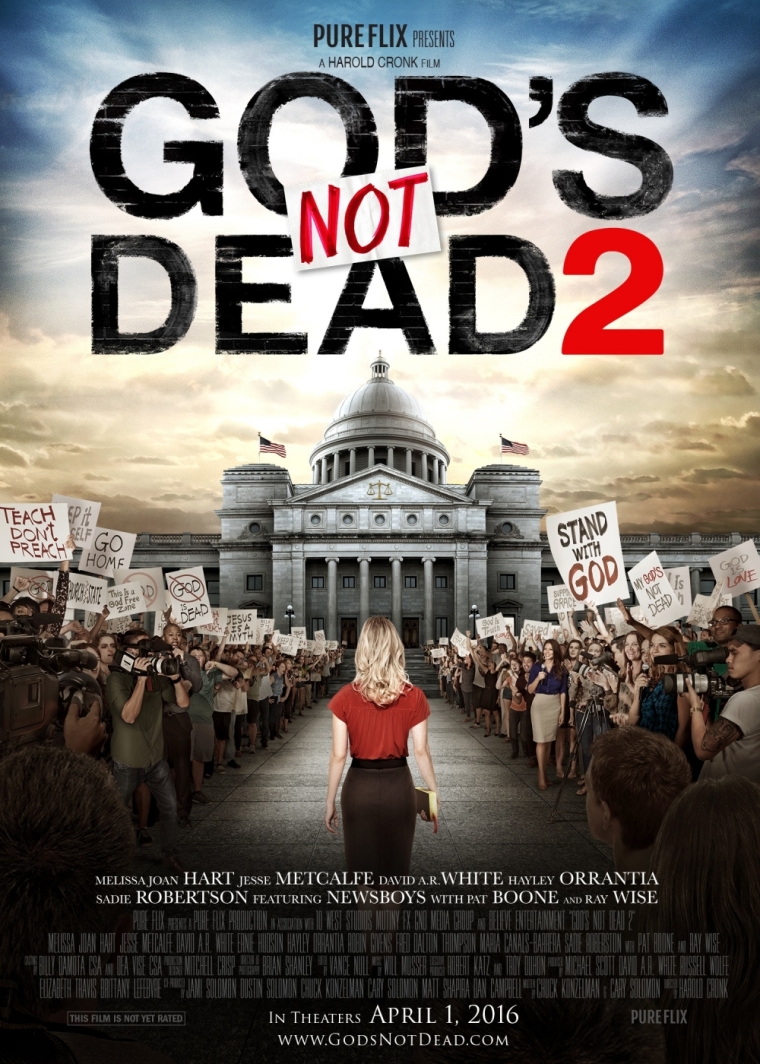 Just when it seemed the highly anticipated "God's Not Dead 2" cast couldn't get any bigger, GOP presidential candidate Mike Huckabee revealed that he has a cameo appearance in the star-studded film.
"It was a real honor and thrill to film a scene for the movie," Huckabee told The Christian Post. "A few years ago, such a plot would seem like fiction, but in light of how Christianity is being criminalized in America, this film depicts life in America for those of faith."
Although Huckabee is on the campaign trail seeking the Republican nomination for president, Pure Flix Entertainment announced this week that the former Arkansas governor is going to be on the big screen in "God's Not Dead 2," which is set to release on April 1, 2016.
Huckabee will portray himself in the film, which he describes as a "wake-up call" for Americans.
"The breakout film 'God's Not Dead' struck a nerve with America, depicting how believers are marginalized in the classroom, and 'God's Not Dead 2' is virtually ripped from the day's headlines by showing how people of faith are now being criminalized and taken to the courtroom," Huckabee added in a statement shared with CP.
"A few years ago, such a film would be fiction that could someday be true; now, 'God's Not Dead 2' is the story that has become true for believers across the nation. 'God's Not Dead 2' is a wake-up call."
The film centers around a Christian teacher named Grace Wesley (portrayed by Melissa Joan Hart), who comes under fire for comparing nonviolence to the teachings of Jesus Christ in a public school classroom.
"What makes nonviolence so radical is its unwavering commitment to a nonviolent approach," Wesley tells her students before one pupil questions if that concept is similar to Jesus preaching to love one's enemies.
Wesley agreed and responded with Matthew 5:43, saying, "You have heard it said, 'love your neighbor and hate your enemy, But I tell you: love your enemies and pray for those who persecute you."
After a parent learns about Christian themes presented in the classroom discussion, a political firestorm ensues. Wesley is then forced into a courtroom to fight for her job and her faith.
Aside from Huckabee and Hart, the film will also feature Jesse Metcalfe ("Dallas"), Ernie Robertson ("Ghostbusters") "Law & Order" star the late Sen. Fred Thompson, and Robin Givens ("Head of The Class"). Other celebrities featured in the film include David A.R. White, Trisha LaFache, Benjamin Onyango, Paul Kwo, the CCM group and Sadie Robertson from "Duck Dynasty."
Robertson, who portrays a character named Marlene in "God's Not Dead 2," told CP earlier this year that she agreed to be in the film because she supports its message.
"I told myself in the beginning of this ['Duck Dynasty'] craziness that I would only do a movie if the part fit me exactly. If I really felt like this was going to be a good thing, going to be a good message, and the person I was playing was a lot like myself," she said. "It's a message that I want to share with people about standing up for your faith, saying, 'I'm not ashamed.' I'm excited for people to see it."