Mike Huckabee Tosses Hat in 2016 Presidential Ring; Promises to Lead America From 'Hope to Higher Ground' as US Has 'Lost Its Way, Morally'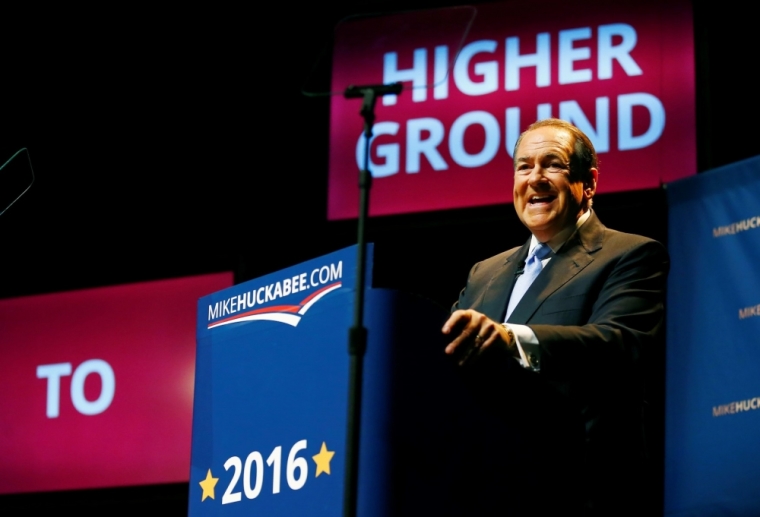 Former Arkansas Governor and Southern Baptist minister Mike Huckabee announced his candidacy for the 2016 presidential election in a Tuesday morning speech given at the University of Arkansas Community College campus in Hope, Arkansas, the very town where he grew up.
"It was here where I became the first male in my entire family lineage to graduate from high school at the very same campus that stands today right down on main street. It was from here that I went on to college at Ouachita Baptist University. It was also from here that I first ran for elected office when I ran for student council at Hope Junior High School," Huckabee explained. "So it seems fitting that it would be here that I announce that I am a candidate for president of the United States of America."
The 59-year-old Republican also ran for president in 2008 as a relatively unknown candidate and surprisingly won the influential Iowa Caucus and seven other state primary elections before dropping out of the race in March 2008, conceding the nomination to Sen. John McCain, R-Ariz.
Huckabee joins an already long list of conservative candidates vying for the Republican nomination that includes the likes of Sens. Ted Cruz, R-Texas, Rand Paul, R-Ky., Marco Rubio, R- Fla., retired neurosurgeon Ben Carson and Former Hewlett Packard CEO Carly Fiorina. Former Florida Gov. Jeb Bush and Wisconsin Gov. Scott Walker are also expected to seek the Republican nomination but have yet to officially declare their candidacies.
"Ninety-three million Americans don't have jobs, and many of them who do have seen their full-time jobs with benefits they once had become two part-time jobs with no benefits at all," Huckabee stated. "We were promised hope but it was just talk. Now, we need the kind of change that really could get America from hope to higher ground."
Huckabee argued that his leadership skills and ability to work across party lines that he exhibited while he was the governor of Arkansas will enable him to succeed as president. He railed off a list of accomplishments during his time as governor from 1996 to 2007.
"I governed in a state that was the most lopsided and partisan in the country. No Republican governor had more Democrats and fewer Republicans. I challenged the deeply entrenched political machine that ran this state and it was tough sledding. But I learned how to govern and I learned how to lead," he asserted. "Even in that environment, we passed 94 tax cuts, rebuilt our road system, saw dramatic improvements in student test scores and fought the corruption of the 'good ol' boy' system so that working-class people would finally be given a fair shake. We saw family income increase by 50 percent during my tenure."
Huckabee, who stepped down from his Fox News television show so that he could seek the nomination, admitted that he would likely have a tough campaign ahead of him, as he is seen as a dark horse to win the Republican nomination. He called on his supporters to make donations that they can afford to his campaign.
"The journey that begins in Hope today can lead this nation to higher ground, but I cannot do it without people being my partners," Huckabee said. "I never have been and I am not going to be the favorite candidate of those in the Washington-to-Wall Street corridor of power. I will be funded and fueled, not by the billionaires, but by the working people across America that will find out that $15 and 25-dollar-a-month contributions can take us from hope to higher ground."
"I am just going to ask you to give something in the name of your children and grandchildren. I have walked away from my own income to do this, so I am not asking you for some sacrifice that I am not willing to make," he continued. "I don't have a global foundation or a taxpayer funded check to live off of. I don't come from a family dynasty but a working family. I grew up blue collar, not blue blood."
Huckabee was critical of America's moral climate when it comes to same-sex marriage and abortion and asserted that unelected judges shouldn't have the authority to change nature's rule of law.
"We have lost our way morally. We witness the slaughter of over 55 million babies in the name of choice and we are now threatening the foundation of religious liberty by criminalizing Christianity in demanding that we abandon biblical principles of natural marriage," Huckabee continued.
"Many of our politicians have surrendered to the false god of judicial supremacy, which will allow black-robed, unelected judges the power to make law — as well as enforce it — upending the equality of our three branches of government as well as the separation of powers so very central to the Constitution. The Supreme Court is not the supreme being and they cannot overturn the laws of nature or of nature's God."
With the Islamic State terrorist group running roughshod in Iraq and Syria and the Obama administration having negotiated with Iran on a possible nuclear deal, Huckabee exclaimed that it's time America let the international community know which side it stands on when it comes to radical extremism.
"Dealing with radicals who chant 'Death to America,' and who fund bombs and rockets to murder civilians in Israel is nonsense," Huckabee said. "When I hear our president say that he wants Christians to get off their high horse so that we can make nice with radical jihadists, I wonder if he can watch a western [movie] from the '50s and figure who the good guys and the bad guys really are."
"As president, I promise you that we will no longer merely try to contain jihadism. We will conquer it," he added. "We would deal with jihadis just as we would deal with deadly snakes. Let there be no doubt that Israel will know, as will the whole world, that we are their trusted friend and the ayatollahs of Iran will know that hell will freeze over before they get a nuclear weapon."
Huckabee also chastised Obamacare for forcing Americans to pay for health coverage they either don't need or can't afford. He also promised that he would pass a "fair tax" and rid the nation of the Internal Revenue Service and its "unfair tax bracket system."