Mike Pence Meets 12-Y-O Iraqi Christian Boy Whose House Was Burned Down by ISIS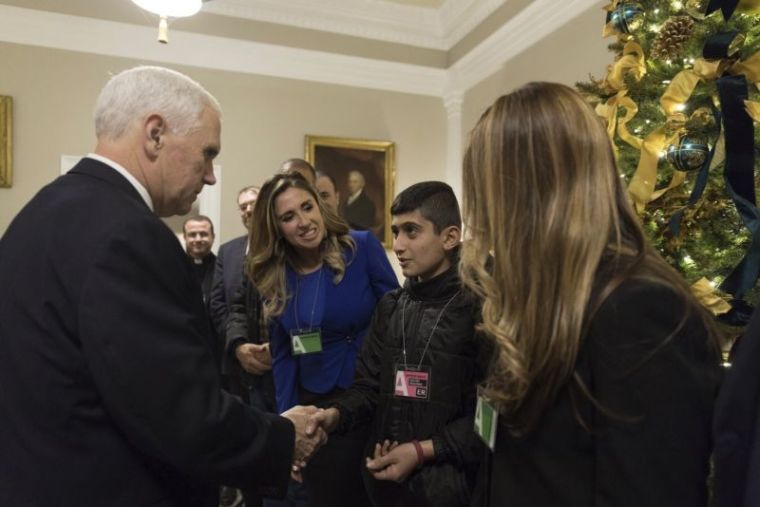 A 12-year-old Iraqi Christian boy whose home was destroyed by the Islamic State met with Vice President Mike Pence on Wednesday and presented him with a gift.
On Wednesday evening, Pence tweeted out a photo showing him meeting with a Noeh, who recently returned to to his home village in the Nineveh Plains after he and his family lived as internally displaced persons in Erbil for over three years during the rise of IS (also known as ISIS, ISIL or Daesh), only to find nothing but destruction.
"ISIS destroyed his home & he fled leaving everything behind," Pence wrote in the tweet. "When they returned, their town was burnt to the ground. The plight of Noeh & thousands of others like him is why @POTUS ordered us to directly aid the persecuted. Help is on the way!"
Noeh was joined by a couple of Christian pastors from Iraq and representatives of the charity and global persecution watchdog Open Doors USA in his meeting with Pence. 
According to Open Doors USA Director of Advocacy Kristin Wright, Noeh shared a "special moment" with Pence when the child offered the former Indiana governor some of his only remaining toys left from his burned out home.
"There was a very special moment where Noeh was able to give him marbles from his burned out home in the Nineveh Plain," Wright said in a Facebook video after the meeting. "He was able to give them to Vice President Pence as a gift and the vice president received them and it was just a really special moment."
Open Doors USA CEO David Curry said in the video that because of the area's full liberation from IS, this will be the first Christmas that Noeh and his family will be able to spend back in their hometown.
"It was a great opportunity to meet with Vice President Pence who has been so vocal on this issue of persecution of Christians and other religious minorities," Wright added.
According to Open Doors USA, Noeh and his father and Iraqi priests named Father Behnam and Father Thabet traveled to the United States this week to not only meet with Pence but to also meet with various United Nations and government officials.
On Tuesday, the Christians from Iraq presented the Hope for the Middle East petition to the office of the U.N. secretary general.
The petition is signed by over 800,000 people from 143 countries and calls on government and U.N. officials to protect the rights of Iraqi Christians and religious minorities to equal citizenship, dignified living conditions and a seat at the table when it comes to decisions on rebuilding Iraq post IS.
Open Doors USA reported that Noeh also presented Kyoko Shiotani, chief of office at the office of the under-secretary general, and her team with disfigured marbles from his burned home.
"This is probably the nicest Christmas gift we'll receive this year because it's from your heart and your home," Shiotani was quoted as saying.
In November, Open Doors USA shared what it was like for Noeh to return to his home only to find the charred remains.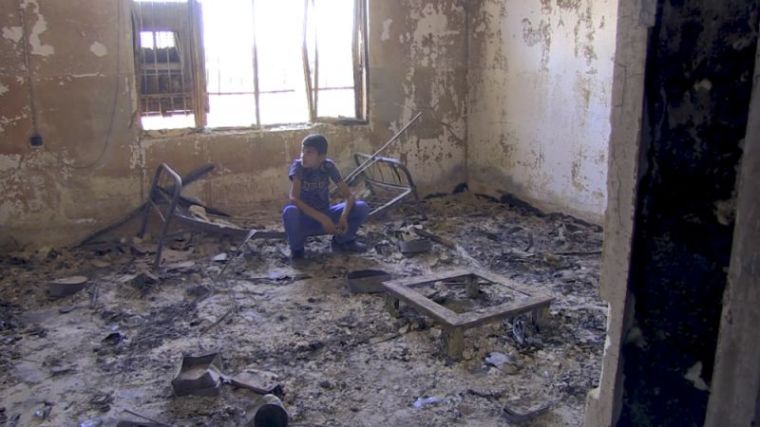 Despite the destruction, Noeh and his family plan to rebuild in their hometown.
"I am not afraid to live here again," Noeh was quoted as saying. "[B]ecause the Holy Spirit makes me strong."
Iraqi Christians and human rights activists have expressed concern that Iraqi Christian communities and other religious minorities are not receiving much help from the United Nations and foreign governments in terms of humanitarian aid and assistance rebuilding their home villages.
They rejoiced when Pence announced in late October that the United States will amend its humanitarian aid policy so that aid can be provided directly to groups that aid rebuilding Iraqi Christian communities without having to go through the U.N.
But as of late last month, there were still many displaced Christians in Iraq waiting on assistance to arrive.
Juliana Taimoorazy, who runs an organization called the Iraqi Christian Relief Council, which has helped a number of Christian families return home, told The Christian Post on Wednesday that the U.S. government has been and is currently accepting applications from NGOs looking to help religious minority communities in Iraq.
"NGOs have to be vetted, they have to apply, they have to make a strong case of what they will do on the ground in Iraq," she said. "They will be reviewed and granted this money."
"I think [the State Department] wants to start disposing of this money early in 2018, at least that is what they say. At least they are acting aggressively with this. Hopefully they will stay on course," she continued. "But you know, taking money from governments or making governments move is like moving the Titanic. We are hoping that some of the money will be distributed to these NGOs in early 2018."
While Christians are still waiting on U.S. government assistance, Christians in the West can help their brothers and sisters in Iraq by donating to various relief efforts.
The Iraqi Christian Relief Council has launched a fundraising campaign through VictimsofISIS.org.
Additionally, Open Doors USA has set a goal to raise $340,000 that will go toward rebuilding homes for 85 families in Iraq and Syria. Interested donors can give through the Open Doors donation page.