Mike Pence: Ministers of the Gospel, Prayer Warriors Have Biggest Impact 'in the Life of a Nation'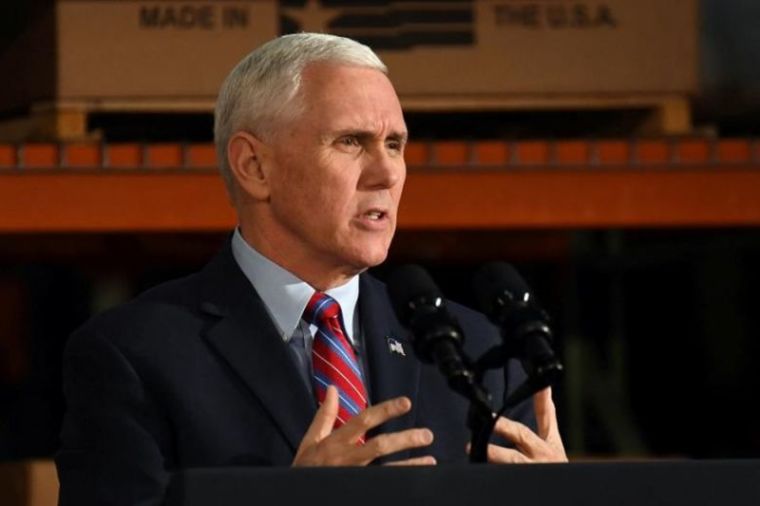 Vice President Pence said Friday that other than Gold star military families, those who pray and minister the Gospel "are the greatest consequence in the life of a nation."
In a speech to pastors and ministry leaders at the Watchmen on the Wall national briefing Friday at Hyatt Regency hotel on Capitol Hill, the vice president told hundreds of attendees that it was his and the president's conviction "that the pulpits that you stand at are of much greater consequence than any podium behind which he and I stand, so thank you for your service to the Gospel."
Pence took time to recount several of the Trump administration's achievements in the past 15 months, mentioning his judicial appointments, including Neil Gorsuch on the Supreme Court, the 2017 executive order protecting religious liberty, and pledged to continue working toward the repeal of the Johnson amendment.
He spoke of Trump's efforts to aid persecuted Christians and religious minorities overseas, noting how they had redirected government funds to USAID channels that had previously flowed through the United Nations. To enthusiastic applause he spoke of Trump's decision to recognize Jerusalem as Israel's capital and relocate the U.S. embassy there.
"I couldn't be more proud to serve as vice president to the most pro-life president in American history," Pence stressed, listing some of Trump's policies, including his move last week reinstating a Reagan-era rule restricting Title X funds from going to organizations that perform or refer women for abortions.
"He and I have gotten to be very close. I mean, obviously we are a lot alike," he joked. "I get it. He's big city, I'm small town. He's very charismatic, interesting, memorable. I'm ... me. But we're alike in every way that matters," he said, describing some similarities in their upbringings.
Pence recommended that the crowd check out David Brody's book, The Faith of Donald J. Trump: A Spiritual Biography, which explores the president's faith and spiritual heritage.
"Other than a whole lot of zeros, President Trump and I have a whole lot in common. A lot of zeros," he said to laughter, referring to his boss' wealth.
"Keep being watchmen and women on the wall," Pence said, "keep doing what you're doing. It's making a difference."
He made a point to praise Gold star military families, which he had visited prior to his speech, saying: "I truly do believe that other than the service of those who wear the uniform of the United States, especially our cherished fallen, the ministries that you lead, the prayers that you pray, are the greatest consequence in the life of a nation."
He recounted that it was 40 years ago this spring that he became a born-again believer, giving his life to Jesus at a Christian music festival in Wilmore, Kentucky.
"I'm four decades into walking with the Lord, and [Family Research Council President] Tony [Perkins] will tell you, I've got a long way to go," he said, chuckling, "but of paramount importance is that you just continue. Continue to hold up the truth."
He concluded: "This is a time of too much division in these United States. And whether it's in our crisis pregnancy center ministries or whether it's churches simply being the hands and feet of Christ.
"Keep preaching the Good News. Keep preaching in season and out of season, as the Bible says. Always be prepared to give a reason for the hope that you have."