Mike Pence Pledges to End Bureaucratic Bungling That Enabled Church Massacre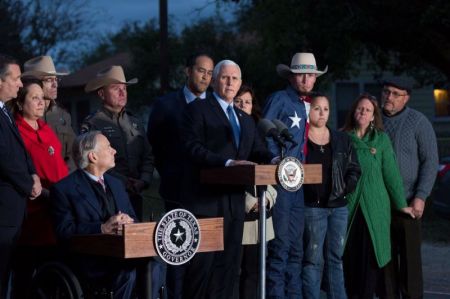 Vice President Mike Pence hailed local heroes and offered prayerful comfort to survivors and families of those who were lost in Sunday's massacre at First Baptist Church of Sutherland Springs in Texas Wednesday. He pledged to ensure that the bureaucratic bungling that allowed deranged gunman Devin Kelley access to weapons, will never happen again.
"He lied on his application. He had a history of mental illness, and there were bureaucratic failures," Pence said of Kelley, 26, during a vigil for the victims at Floresville's high school field the San Antonio Express-News reported.
Kelley had served briefly in the U.S. Air Force and was convicted of assaulting his then-wife and stepson in 2012, his conviction was not reported as required to a federal database. This critical reporting could have prevented Kelley from buying the guns he used in the devastating attack on Sunday.
A report in The New York Times Tuesday said the church's video recorder was on at the time of Kelley's attack and it captured him shooting his victims, which included several young children, execution-style.
Authorities say Kelley began firing his Ruger AR-556 rifle at the church building shortly after the 11 a.m. service began. He emptied more than 15 magazines, holding 30 rounds each and when he was done 26 people were dead and 20 others suffered serious injuries. At least eight members of one family, including a pregnant mother and her unborn child were in the mix.
"We will find out why this information was not properly reported in 2012 and we are working with leaders in Congress to ensure this never happens again," Pence added.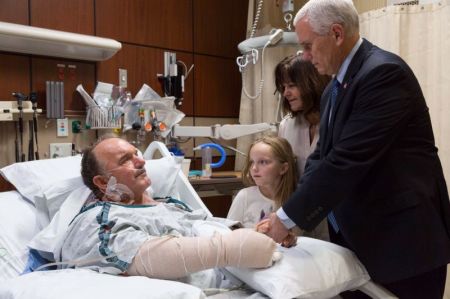 Pence never mentioned Kelley by name during his address but stoically suggested that if his attack on the church was an effort to silence the "voice of faith" it had failed.
"No attack, no act of violence, will ever break our spirit or diminish the faith of the American people. So I'm here as vice president to ensure that the full resources of the federal government are being brought to bear in support of the investigation and in support of these precious families that have suffered so grievously here in Sutherland Spring," he said in a clip from his address.
"Whatever animated the evil that descended on that church last Sunday, if the attacker's desire was to silence their testimony of faith, he failed," Pence noted, to cheers. "The voice of faith, the witness of faith in that small church and that small town now echoes across the world."
He praised the first responders for saving lives through their swift action as well as heroes 55-year-old plumber Steven Willeford and Johnnie Langendorff.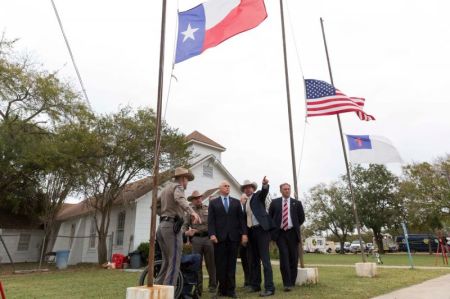 Willeford first challenged Kelley as he tried to leave the scene of the crime and shot him as he tried to get away.
Willeford saw Langendorff in his pickup truck as Kelley sped off and quickly explained the situation to him and they engaged the shooter in a high-speed chase.
Langendorff said Willeford "came to my vehicle in distress with his weapon" and said "'we need to pursue him. He just shot up the church,'" according to KSAT.
Pence urged prayers for the grieving community and promised them that faith will help them overcome.
"I would encourage every American looking on, keep this community, keep these precious families, families of the fallen, families of those who are recovering from their injuries and all of those affected by this horrendous act of evil, in your prayers. Prayers make a difference. I had one of the family members at the hospital today tell me that they feel the prayers of the American people. We'll get through this. We'll get through this through faith and we'll get through this on the basis of the good and strong people of this community and of this great state," he said.
"President Trump wanted us to come to Texas tonight to tell all of you, we are with you. The American people are with you. And as the president said Sunday, half way around the world, we will never leave your side. As the president often says, when one part of America hurt, we all hurt, when one part of America struggles we all struggle and when one part of America cries out for help, we come together. And tonight I know the hearts and prayers of every American are right here," Pence said.