Minnesota's Largest Church Opens Modern Woodbury Campus With More Space Than a Football Field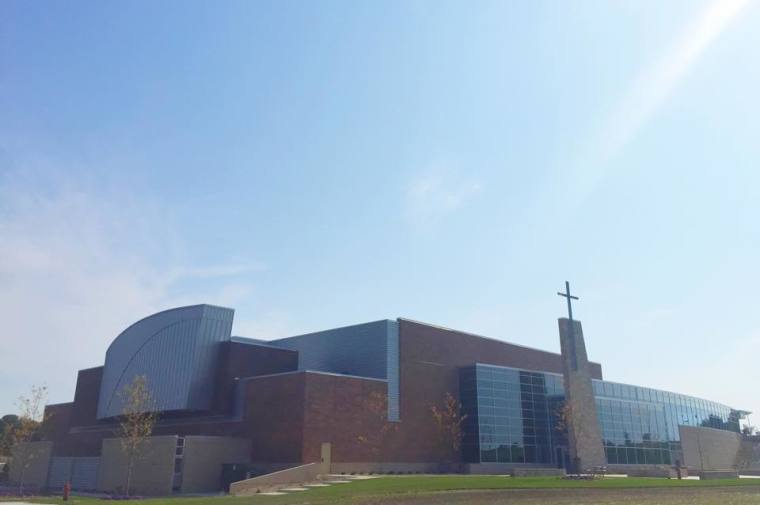 After three years of worshipping at the East Ridge High School in Woodbury, Minnesota, Eagle Brook Church, the largest church in the state and one of the top 20 largest in the U.S., officially opened its newest campus in Woodbury on Saturday, boasting more space than a football field.
A Pioneer Press report describes the new Eagle Brook Woodbury campus as an imposing two-story structure that is both "massive" and "modern." It sits on a 40-acre lot and has about 70,000 square feet of space – much more than the 57,600 square feet covered by your average football field. A large cross atop the structure also announces the building's business.
"We can't even begin to describe and express the gratitude we feel toward East Ridge High School. This past weekend was the culmination of three years of doing ministry in a school. God accomplished amazing things through our beautiful temporary home, rock star volunteer teams, and the support of top notch staff at East Ridge," the new campus team noted in a post on their Facebook page last Wednesday.
"The relationships formed over the past three years have been incredible, and in spite of meeting in a school, God moved," they further noted.
And the church posted numbers to prove the efforts of their work. Some 734 people made the decision to commit to following the Christian faith and 658 of those people got baptized.
On Saturday, the day they opened their gleaming church they added in another post: "We can't wait to see what God is going to do in this new season of what has already been an amazing journey. Hope to see you at one of our services today or tomorrow!"
Inside the church, windows stretch from floor to ceiling, reports Pioneer Press. Executive Pastor Scott Anderson explained that some of the older Eagle Brook campuses seem more modest but that Woodbury's building codes called for more glass, stone and brick.
The church property includes a coffee shop and a bouldering wall. An entrance dedicated to families leads right into a children's area with hallways adorned with floor-to-ceiling murals. Parents drop off their children here before they head off for worship service in the main auditorium.
"We create the environment so kids want to be here, so they invite other kids, so that we can teach them about who Jesus is," Anderson told Pioneer Press. "It's fun to see the excitement of the kids, even how much they don't want to leave. The parents end up coming to find out what's going on, and they end up staying."
Eagle Brook Woodbury is part of a rapid expansion plan that snowballed by accident after the mother church opened a location in Lino Lakes in 2005 to accommodate the growing congregation at the church's White Bear Lake building. They had planned on simply moving into the Lino Lakes church and close the White Bear Lake campus but the Lino Lakes campus grew so quickly they had to reopen the White Bear Lake church and they just kept going after that.
Eagle Brook's Woodbury campus will be their sixth east-metro building according to Pioneer Press. Others are located Blaine, Coon Rapids, Spring Lake Park along with the campuses in Lino Lakes and White Bear Lake. Altogether, these campuses now attract a weekly following of 18,000.
"My personal goal was never to be the pastor of a large church. The goal was simply to do our very best to reach people for Christ," Eagle Brook's senior pastor, Bob Merritt, told the Press. "It's kind of something that happened along the way."